Guest Writer
Disney's special screening of MOANA in Samoa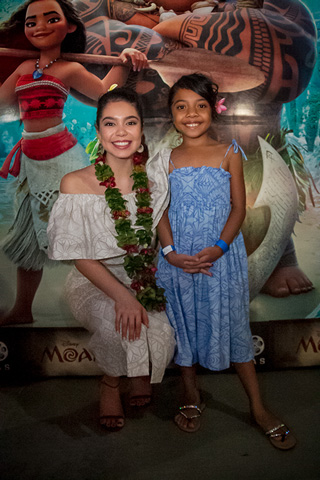 Last night, the town of Apia was buzzing with excitement at the arrival of Disney's own Auli'i Cravalho, the voice of MOANA. A blue carpet at Apollo Cinemas welcomed the rising star along with producer Osnat Shurer and directors Ron Clements and John Musker.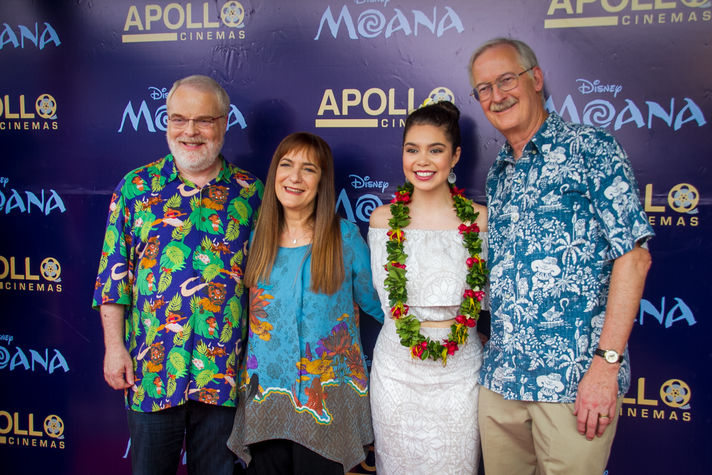 L-R Ron Clements, Osnat Shurer, Auli'i Cravalho and John Musker
Upon first meeting Auli'i, I could sense her energy from a mile away. A vibrant young woman, oozing with charisma and bursting with positivity. It was not hard to see why she was picked for the role. She had X Factor! She embodied everything that was MOANA. When asked why it was important that young Pacific women be portrayed as leaders, Auli'i responded that "Disney films are reflective of their times. Right now what we need are more beautiful women who are going to lead themselves."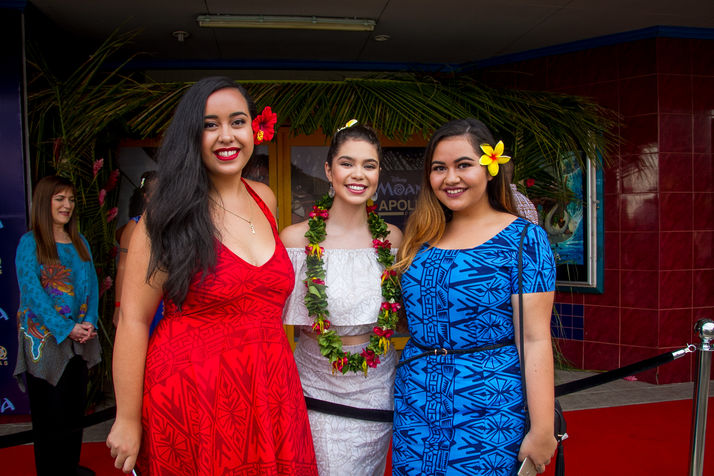 Cherelle, Auli'i & Brianna
It was also great to have the opportunity to pick the brains of the masterminds behind the whole MOANA production. Directors Ron Clements and John Musker described one of the first things they saw on their trip to Samoa and thought "we've got to have that in the movie!" was the Alofa'aga blowholes in Savai'i. Producer Osnat Shurer spoke about the importance of attending the blue carpet event in Samoa, "when we came on our first trip five years ago we were welcomed with so much love by people and even though our island of Motunui is invented it's sort of in the area of Samoa because that's apparently where the migration stopped. [Also] we just wanted an excuse to come back to Samoa."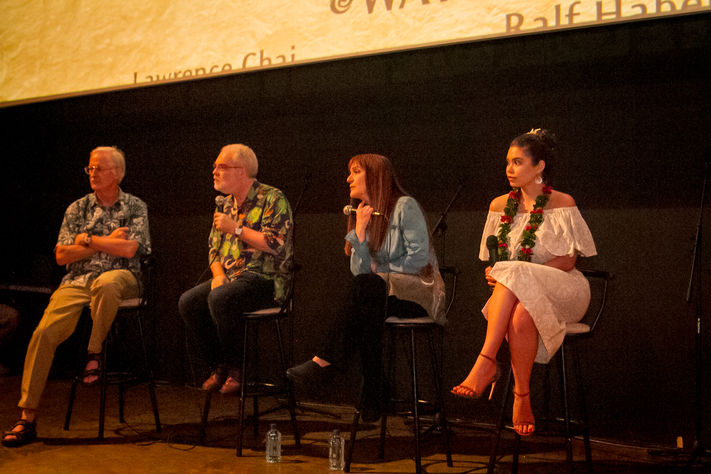 Q&A with the panel after the movie
The special screening was an intimate event, attended by His Highness Tui Atua Tupua Tamasese Efi, members of the Oceanic Story Trust, Conservation International, Samoa Voyaging Society and others close to the film. Before the film, the Directors paid tribute to the Oceanic Story Trust for their instrumental contribution to MOANA, paying special mention to Dionne Fonoti and her invaluable counsel to the Disney team. At the end of the screening, the audience was treated to a private Q & A with Ron, John, Osnat and Auli'i.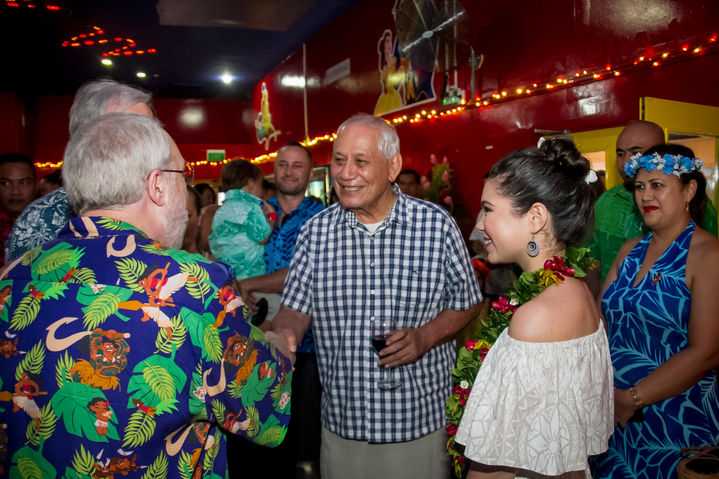 His Higness Tui Atua Tupua Tamasese Efi meeting the Disney Directors and Auli'i
We found out cool little facts about the film like how MOANA's hair was modeled after Samoan actor and playwright, Fiona Collins, who was also in the audience. When it was time to ask my question, I was cheeky and asked Auli'i to sing us a line from her song in the film. Being the sweetheart she is, she obliged and belted out a line from 'How far I'll go'. We were all blown away as her powerful voice filled the theatre. Everyone in the audience was able to experience this once in a lifetime moment, because of me. You're welcome! *Maui voice*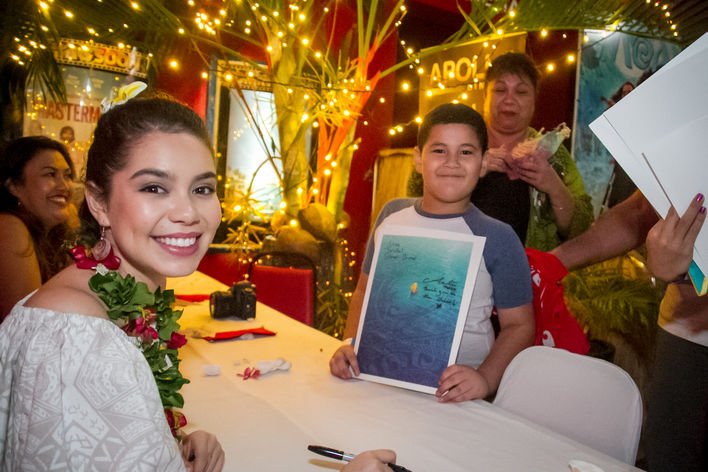 Auli'i signing autographs for young fans
After the Q&A's we dove into the crowd to get some feedback on the film. Su'a Hesed Ieremia of Samoa Tourism Autority spoke about "MOANA's father, the chief, if he had played a bigger part in the movie he would be my favorite character because he wears a tatau, just like me. It was the first thing you saw in the movie, the Samoan pe'a, the traditional tatau."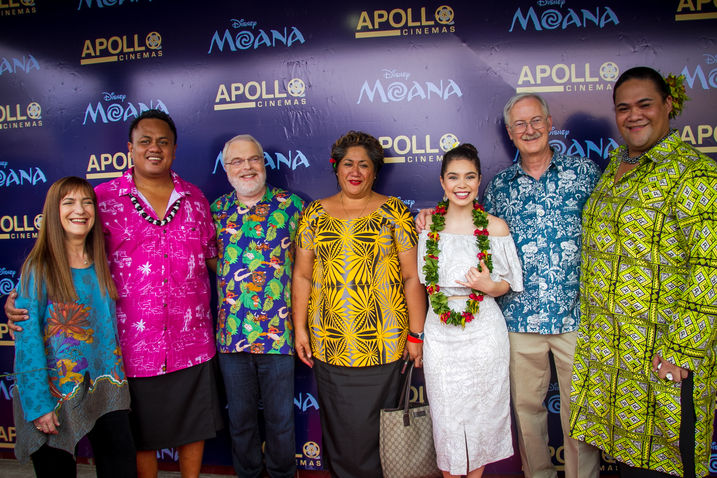 Disney guests with Su'a Hesed Ieremia, Papali'i Sonja Hunter & Kristian Lam-Scanlan
Cherelle Jackson of Conservation International also shared her thoughts with us on MOANA. "My favorite character was Grandma Tala because she reminds me of my mom, she dances and she's just a little bit crazy. Tala is an amazing character because she transcends generations for us. There's a Tala in every single family. That's why I really enjoyed this character, it's so realistic, not just for Samoa but for other Pacific Islands. [This film] is extremely important for the pacific in that it creates better awareness of oceans in our lives, and it brings back the value of oceans for us, for our livelihoods, and our economies."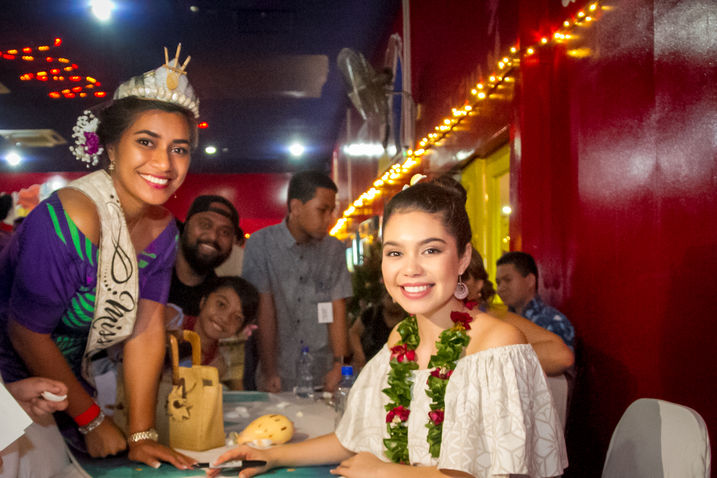 Miss Samoa Priscilla Olano getting an autograph from Auli'i
Henry Tunupopo (who helped look after the Disney team on their very first research trip to Samoa) shared his sentiments with us. "The familiarity of everyday village feaus (chores), the nature of Samoans to sing and dance wherever and whenever, fagogo (storytelling) by our grandmothers, island teines (girls) with big fro hair and a flower in her ear, the pe'a (tattoo), the pet pig, a chicken, coconuts, the fear of myths and legends told in poorly lit fales (huts) along with amazing Pacific beats all in a cartoon! Authentic Pacific culture before my very own eyes. Well done Disney, well done."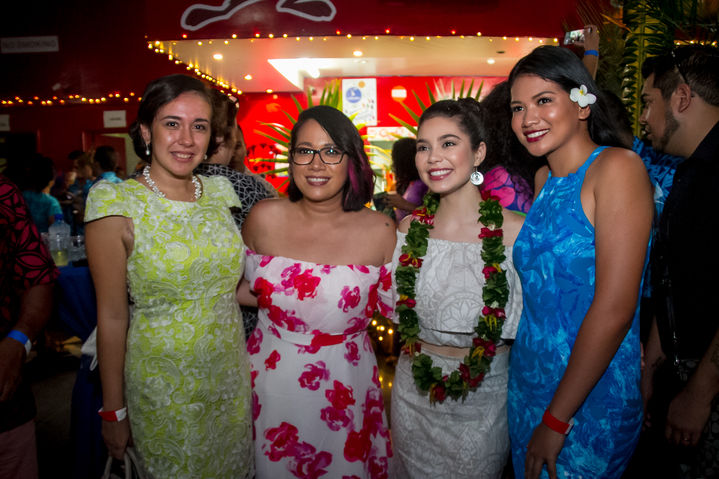 Eighteen year old Israelanna Natanielu of the Samoa Voyaging Society spoke about the importance of MOANA to the Pacific, and how it encourages young Pacific people to learn more about their culture and their history of traditional navigation.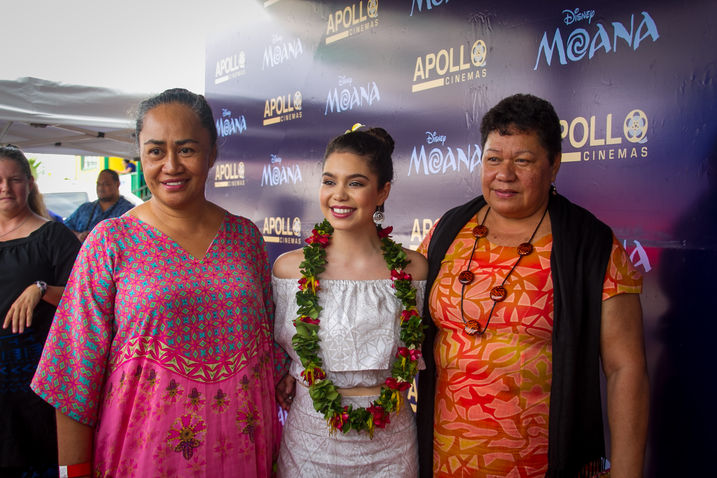 And as for me, what was my reaction to MOANA? There are no words to describe or encapsulate the magnitude of my pride after watching this film. Pride of my culture, pride of my traditions, pride of my people. MOANA is a beautiful film that tells the story of a Young Pacific Woman Leader that sails across our oceans to restore the heart of mother earth and save the world. She is a young woman I can see myself in, my sister in and my future daughter in. It is so important that our young Pacific women are portrayed as heroes and as leaders, for no one knows, how far we'll go!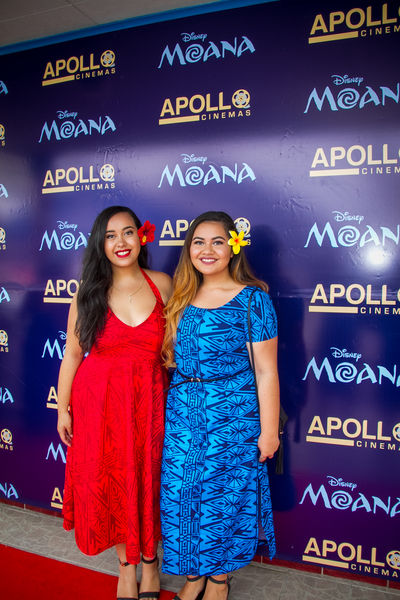 By Cherelle Latafale Fruean
Photo Credit: Ken Taitin
Suggested Links:
MOANA - Pasifika Film Fest Sydney screening & NZ Premiere
Share