Guest Writer
EMPOWERING SOUTH AUCKLAND WOMEN THROUGH FASHION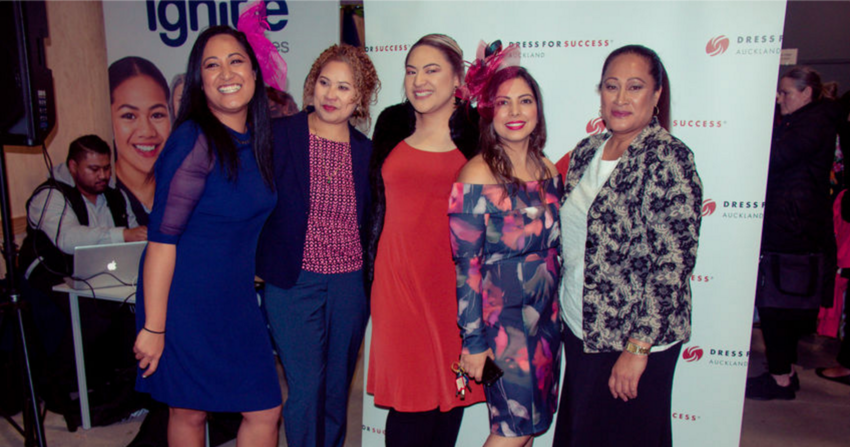 By Vanessa Trethewey
An exciting new initiative was launched earlier this week, giving hope, confidence and empowerment to South Auckland females.
Local tertiary provider Ignite Colleges teamed up with Dress for Success Auckland, a charity which provides free professional clothing, support, skills and mentoring to help women land jobs and build careers. Together they hosted a unique fashion show and pop-up clothing sale on July 31, attended by more than 200 people.
This is Dress for Success Auckland's first foray into the South Auckland region, and according to its Executive Manager Margot Minett Earwaker it is just the beginning.
"We are delighted because this is the first event and pop-up sale we have ever had in South Auckland and we are just ecstatic about the response," she said. "People were lining up before the doors even opened, and many of them have told me how fantastic they think it is. Dress for Success has been looking to come to South Auckland for some time and this is the start of things to come. To have this partnership with Ignite Colleges, and to have them welcome us down here, is just awesome."
Nine Ignite Colleges' students and one staff member took to the catwalk, modelling a range of professional attire provided by Dress for Success. For freight and logistics student Sui Vili it was a great opportunity to build confidence and support an extremely worthy cause.
"Just a couple of weeks ago my niece used Dress for Success, as she had a job interview and didn't have any appropriate clothes to wear. She looked so professional," said the Papatoetoe mother of five. "We only really have casual clothes and church clothes. There is nothing in my wardrobe that I could wear to an interview. I am a shy person and was really nervous about doing the fashion show, but I think Dress for Success is a really good organisation to support. They gave us a bit of catwalk training beforehand and also worked with us on which colours and styles would suit us best. The experience has helped me gain confidence."
Amanda Papali'i-taimalelagi works at nearby Radio Samoa and was delighted for the chance to nab a bargain at the pop-up clothing sale, which featured racks upon racks of top-quality clothing at just $5 apiece.
She said: "I am purchasing a mix of casual, going out and corporate clothes. I think this event is awesome. I mean $5 for these clothes? They are all really good quality. Where else could you get this?"
Guest speakers for the night were Jasdeep Basra (Miss Australasia 2017) and Judge Soana Moala of the Manukau District Court. Both women inspired guests by sharing their own personal journeys to success. "I am here to talk to you about being a self-made woman," said Judge Moala. "I have done that, and it takes hard work and education. Working hard is about developing your skills so you can be the best at whatever you want to do. It doesn't matter where you come from, if you work hard you can achieve your dreams."
Judge Moala also observed that, rightly or wrongly, first impressions do matter, which is why help from an organisation such as Dress for Success could be lifechanging for some women.
"Sometimes in the weekend, when I'm dressed in jeans and go into shops, I know the staff are profiling me. They'll either be thinking I can't afford it, or I am going to steal something! It's really important to look the part because if you don't look the part people are going to judge you. It's not the way it should be, but that is the reality."
Makeup for the event was provided by sponsors L'Oréal, with help from Samala Robinson Academy, while tasty food and beverages were dished up courtesy of Ignite Colleges' hospitality and cookery students.
Ignite Colleges works hard to contribute in meaningful ways to its local South Auckland community, and this event provided a perfect opportunity.
Ignite Colleges General Manager Jasbir Kaur said; "We are extremely impressed with the great work Dress for Success does and many of our students have used their services. This event was a chance for us to help connect Dress for Success with all those women in South Auckland who can really benefit from their services."
If you would like to check out the Dress for Success services for yourself or know someone who may need or benefit from this go to their facebook page here for more info

Share
---
Comments