Guest Writer
LA TONGANS AND THE LOVE FOR NIPSEY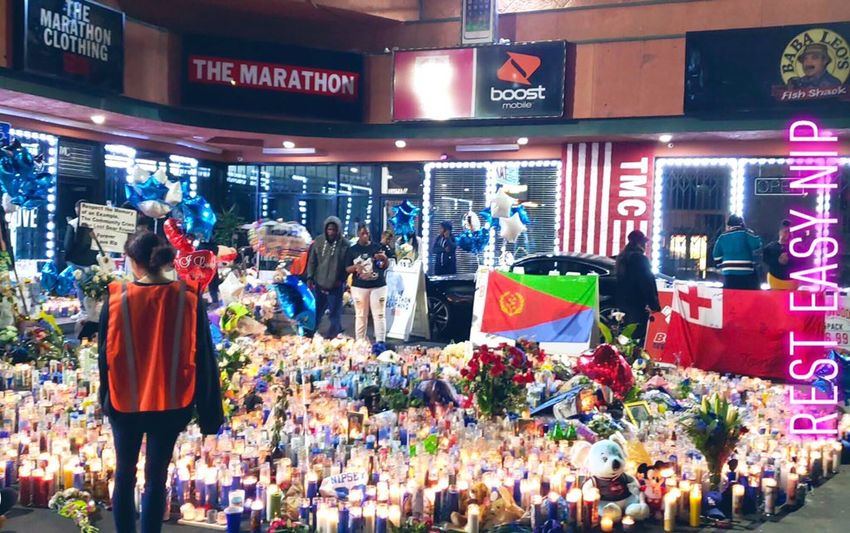 Just over a week ago much loved rapper, songwriter, entrepreneur, and community activist Nipsey Hussle was shot and killed outside his Marathon Clothing Store in Crenshaw, Los Angeles.
The tragedy sparked an outpouring of grief, love & unity with an historic unity walk attended by rival gangs within the area over the weekend. Amongst those who paid their respects were members of the Tongan community from Inglewood as well as Polynesians from South central, Long Beach, Watts, Hawthorne & from all over L.A.
Renei Ngaue Fangupo shares how and why they chose to give back to those showing support & love.
By Renei Ngaue Fangupo
"I put our flag out there on Tuesday showing love & respect from everyone but mostly the Tongans in LA because most of us knew Nipsey before he became famous. He used to perform with some of my family and that started the bond between us Tongans & the late NIP.
When we heard the sad news of the passing of Nipsey Hussle, it hit a lot of people in all different types of ways but for for us, it hit us hard because it hit "HOME" like someone said, "its the LA in us that got us feeling the way we feeling"
Just to give you a back story that led to Saturdays event, on the 2nd of April, my cousin Naomi Tautua'a Pollard texted and said that she wanted to go to show love and respect to the late Nipsey Hussle & that she also wanted to give back to the community like Nip did.
Just like that my cousin, her father, brother-in-law and myself along with some of our Tongan brothers and sisters were out there with a Taco stand giving free tacos back to the city that we all love so much. Naomi's father in law Scott Burden said "people are a little more calm and peaceful when they are fed" and he was right. It was amazing to be out there giving back.
On the following day, Vikashari Moala along with her sister Pou and Aunty Emeline decided to take a drive, go to the vigil site and walk around to pray and anoint where Nipsey took his last breath. Even though we are of Tongan descent raised in LA, we still stay rooted in our culture. Vikashari, Pou and Emeline had 2 major things on their minds to pray about that night - firstly how Nipsey was an inspiration to everyone and his dedication to the community and secondly they prayed for everyone to unite and pray together.
His music was "Real" and the role he played in our city made a huge impact so that is when Vikashari posted on social media reaching out to anyone who was wanting to be a part of giving back and asked to repost and share her status. I saw her post as soon as it went up and automatically shared it, then messaged her and told her that whatever she needed to make it happen - I'd back her up 102 percent.
Just to give you a little insight, my grandfather alongside with Vikashari's father & other folks used to do food drives back in the day for the community and so it felt right to support the cause. Vikashari said she felt kind of skeptical because she'd had a lot of bad feed back as well as the good but I had to reassure her that when you do God's work, the devil will try and stand in your way and to keep a clear mind. Greta Sofele who is Vikashari's cousin and also one of many supporters and a huge help in working behind the scenes with me told Vikashari since a lot of people are down to donate to run with it, and so Vikashari did just that and posted another status confirming our times and location of where this feed will take place.
Not even an hour past from when the post went up, Naomi reposted and shared Vikashari's post letting everyone and anyone who is moved by this to reach out to myself or Vikashari for details, and that's when we started getting people from all over wanting to donate and contribute. People who wanted to be there with us but couldn't sent money, dropped off drinks and pizza to snacks and sandwiches.
The amount of love shown on this day couldn't have been more heart felt and was definitely one for the books. The turnout was so remarkable that we fed from noon until about almost 9pm non-stop.
One individual can make a difference between yesterday and today and let it start with you. We honestly cant take any credit for this, it was all GOD, and all my LA brothers and sisters including those who came out of their way from out of state and stood in agreement with the type of man Nipsey Hussle was and we made this happen as a WHOLE.
Until the next function, stay blessed and ofa lahi atu.
Pics via Talei @ceeyahKNOW
Share
---
Comments