Guest Writer
Love in the age of Covid - Isabella Moore and Benson Wilson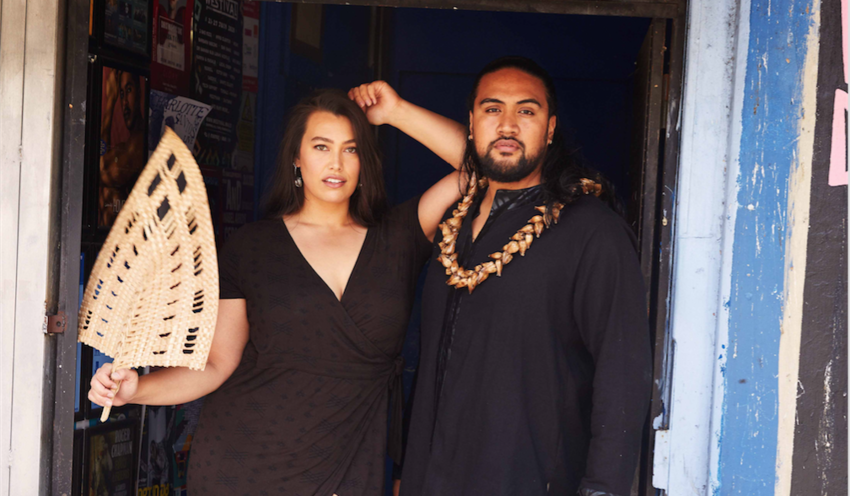 We are Benson Wilson and Isabella Moore. Two Kiwi Sāmoan opera singers living and working in London. Our love story is rather unique, in that it began only months before the coronavirus world pandemic hit. It created hurdles couples in the early stages of a relationship would never normally have to endure, but our shared culture, history, passion for music, and values carried us through and made us stronger than ever. And this is our story of how we found love in the age of COVID.
Aotearoa has a strong choir culture and it was in the NZ Secondary Students Choir that we first met as high schoolers where we became fast friends. From that day on we were both on similar operatic paths, but were on them separately or 'just mates' (haha!). We ended up studying at the University of Auckland together briefly in 2010 before Isabella moved to Wellington to continue her training there.
Before heading abroad for further study, we crossed paths again at singing competitions and would always make time to catch up and talk about life but, our story didn't take a romantic turn until almost 14 years later after other relationships, living in different countries, and pursuing other careers.
In 2016, Benson moved to London where he began his studies at The Guildhall School of Music & Drama. Benson had company debuts with some of the biggest opera companies in the United Kingdom and won the premier young singer's award, 'The Kathleen Ferrier Award', making him the first Sāmoan to go home with the prize. Leading up to when Isabella arrived in London, Benson was making a name for himself as a 'baritone to watch' in the opera industry. Meanwhile, Isabella was heading to the San Francisco Conservatory of Music to accept a full scholarship spot on their postgraduate programme.
After a domino effect of major life events between 2017-2018, Isabella's operatic career was put on hold and she moved home to Aotearoa where she focussed on her modelling career. After huge success she signed internationally, firstly with IMG Models in Sydney, which then led to her signing with MiLK Model Management in London. It was towards the end of 2019, before heading over to London that we slowly ventured out of the friend zone and our love story began. Benson turned up at the airport when Isabella first landed, and it was this gesture that got the ball rolling! Three days later, we were dating and spending all our free time together.
Fast-forward three months, and we are in 2020 and living together. We were both very happy with how our relationship was going and how our careers were looking. Fast-forward another three months, and the world was turned upside down with the coronavirus pandemic hitting us all like a ton of bricks! The performing arts industry was shattered and having singing opportunities became a luxury. Isabella had moved to London with the hopes of giving her operatic career another crack, but thanks to the pandemic she was again put on hold. Benson, whose career was thriving and had just accepted a position with the English National Opera was now out of work completely. With our careers in jeopardy, we really relied on each other a lot for emotional support and for some sense of stability. Then, suddenly in April, we believe we both contracted COVID, which was a huge test early on in our relationship.
With the many challenges that have been thrown at us, we've come out stronger than we went in. In comparison to most relationships, you generally don't go from, "Yes I'll date you." to being locked down together and forced to spend every minute of everyday in each others faces. If anything, it helped us grow together and for us that is one of the best things to have come out of this pandemic.
We've had quality time to learn about each other, which most people (pre-pandemic) would not necessarily have to learn in depth about their partner. The fact we had that time to really get to know one another is something we really cherish and are grateful for.
With opera and music both being our passions, it's unfortunate that we haven't performed much together in London yet (other than our casual jam sessions at home in our apartment… Haha!). After months of lockdown with no performance opportunities, we got together with other kiwi singers in London to form Whanau: Voices of Aotearoa, and made our own opportunities! We decided to film a concert of New Zealand, Māori and Pacific repertoire at the Royal Albert Hall and it was hugely successful! We performed a very well known traditional Sāmoan song, 'Tōfā mai feleni' by Fa'atui Fuimaono with Benson on the guitar and Isabella and Madison Nonoa singing.
(It's available for purchase through our website: www.whanaulondonvoices.com)
When we realised we were going to be locked down for an extended period of time in London, we made the decision to head home to Aotearoa for a few months for work opportunities and to celebrate Isabella's birthday! We decided to put on our own concerts titled Winter Waiata and include some talented young singers from the Project Prima Volta programme in the Hawkes Bay. It was so amazing to perform for live audiences after lockdown and even more special because it was our first time singing together as a couple.
Aside from opera, we have a few favourite love songs that quite accurately describe important moments in our relationship timeline. 'Choose' by Stan Walker feat. Hamo Dell was 'our song' before we made things official. 'Blessed' by Daniel Caesar is another favourite before we got engaged. Benson proposed to Isabella on Valentine's Day 2021 with a very special video set to Justin Bieber's 'Anyone', which perfectly sums up how we feel about each other!
Alofa is so important, especially given the state the world is in at the moment! We can always be kinder to one another as you never know what people are going through. This pandemic has affected people in a variety of different ways and it's crucial that we remember that, rather than judge each other. This world pandemic has taught us to show each other alofa through kindness, patience, communication, care and by humbling ourselves. We have a new level of gratitude for our family, loved ones and for each other, which has truly been our silver-lining.

Alofa telē lava,
Isabella & Benson
Share