Health & Well Being
A GENERATIONAL FIGHT AGAINST THE "C" WORD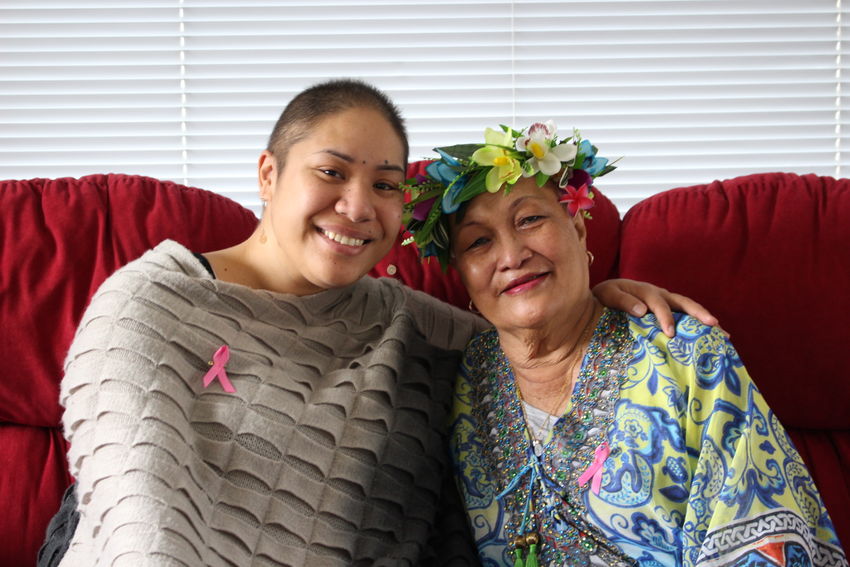 By Hanalei Temese
Approximately 38.5 percent of men and women will be diagnosed with cancer of any site at some point during their lifetime.
For Elisapeta and Shannon Skews, it was a double hit.
Born and bred in Samoa, Elisapeta (commonly known as Mousie) and her husband Robert, live in the tropical paradise of Rarotonga; their home of 27 years. With 5 children, 10 grandchildren and 5 great-grandchildren, the fight to jump this hurdle, is a fight she is determined to win.
"They're why I want to live forever" Mousie says proudly.
With a natural drive to be active and involved with her community, Mousie was just that. She represented the Cook Island's in squash, became manager of the team as she retired from playing and joined forces with her husband in 1990 as entrepreneurs of their very own tourism company, Turama - Pacific travel group.
"Everything was fine. I never thought I'd be held back until January last year, when I went to the doctor with a swollen leg."
With no severe symptoms or reasoning behind the swelling, the tests resulted in there being a growth of some sort. The possibilities were either a tumor or what we call the "c" word - Cancer.
"When the doctor said the word cancer, I didn't really know what to say. I just sort of smiled and looked at Robert." Mousie said. "I was referred to Middlemore hospital. They told me to get my passport and we left for New Zealand the following day."
On February the 12th, 2016, Mousie was diagnosed with stage 4 Osteo Sarcoma; Cancer inside the bone. After cycle 3 of chemotherapy treatment, the doctors had another consultation with Mousie, this time, with a couple of options at hand.
Due to the lack of progression made by the treatment, it was important for the medical staff to consider a faster alternative.
Mousie's first option was to save her leg with a 6-hour surgery followed by 8 months recovery. This held the risk that all of the cancer wouldn't be completely gone. The second option was to amputate her leg, with a much higher chance that the cancer would be completely removed.
Mousie contemplated.
"My first question to him was 'If this was happening to one of your best friend's or family members, what would your recommendation be?' He looked at me and said, 'I would take option 2'".
Mousie was distraught with the life changing decision and the impact it would have on her independence, but somewhere in that storm, she was able to find the positives.
"If I get a pedicure, I only have 5 toes so it's half price" Mousie laughed.
Although the loss of a limb managed to cut out 93% of the cancer, 2 cancerous nodules had already spread to each one of her lungs. In order to eliminate these, another operation was needed. By August 2016, post surgery, the oncologist gave Mousie the 'all clear' to travel home with the confirmation that there was no more cancer - or so they thought. In February earlier this year, Mousie returned to Auckland for her 3-month check up to then receive more bad news. A tumor had been growing inside the same lung they previously operated on. Another surgery was performed to remove that tumor which unfortunately didn't resolve all of it as the CT scans came back with the return of more cancer, this time, in the chest cavity (also known as the Pleura).
If that wasn't tough in itself, another storm was about to hit. Shannon, Mousie's 29 year old daughter, had been struggling with what she thought were tonsillitis symptoms.
Earlier in February this year, Shannon's tonsils were royally infected and none of the antibiotics prescribed for her were working. Fortunately, an ear, nose and throat doctor had travelled to the islands for an annual visit. After an assessment, he decided that both tonsils were to be removed and sent to Auckland for a biopsy.
A month later, the results confirmed that Shannon had Non Hodgkin's Lymphoma. A white blood cell cancer that is developed through the lymph nodes in the body.
"It was pretty hard to try and process all of that, especially receiving the news when I didn't have any of my family there with me because they were already here supporting mum in Auckland… …It's just hard to accept what is out of your control." Shannon said.
"It was such a shock because we were already so scared about mums cancer coming back and then for me to be hit with it too, it was all a bit too much. I understood both sides." Shannon added.
Among all of the trials they've faced, a common denominator was the significant role that Robert has had in taking care of the two of them.
Shannon speaks of her Dad with gratitude.
"He's our only provider at the moment and I know what it's like to be where he is. It's just as hard to be a caregiver. I saw it myself before I was diagnosed. Honestly, to have one patient is hard enough, but two? I don't know how he does it." Mousie nodded in agreement.
"Two of my other kids had to come back and help because Robert was trying to duck between our appointments as well as run our business. Our friends and family have been great support though. We're really grateful."
Among their support system, Shannon's closest friends decided to fundraise as a way to be able to contribute and cover any of her medical expenses. The group call themselves 'Kanona' - a special nickname Robert has used for Shannon since she was young.
Much to Shannon's surprise, the outreach was tremendous. The Kanona sisters, along with the Cook Island community, all managed to raise a total of $33k through various fundraising methods including this fundraising night at the Crown Beach Resort.
Coming out of what was such a successful campaign, Kanona have continued to fundraise for other people within the Cook Island community that are in need.
With the help of the community and their strong support network, Mousie and Shannon's story has become a communal blessing in many ways.
Mousie elaborates on her learning's as a cancer fighter.
"This has really brought our family closer together. Things we use to think were important, aren't. Everyone should spend quality time with their family, because you never know what could happen."
Shannon didn't hesitate to agree.
"Every single moment we spend with the people that matter, counts. This has definitely changed my relationship with my mother. If anything, she's my inspiration. She's one of the most strong-willed woman I know. It was hard trying to deal with my own diagnosis. All of my friends, family and people back in Raro really helped - but my biggest support is my mother. Like my girlfriends always say - 'no one ever fights alone'. Mum and I, we're in this together."
Shannon has finished 6 cycles of chemotherapy and is currently undergoing 1 of 2 treatments of methotrexate (another kind of chemo). Mousie has just begun her 4th cycle of chemo and will be reviewed by the end of it to determine whether there will be further treatment.
If you would like to follow their journey or donate to Kanona, head to their Facebook page here:
Share
---
Comments