Health & Well Being
Pacific Touch NYC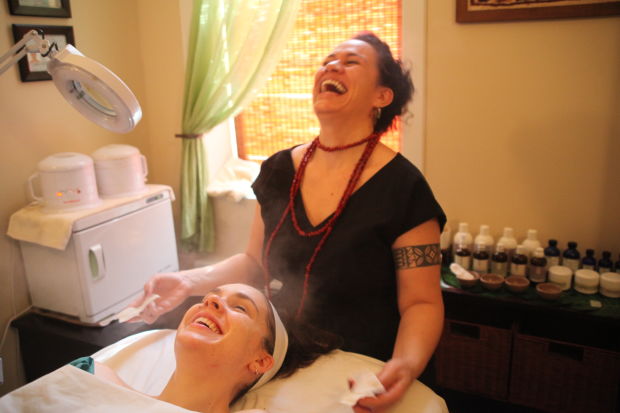 Nestled in the towering city of Manhattan lies a Polynesian paradise. Founder Nichola Weir brings the islands to New York with Pacific Touch NYC; an acclaimed day spa dedicated to holistic skin healing.
While in New York I was fortunate enough to visit Pacific Touch and receive an incredible skin treatment from Nichola who also shared her experiences and knowledge with me.
"Pacific Touch is about bringing the islands back to Manhattan. It's about conveying everything that is comforting to me about being Polynesian into a service over here." - Weir.
Having previously suffered from bad acne for 15 years, as well as her mum working in beauty therapy, Nichola has always been passionate about skin and healing. Her holistic approach with Pacific Touch has been a life changing experience for many of her clients.
"I have a client who was in a really bad accident and she nearly died. She had a huge amount of facial reconstruction and she came to me for a really long time and we did massage and facial work. After a while of coming to me she said she could feel parts of her face that used to be numb. So when you can change peoples live for the better, that's what I love, that's why I'm doing what I'm doing." - Weir.
Raised in New Zealand in the 70's and 80's as mixed Samoan/Palagi, Weir felt somewhat disconnected to her culture. "Samoan language was something that wasn't really encouraged and being mixed from that era, to my Samoan family I was palagi and to my palagi family I was brown."
What made Nichola feel most Samoan was dance. "I was a little kid who couldn't speak Samoan but there was a huge pride in hula. I have the best memories and dance made me feel connected to my Samoan side."
While working on people's faces at Pacific Touch, Nichola says the hand movements reflect that of hula or the Siva. As well as the love and warmth of Polynesian dance, this connection takes her back to where she is from.
Growing up with her Samoan family, she also learnt fofo /massage from her grandmother, which was a skill she carried to New York when she was 25. While waitressing and bartending, Nichola would do massage on the side, which eventually led her to study and start Pacific Touch in 2009.
"I left with no agenda during the pre-internet era. The world was a lot more mysterious than what it is now. I wanted to go to a place that was the complete opposite of where I was from." – Weir.
My own experience at Pacific Touch with Nichola was a timely one, having been in the bitter winter of New York for over a month, I was missing home and island culture. Greeted with a great warm hug, I was led into a cozy room with island art on the walls and a lavalava to put on (and it's no surprise that some clients have struggled with how to correctly wear one). I felt instantly calmed by these aspects of home I was missing.
"I didn't want to do surface Polynesia and no disrespect but it's not just about coconut oil and ukulele music in the background. What is it that I love most about being Polynesian? Our sense of belonging, the way we are with people, true connections.
I always give people big hugs when I see them, and beyond my grandmother's influence and massage, it's the way we greet each other and familiarity. There are millions of people in this city, but you can be very alone, so it's about creating a connected community."
Nichola has become an ambassador of sorts, as most people don't know much about New Zealand past Lord of the Rings. "They definitely don't know anything about Pacific Island culture. Its nice to be able to expose people to things they aren't aware of."
Being featured on American talk show Rachel Ray, and working with A-list celebrities have been some exciting highlights for Nichola. However the best triumphs have come through helping others and changing lives.
The pros always come with the cons, and one thing that never changes is homesickness. "You never get used to missing your family. Homesickness is crazy hard to deal with and it doesn't get better. I've had a child here and my partner is from Israel, I'm more settled here than I ever have been but I'm more homesick. Living in New York, the hustle and grind is not for the faint hearted." – Weir.
Pacific Touch has also begun to release its own line of skin super-food products that source ingredients from Aotearoa. "I use Manuka essential oil and pacific blue lavender which is indigenous from the South Island, where I was born."
New Yorkers are being exposed to and benefitting from natural gifts from our soil and water. "Emotionally its amazing to be able to know I'm bringing something from where I'm from into my treatment room here on the other side of the world."
My treatment at Pacific Touch included an organic deep cleanse, a gentle enzyme peel, an LED treatment, tumeric vitamin C mask and Nichola's own revitalizing facial oil. I was especially intrigued when she used a jade roller / pounamu. As a New Zealander it was especially significant, as I already had an understanding of its energy and spiritual qualities.
All bias aside, my experience was deeply relaxing and the effect on my skin was phenomenal. I purchased some Pacific Touch blemish serum on my way out and have already found it to work really well on my skin.
You can purchase Pacific Touch products in Auckland from 'Chil Body and Hair' .
Anyone suffering from acne who wants to clear it naturally without using nasty chemicals or scary medications can contact Nichola for an online consultation nichola@pacifictouchnyc.com
Share
---
Comments