Health & Well Being
Staircase Challenge for Mental Health Awareness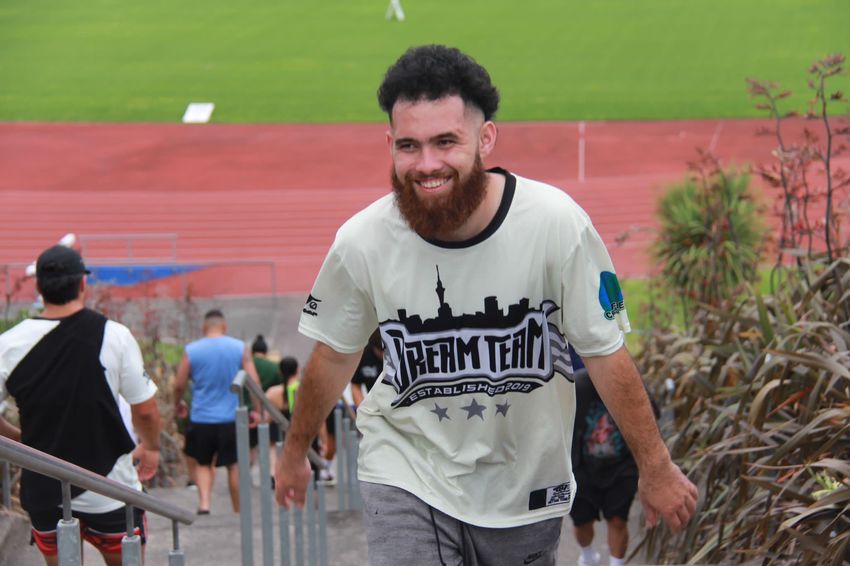 * Trigger warning - this article contains discussions about mental health issues & suicide.
After having three of his close friends reach out to him during lockdown to let him know they were struggling, young Samoan/kiwi Steven Edgar decided he needed to take action and try to raise more awareness around mental health issues & suicide.
The 22 year old said it really hit home when one of those friends tried to take his own life. "My mate ended up in a coma after attempting to take his life and after he woke up from the coma I was like that's it! I really need to do something to raise awareness.
I'd come across this guy on instagram (dancer Dave Kuresa), who had shared doing a 12 hour staircase challenge to raise awareness around mental health in Brisbane and I thought 'I could do that here in Auckland and try raise awareness here'" he said.
After seeing the impact that Daves video had, had on people, he wanted to try and get the message out in Auckland which is "We're here, it's ok not to be ok and it's never weak to speak"
"I also thought it'd be good to use the staircase challenge to raise funds at the same time, so the funds we raised that people had donated to support us doing the challenge - we then donated to the Movember Foundation a charity who focus on men's health, mental health and suicide prevention."
Steven said he's not sure of the numbers who came out to do the Stair Challenge with him but he said the turnout was really unexpected as he'd thought it'd only be his boys and a few family members and friends.
"The amount of people who came out to support and do the stairs with us was overwhelming to be honest" he added.
Steven said most of his boys did the full twelve hours with him, which started at 6am through to 6pm and proved challenging at times.
"There were a few times we cramped up and had to stretch our legs out for a bit" he laughed "so we'd break for 10 mins or so, stretch and then get back into walking"
From the Give A Little page that was set up for people to donate to for the event itself, they raised $1700 and they also had a donation box at the Stair Challenge in case there were people who had cash on them and wanted to donate.
At the end of the day they'd made $600 from the donation box and were then able to donate a total of $2300 to the Movember Foundation.
Steven feels that it's really important for our Pacific young people to know that it's ok to speak out and let people know if they're not ok.
"Just from experience growing up in an island family, for a lot of people in South Auckland especially it's hard to speak up because our parents have grown into that culture where you just have to sweep it under the rug.
You kinda get taught that if you're a guy, you need to be hard and provide for your family.
In this new generation it gets hard and we can't handle it and then it seems like a lot of the young people give up and lean towards suicide"
He felt that Covid made it harder on another level with many young people being stuck in their own thoughts, not being able to get out and see friends or have a break from situations at home.
He said he really wanted young Pasifika men and young people to know that it's not weak to speak out and seek help and he said it meant the world to him when his friends reached out when they knew they weren't ok mentally.
"I'm glad I could be there for them and that's another reason why I wanted to do this stair challenge and the fundraiser - to show them support as well" he added.
-
To understand what depression is, how to get help and tips on getting well and keeping well - check out Le Va Pasifika's Depression Factsheet and resources available for download here in English, Maori, Samoan and Tongan.
Try the Croo app - a safe and secure app that monitors a person's mental wellness and notifies trusted family and friends (their 'croo) when their 'wellness signal' appears vulnerable.
-
Where you can get help:
If you are worried about your or someone else's mental health, the best place to get help is your GP or local mental health provider.
However, if you or someone else is in danger or endangering others, call 111.
If you need to talk to someone, the following free helplines operate 24/7:

DEPRESSION HELPLINE: 0800 111 757
LIFELINE: 0800 543 354
SAMARITANS: 0800 726 666
YOUTHLINE: 0800 376 633 or text 234
1737 NEED TO TALK? Call or text 1737
Share