Humans of the Islands
HUMANS OF THE ISLANDS - 'AHOTA'E'ILOA TOETU'U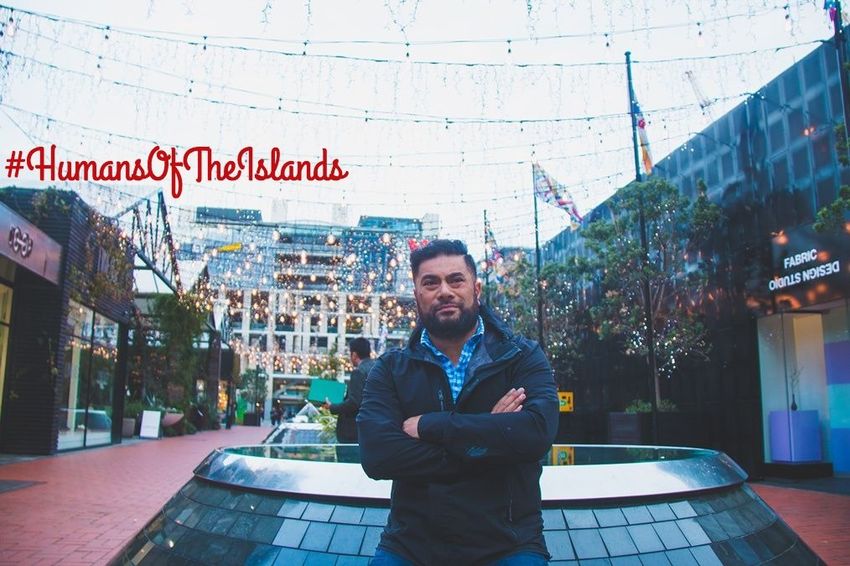 'AHOTA'E'ILOA TOETU'U
ARTIST & ART TEACHER
TONGAN
.
I was born in Tonga, my Mother is from Fasi Moe Afi and my Father is from Falevai and Longolongo. My family moved to NZ when I was 3 years old and grew up in Otara and also spent some time living in Bondi Beach, Australia.
What were the pathways that led you to what you're doing now?
I loved imagery from a young age appreciating animation and cartoons and large picture books and comics. This led me to love drawing and naturally developed in high school and excelling in Art. After working in factories and various jobs such as the Bank I realised that I needed to follow something I was really passionate about and it was Art. I attended MSVA in Otara and graduated with Bachelor of Visual Arts and then a Postgraduate Diploma in Teaching.
You've recently been commissioned to create artworks for the Britomart Flag project and you also have some murals around the city how did these projects come about?
Yes I was approached by Paul Baragwanath from Artform Ltd to create a mural in the historical South British Insurance Company Building in the City. It was the first time for a Pacific Artist to show in this space and being in Central Auckland is a wonderful opportunity. So recently I was invited by Jeremy Hansen from the Britomart group to design some artwork to be printed on flags and to be decorated along the Te Ara Tahuhu walkway at the Britomart station. These opportunities have been a blessing.
What was the inspiration for these artworks?
I was able to really express my art practice in such a busy area such as Central City and in Britomart. So really it was my opportunity to share my works with the wider community outside my usual space. The design of the flags really goes back to one of my first inspirations– the tapa designs, not so much the visual imagery such as the birds and plants, more of the geometric shapes. I just find it interesting why our ancestors used simple lines and shapes and, with the process of repetition, they created some amazing new designs or meanings. I wanted to express that in this project. I'm also thinking about nationalism, and about the Mate Ma'a Tonga success in rugby league, how the Tongans are so proud just to back their little country by buying every single flag out there. These flags in Britomart are my expression of myself being Tongan and being an artist and a New Zealander. I think it's like a fusion of everything in one.
You're an art teacher at Sir Edmund Hillary Collegiate - why do you think it's important to have Pacific teachers and bring a Pasifika perspective to what you do?
It's great being a Pasifika teacher because you can relate to the students and understand some things that you may have in common and assist them with. When I was a student there wasnʻt a lot of knowledge and interest around Tongan and Pacific Art as there is now so there is so much to work from. Art is a subject where students can use their creative side and think creatively which other subjects can be quite intense, so they are get a good balance.I truly believe with hard work and with a positive attitude, the talent will develop. It's just a matter of hanging in there and not giving up.
What do you love about being able to combine art & teaching?
Itʻs doing something you enjoy like drawing and painting and using it as a tool to teach students not only about Art but other subjects because it could be cross curricular to. The best feeling is when you see the development of skills by your students.
What's exciting in the Pacific creative spaces at the moment?
There are new young fresh artists exploring and pushing the boundaries and sharing our Pasifika stories using different media. So itʻs always exciting to see what new work is being developed by the next generation of artists. Tonga is a small Island in comparison to the world so we need to get out there and share our stories and what we have that is unique. We have only scratched the surface in the world scale so Iʻm excited to see what the future holds.
What is the best piece of advice you've been given?
Iʻve had many but what I have learnt thru my own experience is if you have an idea in your mind or have an urge to paint something, just create it so that you clear your conscious and if you donʻt someone will. One good advice I remember is to never leave any stones unturned and another one is to be yourself because you are unique and thereʻs no one like you in the world.
Do you have anything else coming up (exhibition/artworks) or anything that you're working on that we can look out for?
At the moment my priority is to focus on supporting my students so that they achieve their goals this year and for my own Art practise I will continue painting to create a body of work towards a solo exhibition. For the meantime Iʻll just count my blessings and take every opportunity that comes my way.
Share