Humans of the Islands
HUMANS OF THE ISLANDS - ALI COWLEY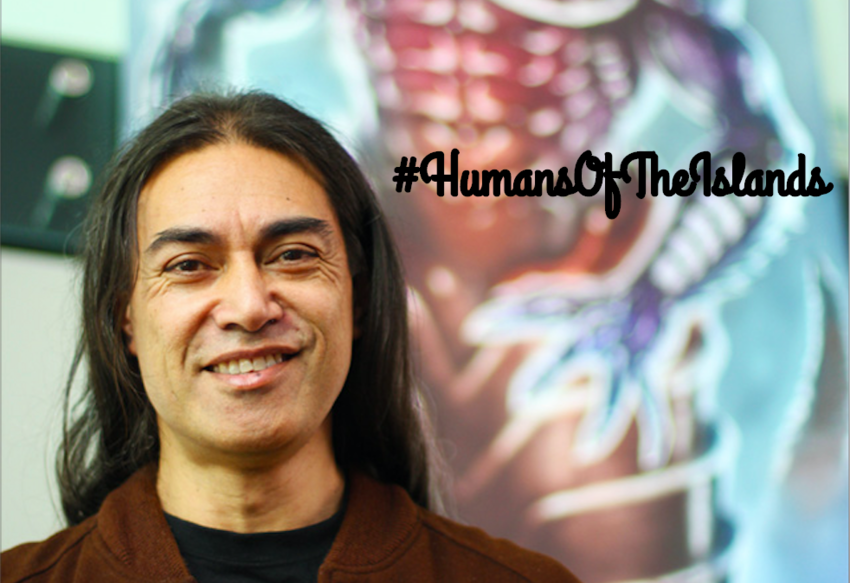 ALI COWLEY
ARTIST
SAMOAN
My full name is Ali Ekeroma Cowley and I was born in the Year of the Dog. I am married to Donna Michele Cowley, née Waetford, Ngātiwai. We have four children and live in Manurewa, South Auckland. My parents are from the Island of Upolu in Samoa. My mother Hanamoa Cowley, née Ekeroma, is from Vaimoso and my father, Alofipoi Tupa'i Utupo Henry Cowley, is from Vaigaga. They migrated individually to Aotearoa in the early 60s, met and married in the late 60s and had three kids. They bought their first house in Mangere, South Auckland in 1973.
I admire my parents very much and missed them when they went to work. Mum was a maternity nurse and dad worked in construction, so they were working opposite times of the day. They supported my art when I was little. Dad drew cowboys for me which really sparked my imagination and fascination with creating images on blank paper using only a pen. That stuck with me throughout my life and eventually became my career path - making creative things out of nothing. I don't like limiting myself with a label but I am an animator, an illustrator and a director, but really I just like being a creative artist.
You're a prolific artist - what has the journey been like navigating these creative fields?
Wow thanks! It's been a lonely path. When I decided art was going to work for me, it was a light bulb moment, after working in a factory and realising that was not where I wanted to be. Although I respect the hard work in the factory or any industry, I really love drawing, dancing and music and I felt like I couldn't deny a deep down desire to be free to create.
I found it hard to find role models, especially in the field I wanted to be in, and in particular Polynesian role models. I aspired to be like my art teachers and fine artists but I knew there was different path for me, I just didn't know what it was at the time.
When I came back from an O.E. I went on the dole and looked for any art job. There was a taskforce green initiative that WINZ ran so I signed up. I had to paint murals for the Robertson Rd beautification project. It was there I let my painting talents free and one of the other artists saw I had a knack for cartoon characters. He suggested I apply for an animation course in town and I was like, 'Animation!... I have never heard of anything like that in Aotearoa!' It wasn't long after that I found out more about it and I signed up. The rest is history.
You've just made your directorial debut with your short doco/film Munch Jnr. Can you tell us about the film?
My Loading Docs short documentary 'Meet Munch Jr.' is about how a father's love inspires an autistic teen to express himself by bringing his cartoon character to life. Sixteen-year-old Nikau wants to create his own real-life hand puppet. He's a keen artist and animator. He's also on the Autism spectrum. It's about how I, as his father, help him bring the puppet alive from a drawing on a page to a real-life hand puppet. The film is basically about the unconditional love I have for my son and his gift that is Asperger Syndrome. I want to show the audience what Nikau sees rather than what we or the general public see when we make judgements on an autistic child's behavior. I hope that by switching perspectives audiences will have a greater and more human understanding of autism.
You bring awareness to autism in the film and you're part of the Pasifika Autism Support Group - can you tell us why it was important for you as a Polynesian father to bring a Pasifika perspective to this?
It is super important to bring autism awareness to the Pasifika community, especially from a Polynesian father's perspective, because we can be a bit disengaged with our children if they do not live up to our unrealistic expectations. Our people are naturally family and community orientated but it's sad when one child's behavior causes division. We should take our values of Fanau and support each other but it is not always the case. I have heard and seen very heart-breaking stories of Fanau being shunned from their families or community because no-one really understands what is going on with the child. It only takes empathy and compassion to ask the parent if they are okay and if they need a hand. 'Meet Munch Jr.' can now be used as a resource for the Pasifika Autism Support Group which is great, because we have very limited Pasifika autism resources.
What was the most challenging and the most rewarding moments you had during the process of making the film?
The most challenging thing about making the Loading Docs documentary was being in the film and directing because I had to be in control of the film but then, on the other hand, I also had to surrender myself to the film. The most rewarding part of the process was meeting new people and working towards the end product together. Being a Fanau unit was the metaphor for making the film for my Fanau and my new film Fanau. The theme of this year's Loading Docs collection is 'Power' and Fanau is Power!
Meet Munch Jr. is part of the 2019 Loading Docs collection. Check it out here:
Share