Humans of the Islands
HUMANS OF THE ISLANDS - BERTRAND JANG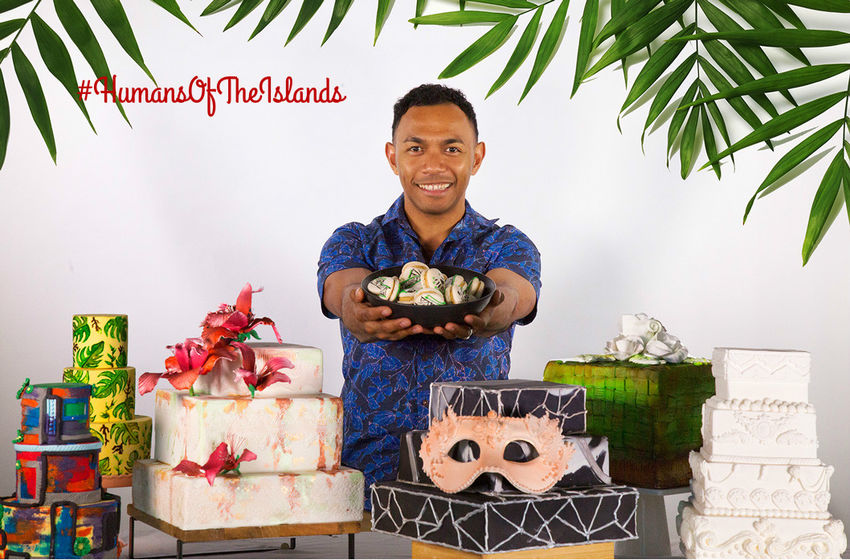 BERTRAND JANG
CHEF / CAKE MAKER + SWEET and ME OWNER
FIJIAN / CHINESE
.
I am a Fijian Chinese born, raised in Fiji. I have 6 handsome brothers and 2 loving parents. I was raised in a small house with 14 people under one roof. Every day was dramatic. There was so much to do and so much fun and laughter. I was always surrounded by family and didn't have my own room. It was truly the best days of my life, and I wouldn't change a thing. I was brought up with 2 cultures; Fijian and Chinese, and was really blessed to come from a long line of family that cooks. We all love to cook. We bonded over the preparation of the food it always connected us. Everyone would pitch in and help some cousins would climb the trees and husk coconuts, other cousins would be peeling onions and preparing meats and aunties with their cups of teas. Each member had a role in preparing the meal and I think that was what I loved most about home, "the behind the scenes" bit.
How long have you been a chef for and what are some of your favourite experiences you've had as a chef in the Pacific?
I've been a chef for 12 years now and I still haven't grown tired of it. I first started my work experience in Suva and soon moved to Rarotonga, spending nearly 6 years on the beautiful island. It was here that I excelled in the culinary world. I was thrown into the life of a young busy chef, being taught by so many wonderful chefs. Rarotonga is diverse and so was its cuisine, I could learn a lot from the community and was given the opportunity to also create menus of my own at such a young age. It was here that I fell in love with the country and its people. My chef mentor, Maitia Vano, is still on the Island and so many lovely friends and families. My best memories of the Island are going by the reefs and eating off the sea, walking over with our cassava and coconut cream, chili and lemons and eating off the land. It was amazing, the best times were when you were hungover, the seafood tasted too good to be true.
What made you want to take the leap into cake making as a business?
I reached a point in my culinary journey where my growth slowed down, so I decided to take on cake decorating as a hobby. I did this over a year and only took things seriously in November 2017. Once I dived in, there was no coming back. It was like I was born again and had a fresh set of senses - a sweet one. It's been a roller coaster since then and I'm enjoying the ride.
What makes you unique as a Fijian Chef/baker in NZ?
I feel it's my taste palate. I am a proud Pacific Islander and I honour the ingredients from the islands by using them in my dishes or cakes. I believe that our food and people have a story and I tell this by creating my childhood favourites- fudges, cakes, pies and beverages. I incorporate them as much as I can in the flavours and in the design. My parents are Fijians and I hand paint masi on my macarons to portray my dad's village and acknowledge the beautiful artistry passed down from elders.
What is your favourite cake?
So far, the Koko Samoa, since working in Auckland, I've had the privilege to work alongside Robert Oliver, whose broadened my knowledge on Pacific products, and Koko Samoa is one of them. It's so versatile, I use them in everything, literally. I turn them into a thick hot chocolate which I then pour into a cake batter mix, for the chocolate ganache, I grate them into my chocolate to give it that bittersweet taste. It's amazing!
Tell us about your island size pies?
As islanders, it's safe to say that we were mostly brought up with pies, they were affordable and could feed many hungry mouths. Since opening, I have introduced a selection of pies that I was raised with in Suva. My favourite is the Coconut and Pineapple pie and it has been a top seller at the La Cigale French Markets. It's such an awesome experience seeing other nationalities trying Pacific desserts, their eyes in awe with the explosion of flavours in their mouths. I recently did a cassava cake, I was hesitant about how people would react to the flavour but they all loved it.
.
How has your upbringing + culture shaped you into the man you are today?
I am so ever grateful to my parents, brothers and cousins. My parents and for instilling good manners and behaviour at such an early age, the importance of education and respecting your elders. I truly owe them the world and I thank God, each day for their love and prayers. My brothers for keeping me in line and having my back from day one, who needed friends when you had family. And my beautiful cousins who help put me through university, growing up, it was tough and if it wasn't for my beautiful cousins, I would not have been a qualified chef. Family is so important to me and I believe you should always love them for who they are.
Who are your biggest inspirations and why?
To this day, my parents, they are so hard working and I love them to bits. The sacrifices they put up for the better life we had, that's LOVE! I admire them so much and if I grow up to be half the man they are as a team, I am happy. Second is my good friend and mentor Robert Oliver, his work all around the world is sound and spot on. I hope to follow in his steps and pave the way for younger chefs. To be acknowledged by the Pacific community is one thing but the world, oh boy, I want a shot at that :)
Vinaka
IG @sweetandme
To learn to make his Masi designed macarons - https://www.sweetandme.co.nz/blog
Share