Humans of the Islands
HUMANS OF THE ISLANDS - Blackbutterfly Group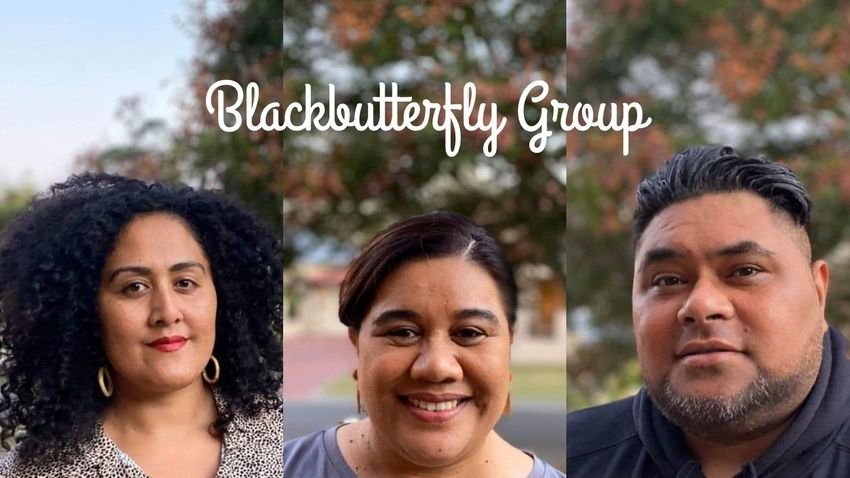 JANICE ELIA, TAPU & JOE FUIAVA
Mental Health Initiative; Blackbutterfly Group
Samoan
.
We are a group of Pasifika people from a Samoan and Tongan heritage. We were born and raised in New Zealand and migrated to Brisbane Australia. Tapu and Janice are sisters and both work in specialised community mental health services. Joe and Tapu are married, and Joe has been working with children in crisis for many years. We're a close-knit family that enjoys working together towards a common goal.
Where did the idea for the Blackbutterfly initiative come from?
The idea of Blackbutterfly was born out of need. Amongst ourselves, we would often have deep discussions about the challenges we were experiencing personally but also what we saw happening to our family and friends. We basically got tired of talking and began asking ourselves what can we do about it?
Utilising the traditional process of a talanoa, it was obvious to us that this was the most suitable mechanism for our people. What we discovered was that services for our Pasifika people was scarce and not suitable in meeting the needs of the Pasifika people in Brisbane.
Could you describe for the readers, a little bit more about what Blackbutterfly do?
The main purpose of Blackbutterfly is to connect with everyday members of the community. Initially, the area of interest was Pasifika people living in Brisbane Australia. Our social media platform has allowed us to cast our net wider to connect with Pasifika people not only in Brisbane but all over the world.
We highly value the power of stories. We believe that everyone has a signature story that is unique and powerful to them. We know that when someone can share their story it not only inspires others but empowers those who are listening. Those that have sat in our talanoas have expressed that as they listened, they felt compelled to share also.
There is an emphasis on bringing together everyday people to have 'real talk'.
Before the talanoa ends, the focus then shifts to action. Based on the conversations that transpired, the group is then asked to write down their small commitment to change.
Why do you think the work that you are doing is important?
We believe the work is critically important because of the rates of suicide, mental health issues and family violence. We would describe the talanoa space as a soft entry for everyday people needing to become aware, open up and share their stories. There aren't many safe places in the community where Pasifika people can go to unless it is through a referral pathway to a professional service. Unfortunately, what we know is that many are reluctant to take that pathway.
.
Has your Pacific heritage had an impact on the way in which you go about your work?
Absolutely, our Pasifika values have been key in the way we connect with the community and treat the space. We have always treated the space with respect and warmly welcomed people through the door.
The fact that we are family demonstrates the value of family and how Pasifika families can be highly effective when we work together. Pasifika people have an innate ability to treat others like family allowing for a genuine deep connection.
There is an emphasis on people being courageous and honouring each other's stories.
You've discussed a little bit about how your Talanoa sessions start conversations about topics that Pacific communities sometimes find difficult to discuss. What are some of those topics and why do you think it is Pacific communities find them so hard to talk about?
We try to bring in topics that are relevant to our community but what we found is that people are very keen to talk about topics such as suicide and mental health. We try to break it down further and introduce topics that aren't typically discussed like shame and vulnerability. We discovered that it opens up people's thinking and enables them to make connections to certain behaviours that they may not have been aware of.
There's no question that our cultural identity has been at risk for some time particularly for those who are children of migrants and have migrated again themselves. Pacific Islanders are raised to respect our elders, follow our leaders and not answer back! This has not always served us well living in western communities. An example of this is our communication skills or lack thereof.
Why did you choose the setting of a barbershop?
Spacifik Cuts Barbershop is a longstanding Pasifika owned business in Logan, Qld where there is a concentrated number of Pasifika people residing. Nicky Pati is a close friend of the family who owns and runs the barbershop. The barbershop is involved in many community projects and has always been supportive of the Blackbutterfly group and their vision for the community.
.
What do you love the most about being Pacific?
We really love the fact that we know how to have a good laugh. What is always consistent in our talanoas is the sound of laughter. We know how to eat together, cry together, laugh together and at one another.
What do you hope the Blackbutterfly initiative will achieve/ model for other Pacific communities?
Our goal is to role model and instil courage amongst our people. To encourage our people to be brave, step out and face their challenges head on. To connect with others in a healthy way where they can deal with their agony, pain and uncertainty. Our hope is to be 'carriers of hope'. To not only be a light to dark places but to support our Pasifika people to see that there are always choices in front of them, that there are multiple pathways they can take even when it seems hopeless.
What is the most important message about Blackbutterfly that you hope other people will take away?
Being Pasifika is something to be proud of. Culturally, we understand the importance of being connected. The power of storytelling can reconnect people, so they are no longer isolated in their struggles.
It's time for us to take responsibility for our community. We believe that it is our community that holds the solution to the problems and challenges we face.
.
Lastly, if any young people are reading this article, what are some pieces of advice you'd like to give to them?
What you say matters. What is in your mind matters. What you care about matters. Your life matters. Your story matters. Knowing how to express yourself could be one of the most important tools you learn. Remember, that there are always choices you can make, the key is knowing what those choices are.
You can keep up with Blackbutterfly group on social media here:
Instagram: @blackbutterfly
Facebook: BlackButterfly Group
Share