Humans of the Islands
Humans Of The Islands - Clarence Dass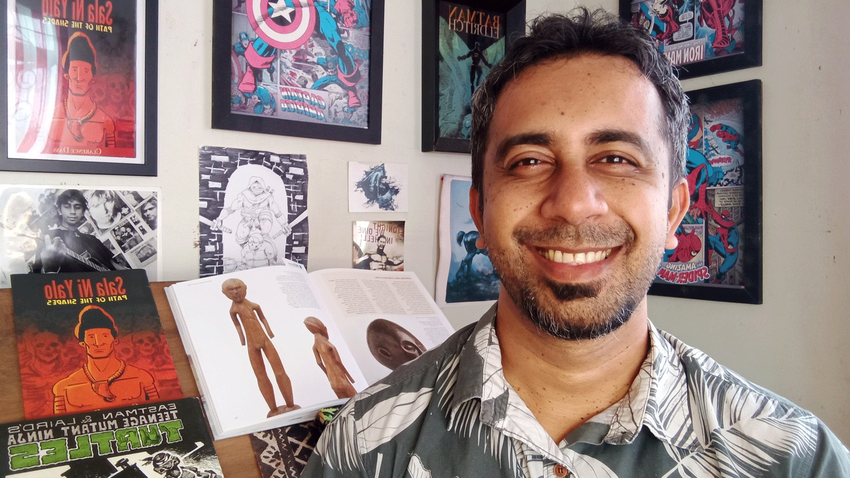 Clarence Dass is a cartoonist and author based in Fiji, on social media as @nerdwala. Active in Fiji media since 2002, Dass has worked as a music journalist, radio presenter and television producer.
-
I'm a self-taught cartoonist from Fiji. I used to be a musician in a punk band, a radio DJ, a TV host and then a TV producer, a film maker and now I edit videos for The University of the South Pacific. Though I love music and films, I really enjoy making comics, but my passion throughout is story telling.
Where did your passion for story-telling come from? and how did you start off?
I've always been drawing. Even as a kid, I'd make comic books out of A4 paper, folding them and stapling them together. I even had my own characters. So I guess my passion started from comic books and 80s Saturday morning cartoons. The Ninja Turtles were probably my first big craze and old Hana Babera heroes like Space Ghost and Mightor. I still remember the first comic book I bought too, which was Detective Comics 601. I bought it for a dollar from a corner store down the road from where I live. I was about six or seven years old.
So growing up it was all these superhero stuff for me that really got me wanting to make my own books. In highschool I started getting into weird underground books, like The Crow by James O'Barr or Johnny the homicidal maniac by Jhonen Vasque, and those got me drawing some crazy stuff back in the day. As I grew older and started working, my interest shifted from visual art and drawing, which I studied in 2002, to animation.
I studied animation in 2005, but the industry was not a thing here in Fiji so I fell into film-making instead and made short films. BUT I was still drawing, because I hardly did complicated scripts and did detailed storyboards instead. I got back into drawing seriously about 4 years ago. I like telling stories and making comics is something I can do to tell stories by myself, without a camera crew or lighting dudes and stuff like that.
A lot of the art you share on your Instagram page fuses an old school comic book style with Fijian characters and motifs, what inspires you to create these pieces?
I just straight up LOVE Pacific culture and of course in particular the culture and traditional stories of my own Fiji. I love reading about Vikings and Romans and traditional Polynesians are just as bad-ass as those cultures, they were sailing and discovering new lands and creating mythologies hundreds of years before these other cultures.
This fascination led me to dig deeper into their stories and I even started studying Pacific Studies at the University of the South Pacific. The more I learned, the more I wanted to share and the best way I could do it was through my art. There is definitely a void out there that is begging to be filled with Pacific stories, because it's a voice we don't get to hear too often outside our own circles. And the designs, the lore, the myths and legends, they are so full of character that it's exciting to draw for me.
Over the recent weeks, due to the popularity of Spider-Man: Across the Spiderverse, a lot of other Pacific artists created renditions of different spider-people native to their homelands, you contributed to this movement with your Bati Spider-Man. How important is Pacific Islands representation in this medium to you?
I absolutely love the art that came out during this time in regards to these Pacific Spider-men. For me, it's all about pre-colonial, old world Pacific stuff. So I wanted to do something where Spider-man embodies the spider persona like a totem or a spirit animal, rather than just a costume. In terms of representation, of course it's very important. It's something I didn't think about as a kid. As a little brown kid in the islands, I didn't care that Batman was white or Conan was ... a more tanned white. But I did find myself drawn to coloured characters just a little bit more when I got to see them and as an adult, I understand why. Because it's familiar.
I'm not African American, but seeing heroes like Blade, Jon Stewart/ Green Lantern and Static showed me that anybody could be a hero. And to bring that home to Pacific Island representation, imagin how awesome it would be if a kid picked up a comic book or watched a cartoon show and thought "wow this is awesome" and it's them. It's them in the pages because it's a Fijian or a Samoan or a Moriori hero. That's what I want to be a part of. The movement that makes that happen.
And lastly, what is your dream for the future of digital art in Fiji and for the future of Fijian cartoonists?
I think people are waking up to digital art and alternative art. There's much appreciation for traditional art like painting and illustration, but I've seen more NGOs locally and even Government departments, exploring the idea of sharing things through cartoons and comics. I think cartooning will fight to become a thing because it's current and cartoons and comics are a cool way to keep traditional ideas and stories alive, because it's the perfect package for the generation we want to instill these ideas and stories into; the youth. My ultimate dream would be to have a cool. Pacific anthology comic magazine. Like the British 2000 AD or the European Heavy Metal magazine. Imagine various artists from the Pacific, with their varied styles, contributing 4 to 6 page comic stories in a monthly magazine. I'm gonna make that happen. I even have a name for it. I just need to work out funds and publication, but that's my mini goal. It would not only serve as an exciting way to share pacific stories, but it could also be a platform for budding artists and writers. A lot of the dudes who defined the comic book industry, Allen Moore, Dave Gibbons, Grant Morrison, they got their start in magazines like 2000 AD. The next big thing will be from here and it could start in that Pacific comic magazine.
Public Interest Journalism funded through NZ on Air.
Share