Humans of the Islands
Humans Of The Islands - David Laumatia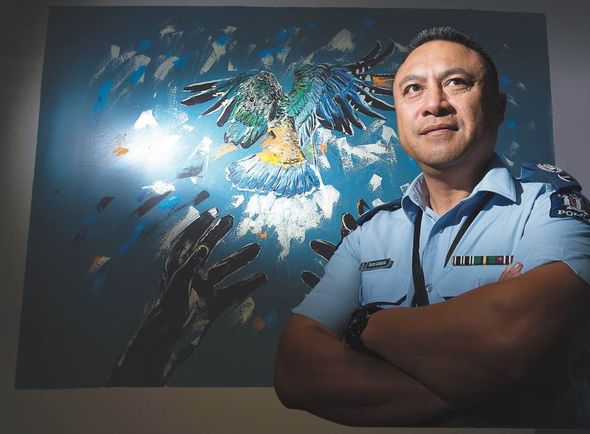 David Laumatia
Senior Sargeant, New Zealand Police
Samoan
I grew up on Panama Road in Otahuhu (Auckland, New Zealand) - back then Panama was known for producing quite a good number of League players and my brother was one of them. He (Bryan Laumatia) ended up playing for Cronulla Sharks, NSW. I came from a working class background and my Mum and Dad came from Samoa to New Zealand in the early 1960's. My Mum is three-quarters Chinese. I'm number three out of six kids - we all turned out pretty well, none of us got into any trouble. If anyone of us was going to get in trouble growing up, it would've been me. I was a bit of a rascal.
Growing up in New Zealand, did your parents place strong emphasis on Samoan culture and tradition in your upbringing?
We definitely went to church and experienced all of that but one thing that wasn't pressed as much, and I wish it was, was speaking Samoan in the household. Mum and Dad said that they didn't push us to speak Samoan as much because we kind of pushed back on it. And it's a great regret for me because now most of us (siblings) can't speak fluent Samoan although we've got a basic understanding of the language. I think that's not untypical of New Zealand-born Samoans. Some people admirably insist on practising the language and I think that's wonderful, and some don't. We're still very proud of our heritage and our upbringing.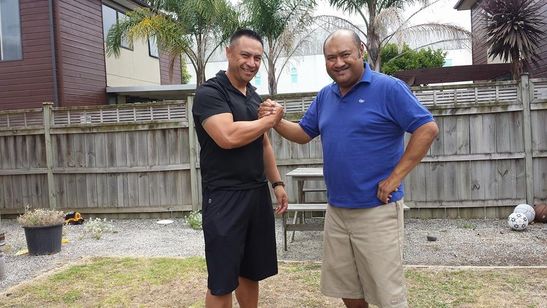 A photo taken of David and his brother Allan, post surgery, after David donated one of his kidneys to Allan. Allan had been on a dialysis machine for eight years prior to the operation.
Do you have a childhood memory that's significant to you?
Yeah, when I was about eight-years-old we went to Samoa. It was my first time and I was walking along the road and all of a sudden I heard this whizzing noise over my head and I was wondering what that was. And it was a guy in the bush throwing rocks at me. And I could hear him shouting out 'Palagi! Palagi!' and I was thinking, 'Who the heck's he talking about? I'm not a palagi" and my cousin said, "Run! You're the palagi!" (laughs) That really shocked me because in New Zealand, they call you a coconut and that and in Samoa they call you a Palagi. So I grew up with a bit of an identity crisis trying to figure out who I was. Ultimately I've settled that I'm a New Zealand-born Samoan. And I think that a lot of New Zealand-born pacific people have experienced that going back to the motherland - not quite fitting in and finding out who we are and where we actually fit in.
What led you to become a police officer?
I left school at the age of Seventeen and I told Dad and he was mortified of course because he wanted all his kids to go to university. All I wanted to do was get some money. So I went and worked in the factory for a year and then I did a Store man's job after that for about a year and then my Dad came to me with a police application and he said "That's enough muck around son, you gotta go join the police."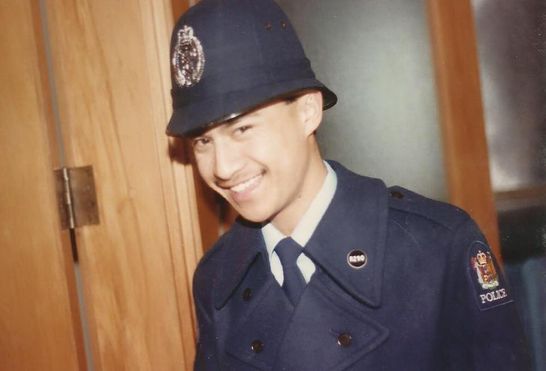 19-year-old David, a fresh graduate of New Zealand Police college.
Dad was a police officer in Samoa and I had just started dating Jayne at that stage. And of course I was completely in love with Jayne and I didn't want to go. I said "Aw Dad, nah I'm not too sure about that, I'm just dating Jayne." And he said "Don't be stupid! You gonna go!" And I said to Jayne, "Will you wait for me?" (laughs) and of course Jayne - she was fantastic. She waits for me all the time. The rest is history.
You've been in the organisation for 31 years now. Did you ever imagine in your early years that you would stay in the job, this long?
I guess the short answer to that is - no. I was just amazed that I even got into the police to be quite honest (laughs). I didn't have that much self confidence growing up. But Dad said to me "You're a smart boy". He saw things in me that I didn't. Getting in the police for a start, was a big deal to me and then I became a detective. From then on, I took every year as it came and started sitting my exams and even did my Inspector's qualifying course. I just realised that Dad was right all along - that I could achieve these things. And here I am 31 years later and now my son Charles has just graduated from the police as well. So that's fantastic and my other son Allan is a call-taker in the police and has just got his application in as well. It's awesome.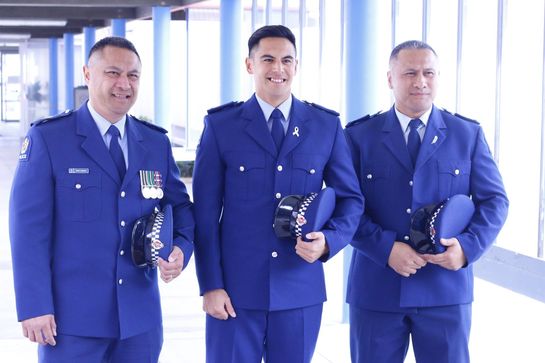 David, son Charles and brother Bryan, also a detective in the police.
In your role as a Police officer, you've done a lot of work in the pacific. Can you share about your experiences?
I did a deployment in the Solomon Islands and that really sort of sparked my interest in international travel and deployment. I put my application in again to do another deployment and I heard through the Wellington Police National Headquarters that they were looking at me, to deliver Ethics on Human Rights Training throughout the Pacific. I was selected based on my CV - I think they picked me because of my pacific background, my Christian background, my policing history and experience and I ticked a lot of boxes for them. So I'll be going through Tuvalu, Kiribati, Samoa, Niue, Vanuatu, Tokelau, Cook Islands...and I'm also working with the UN High Commissioner's office of Human Rights in Fiji. So it's a fantastic experience and I'm really encouraged to go through these countries and see them (police) maturing as organisations, sharing some of the hard lessons that we've learnt in the police and trying to train them up in what's ethical and the importance of adhering to Human Rights.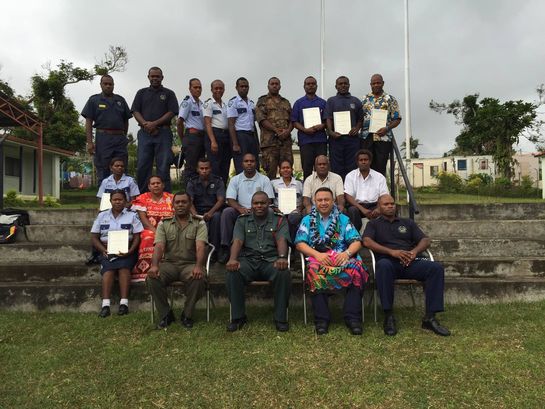 David training police in Vanuatu.
I suppose you never expected that in your earlier years of being in the police that you would have these opportunities to go back to the pacific region, where your family roots are, and really contribute to Police development there?
Absolutely. It's absolutely amazing the opportunities that the Police has given me. If I could do it all over again, I would.
Can you share any eye-opening experiences over the years?
I remember there was one lady that was severely beaten by her partner and she had injuries. We had to go and find the partner at a different address. I remember going to knock on the sliding door and he stepped out of the doorway and he didn't have a shirt on. And I remember thinking, "Okay, this guy pushes weights" (laughs). He was pretty built. I was thinking, "I hope he doesn't cut up" and I remember asking him to come out and speak to us. Once he identified himself, he stepped back into the room and I grabbed his forearm and pulled him back out and told him he was under arrest. What ensued was a huge wrestling match with him. One of my friends ended up almost going over the veranda to what was going to be quite a hefty fall and it took quite a bit of power to wrestle him and bring him under control. And I was wondering why he was so eager to step back into his room and I looked back after we arrested him and stepped into his room - just in the doorway was this long Samurai sword and I thought "Heck, that could've been so different if I didn't catch his forearm at that exact moment when he tried to step back into the room. Because as I said, he was an extremely violent guy. It's moments like that that you realise just how dangerous the job is but these are the better work stories that we talk about, and I've got literally thousands I could talk about.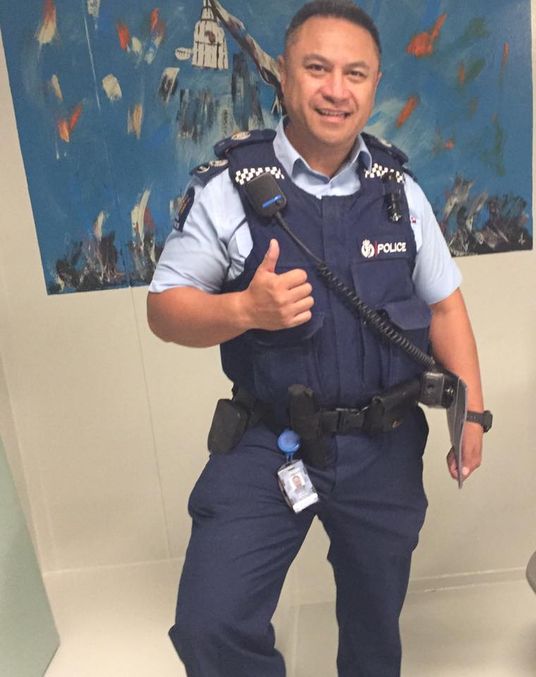 What kind of eye-opening experiences have you had in the police overseas in the Pacific region?
When I go overseas, I usually visit the cells and I see the state that prisoners are experiencing and that and I often speak to the prisoners and try and encourage them. I spoke to one guy who was in prison in one of the islands for murder, and I just said to him 'You know, listen, I know this is not a good place for you but there is hope.' I just shared a bit of my Christian faith with him to give him hope. You know, you can't change what's happened but there's hope for all of us. And that's what's happening when I'm travelling. I'm not just delivering Ethics and Human Rights training. I'm actually testifying about faith and God and how it's changed my life and hopefully it'll encourage others.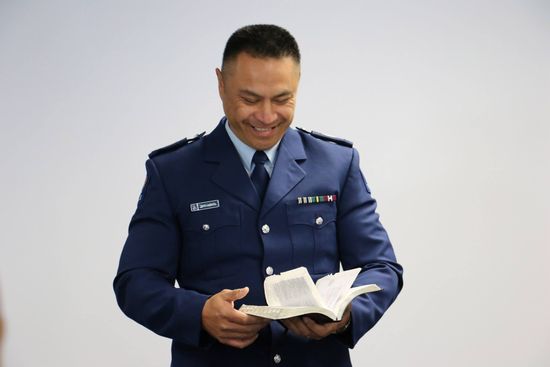 In the New Zealand police, I helped established a ministry with a number of churches called 'Crime2Christ' and we get testimonies in prison cells of people that have been in trouble with the police and have had their lives turned around by God.
On another note, can you share about your creative passions? Your poetry writing and your Artwork - what led you to pursue those passions in recent years?
It might sound a bit weird, but when I was in the Solomons, I had a dream and in this dream I saw a picture on paper and it said 'Ode to my Lord'. I didn't even know what an Ode was (laughs) so I went on google and saw that an 'Ode' was a poem. I prayed and said 'Well, Lord, if You think I can write poetry, I think I can. I put it to prayer and before you know it, I nutted out 13 poems in one go. I just didn't think about it, my fingers started typing. So I wrote 13 poems really about my faith and my love for God.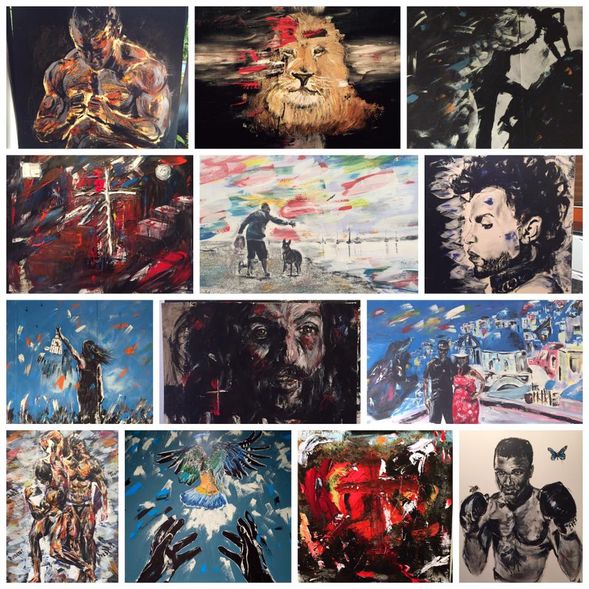 Some of David's published Artwork.
With my artwork - I used to do art and sketch with a very good cousin of mine when I was a kid, that was one of things I was kind of good at when I was young. About two or three years ago, I really had this impression that I wanted to take Art up again. So I went and did a couple of art classes and long story short, I look back and I've created over 200 pieces of paintings of art. I think that's something now I'm certainly going to be focussing on when I retire and have a bit more time to do. I had copies downloaded onto my laptop and one day I thought, 'I'm going to put it into a book' just for my own sake and so I went to a publisher and said "Hey can I put this into a book and see what it looks like?" So I did that and before you know, people started hearing about and were asking to purchase it. I've sold quite a number since then. So, it's quite amazing how that's come about.
David and his work artwork in New Zealand prison cells.
You also have some artwork in prison cells in New Zealand?
Yeah, I was one of ten artists selected from over a hundred applicants to paint a cell, ten artists were selected. I painted a cell with the theme of freedom and hope. That's what I wanted to do was encourage people that there is hope for them and hope for change. A lot of people think that there's no hope for people in cells but I say that that's not right. There's always hope.
By Indira Stewart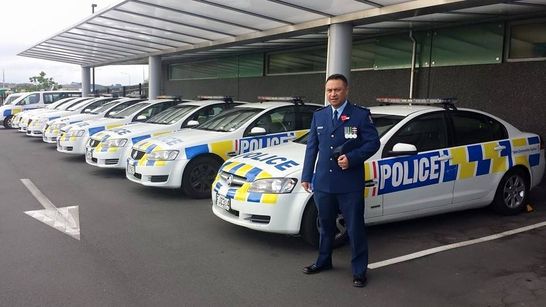 Share