Humans of the Islands
HUMANS OF THE ISLANDS - EMMANUEL "E-MAN" CARLOS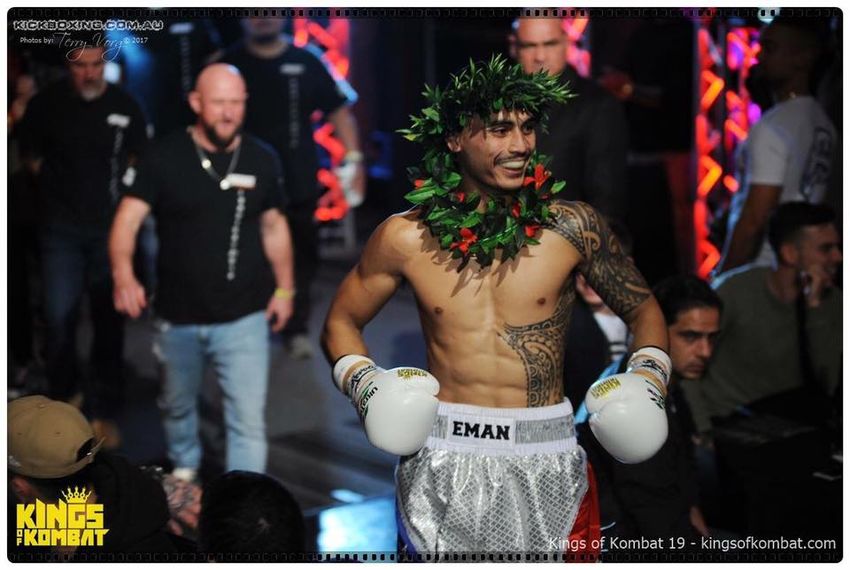 Emmanuel "E-MAN" Carlos
Pro Boxer
Samoan / Cook Islands
Kia Orana, Talofa and G'day CoconetTV fans.
It's an absolute honour to share a little insight about myself, my life and my journey so far. My name is Emmanuel Carlos and I'm 26 years old. I was born in Sydney, Australia but now living in Melbourne, Victoria. My father is Samoan, from the village of Sogi (Chan Chuni) and my mother is Cook Islander (Vakatini). Everyone is always misled by my surname Carlos, and always mistake my background with anything but Polynesian. The Carlos name comes from my step grandfather who is Spanish.
I was born and raised here in Australia. I'm what you call an Aussie. Even though I was born in Oz, I am very proud of my pacific heritage and culture.
I'm a professional boxer, my current record is 10 fights - 9 wins with 7 knockouts. The one loss was against Junior World IBF Champion Dwight Ritchie a fight I took on a week and a half notice. I am the current Victorian Middleweight Champion and former Australian Amateur League Champion.
How did you get into boxing and can you tell us a bit about your journey getting to where you are now as a Pro Boxer?
My sports career actually began in rugby league. I have a passion for league.
Whilst playing for the Melbourne Storm NRL SG BALL team I dislocated my shoulder. After numerous dislocations I decided to get a shoulder reconstruction. After some time off due to recovery I was picked up by the Melbourne storm under 20s. During the pre-season I re-dislocated my shoulder and needed another operation, that would be the end of my rugby dreams. Some would have said that it was bad luck, but for me it was a blessing in disguise.
They say when one door closes, another one opens. After having my second surgery on my shoulder, I gave myself another goal, a challenge. That was to become a boxer. I've always grown up around sports and felt like I would have a career as a sportsperson. My father was a professional fighter, and so I put myself into a couple of fights during pre-season for rugby but I never really looked at it seriously.
BUT within three and half years I had given everything I got to become the best that I can be and I haven't looked back!!!! I'm very proud of what I have achieved so far and it's only the beginning and I'm very excited to see where it will all take me.
What have been your biggest challenges and lessons you've learned as a boxer?
Compared to your team sports like footy, rugby and soccer etc, boxing is a lonely sport, being in the ring only you and your opponent you don't have anyone to depend on but yourself. This is one of many challenges that come with the sport. Boxing requires a lot of self-discipline, when training I have to focus and work hard, and any shortcuts will show in my performance. Unfortunately, boxing does not pay the bills so I also work fulltime.
I've learned that everything you put in to any sport is what you get back. It's not just a game, it is a way of and a part of my life now.
You have a major fight coming up for the Oceania Pacific Boxing Federation title? What's your preparation?
People don't see the hard work that's been put into every fight, I'm sure every fighter would agree. For a fight like this I will take 4 weeks off work to prepare. It's not about the money. It's about the glory.
Leading up to my fight - I set myself goals to complete before my match. First, my weight has to be on point, I follow a strict meal plan. No fad diet, just discipline on what I eat. What you put into your body is very important for training, weight loss and gym work.
Training sessions include bag work, pad work and most importantly sparring (My team and I search out for the hardest sparring) sparring isn't always about winning, it's about finding my flaws and weaknesses. The worst sparring session is the best sparring session we say in the gym.
Strength and conditioning from sprints, weights and swimming. High intensity work outs that make you wonder why you're in the sport to begin with. The pain is real but the gains you will definitely benefit from. Everything is calculated to the last percentage, so make each session count.
Love the pain, get the gains.
Who is your favourite fighter and who do you look up to?
I don't have one in particular. I'm a sponge! I take what I like from every fighter and combine it into a style which makes me, ME. From Mike Tyson and Tua's left hook, to the slick head movement of Roy Jones and Prince Nassem. The unbreakable defences of Floyd Mayweather and the character of Muhammad Ali.
If I had to choose one fighter, that would be my father. He was a professional fighter himself. Passing down his knowledge has played a massive role in my boxing journey. Growing up as a kid and seeing him prepare for fights and fighting has always inspired me. I absolutely aspire to be like him, but will push further on to be better and the best.
Do you have anything coming up after the fight, where would you see yourself in the future?
Winning this fight will open the door to a lot of opportunities. Not only in Australia but around the world. Like all fighters the dream is to get closer to becoming a world champion. You can never dream too big, and you never know what the future holds. At the beginning, there are a lot of ups and downs, but looking back at it all I gave everything to be where I am at with 100% to the best of my abilities. If I don't become world champ and look back at my journey at least I can say that I gave it my all and my best. That's what matters to me the most.
Dream big
Live with no regrets.
** UPDATE **
March 2020, Emmanuel just won the IBO International title, middleweight division at Kings of Kombat and is now able to take on international fighters. He also proposed to his girlfriend in the ring straight after the fight. Congrats on a great night!
Share
---
Comments