Humans of the Islands
HUMANS OF THE ISLANDS: LEILANI MOMOISEĀ DALLAS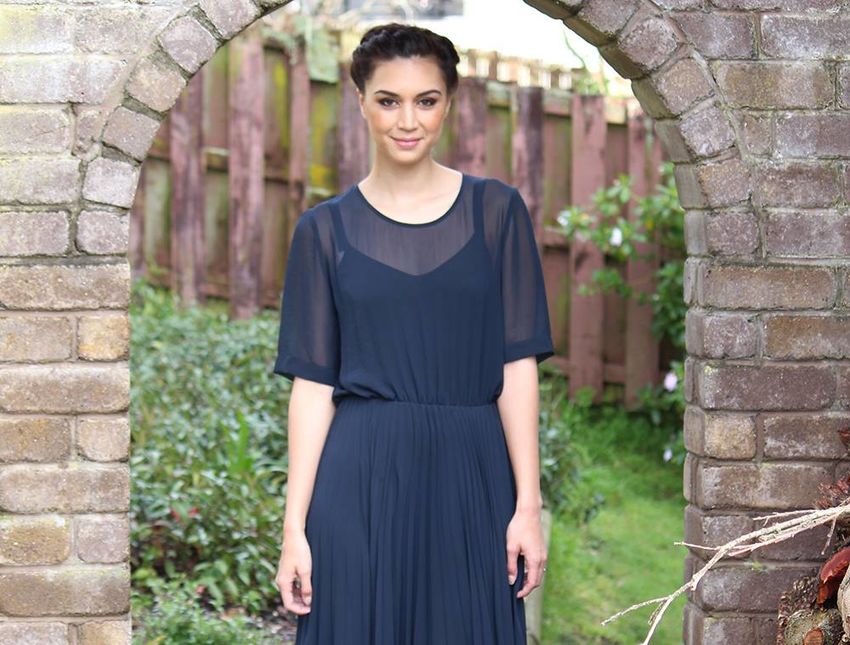 LEILANI MOMOISEĀ DALLAS
RADIO NZ JOURNALIST & BLOGGER "LANI SAYS"
SAMOAN
I've heard you say one of the first things you ask people in your 'I thought I recognised her' interviews is 'Where do you come from'? What would YOUR reply be?
It depends who is asking. But I usually say I'm Afakasi Samoan/Palagi. Or, my Dad is Samoan and my Mum is white. I pretty much never say I'm from New Zealand, unless I'm overseas, because generally when people ask you where you're from - the implication is, "Hey - you're not white - where did you come from?" But I think I should just start saying I'm from New Zealand, because I am. On the other hand, it's hard to do that as a Samoan, because you don't want to act like you're not acknowledging your Samoan culture, or come across as fia palagi either.
Also if someone from Samoa asks where I'm from, I know I have to include that my village is Vaito'omuli, Palauli in Savaii. Or if it's someone from Auckland, I'll say I'm from South Auckland.
You grew up in the islands until you were nearly 10 - was it a big culture shock for you moving to NZ at that age & how has growing up in 2 countries shaped you?
Yeah, it was a huge culture shock especially going from the islands to a super white town like Napier. Kids were pretty mean to me so I guess I learnt to stop caring if people liked me or not - cos in Napier not many people liked me and I just had to get on with it (laughs). Island life as a kid was great, and I only really started enjoying living in NZ when we moved to South Auckland when I was a teenager. I'm not sure how it shaped me, but hopefully it's made me a more understanding and compassionate person, and a more well-rounded person, maybe.
Your full time job is a radio journalist at Radio NZ – when did you feel like that was the path you wanted to take career wise?
I think it was my second year of uni – I studied communications and in the second year that's the year you have to decide what you want to do. They brought in a bunch of radio people to talk to the lecture group and everyone who talked, loved it. It was people like Kerre Woodham, Robert Rakete and Hugh Sundae and they talked about the radio industry and being in it and you could tell that they genuinely loved what they did. Also, I was just good at it, and when you're good at something, it's easier to do. I got really good marks for radio so, I'm someone who, if I'm not good at something immediately then I don't want to pursue it (laughs) so radio – I was good at immediately, so I was like sweet! Radio's what I want to do!
When you were in High School did you know that you wanted to get into Communications?
I did – someone had told me about Communications and I was like 'that sounds like me' but when I went and talked to my guidance counselor she basically told me it was too hard to get into. That was the only thing I wanted to do and I didn't want to do anything else so I took a year off after high school, and just worked at McDonalds for a year cos I was like, 'there's no point getting a student loan if I can't do the thing that I want to do'. While I was working at McDonalds, I went along to this night at AUT for Pacific Islanders about how to get into uni and stuff, and I told someone that I wanted to do Communications and she was like "Yeah, you should totally apply and you should apply for a scholarship!"
I think if I'd applied straight out of high school I wouldn't have gotten the Scholarship, but because I'd taken a year off and done a bunch of extra curricular stuff, it gave me more time to put together a better application. So I put together a really good application, I applied for the scholarship and I got the scholarship as well. That was the good thing about taking a year off working at McDonalds.
With your radio journalism what would be a highlight for you in what you've achieved in radio?
It would definitely be going to Samoa when the tsunami hit – I was sent there the day that it hit and I covered it for 2 weeks. Then a colleague and myself put together a documentary about the tsunami and we won a radio award for it. It's the only job I've had since I left uni so I've been there for ages. It's a rewarding job.
Have you ever had any desire to get into TV and is it a goal that you'd one day like to pursue?
Nah I've never wanted to do TV. We had the choice of choosing TV when I was at uni in Communications and stuff and it never appealed to me. If I were in TV it wouldn't be as a journalist – it would have to be something else, but as a journalist, radio is the best for me. You get to do everything and it's so immediate and it's good for writing. I've never wanted to be a TV journalist.
In saying that, I had to fill in as a news anchor on 'Checkpoint' and it was a great challenge - I enjoyed it and if they asked me to do it again, I'd do it. Mostly I just loved working with John Campbell and the Checkpoint team cos they're all really onto it and passionate about what they do, and it's good vibes. But it's like that with most of RNZ too.
You run your own blog "Lani Says" do you feel like blogging is an extension of your journalism?
I've definitely made the decision to make it a more interviews based, informative site now. When I first began the blog, I had the vision of it being more long-form interviews, and a way of highlighting local talent, and it had started it off that way. I got sidetracked for a bit and the site got diverted into a personal style/lifestyle thing for awhile - but I was really unhappy with what it had become and found I wasn't really proud of what I'd been putting up on the site, so about a year ago I took the entire site down and started it again from scratch. I figured if I was going to continue running my site, I wanted my content to be more meaningful.
** NB: Since the initial interview with Leilani, she has combined her blog with her friend Katherine Lowe's blog and you can now find them both over on 'Good Rally.com'
For a while you had a lot of focus on fashion in your blog and you also made NZ Herald Viva's 'Fashion's New Power List' but I see you've stepped away from the fashion side of things and your blog has taken on a new focus. Can you tell us about that?
It was actually the Viva Power List that got me thinking about what I was doing on the site. Because the article basically said we influence people to buy stuff. At first I thought, well, hang on, these brands I'm influencing people to buy from better start paying me! And then I thought, actually, I don't want to just be influencing people to buy shit they don't need. If I do in fact have influence, I want that influence to be for something more empowering.
I also had a rant to Viva about how fashion wasn't diverse enough, and talked about the need to be more representative of what Aucklanders/NZ actually looks like. I thought, instead of just ranting, I should do something about it - which is where my idea for my 'I Thought I Recognised Her' series came from.
I interview choice Auckland women doing choice things from all different backgrounds. The interviews are based around two main questions - When people ask you where you're from, what do you tell them? And When people ask you what do you do - what do you tell them? I find you can learn a lot about people from those two questions. I'm really happy with the interviews I've done so far, all the women have been great, and the response has been really positive. I haven't done any in awhile, but there are definitely more coming.
You also have a column in Metro - it's great to see brown stories in there - how did that come about?
I was asked by the editor of Metro to write a one-off article about Polyfest, and I guess I did a good job cos he asked me to continue doing a regular column. I haven't been given any specific brief, so I can pretty much write about anything I like each month. I didn't set out to talk specifically about Pacific Island issues, it just turns out that's what I can get most passionate about - sometimes it's stuff I get genuinely angry about, like casual racism and stereotyping South Aucklanders, or it's every day stuff like Sunday to'ona'i. Although I also just talk about random stuff like karaoke and missing going out to Hitch (laughs)
I see you've started a podcast called Snacks & Chats - where did the idea come from?
I explain it all on my blog but basically my friend Ben messaged me saying, "Hey, those interviews on your blog would make a cool podcast." Ben is a really great sound engineer - so I asked if he was keen to partner with me to do it, and he was, so we just started recording one day. The first episode we interview his girlfriend, and my good friend & blogger Katherine Lowe, as kind of a test-run and I personally learned a lot about what life must feel like for the Chinese community in New Zealand. Ben and I were both really happy with it, so decided to pursue more interviews.
The one we released last night is Nate Nauer from Mai FM which I was really excited to release. In our interview with him he talks about getting kicked out of school and being sent to Samoa as a kid to be straightened out, getting beaten up at school in Samoa, the culture shock of moving there, and the struggle of moving back and having to adjust to life in New Zealand. He also shares how he went from being a forklift driver to one of the most recognisable voices on commercial radio.
Coming up we've got one of my fave people on twitter, Lucy Zee & rapper Raiza Biza who hails from Rwanda. There's one more guest who hasn't been confirmed yet. We basically chose people we thought would have interesting stories to tell, and stories which we'd learn something from. We wanted to talk to people that would hopefully make us examine the world around us a little differently, and like you say, think about how we relate and react to others a little more.
.
You got married last year - Congrats! - with both yourself and David being afakasi was it difficult including aspects of both cultures?
It's funny, because all my non-Samoan friends were like, wow this is so cool - I've never been to a traditional Samoan wedding before. And all my Samoan relatives were like, this is so cool because it's totally non-traditional! I think it was a nice balance. The thing I was most nervous about the whole day was wanting to make sure I did my Siva Samoa properly. I watched How-to vids on TheCoconetTV (laughs), but the best advice/lessons came from my Aunty Ipu, who is one of the most graceful dancers I know. The siva was probably the best moment of the night, and it got the party started off right.
Apart from learning to Siva Samoa properly for your wedding for the first time, are there any other firsts from your Samoan side you're still learning?
I'm always complaining about how I don't know how to speak Samoan but never doing anything about it - so David and I finally took some action and signed up for free Samoan lessons. He actually already understands Samoan quite well and knows how to speak a bit, but is too shy to do so. I know basically nothing, so I definitely feel like the dumbest person in the class, but it's lots of fun and I'm glad I'm finally doing something about it!

Share
---
Comments