Humans of the Islands
HUMANS OF THE ISLANDS - NICK WILLIAMS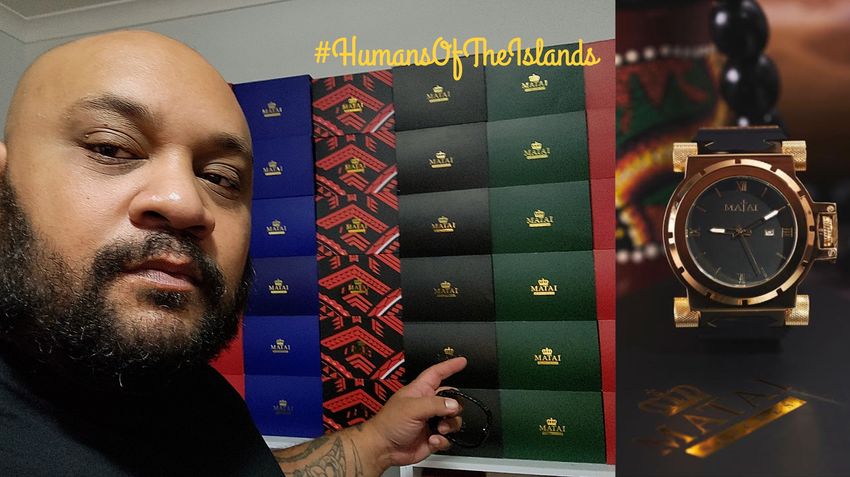 NICK WILLIAMS
CO-OWNER & GENERAL MANAGER MATAI WATCHES
COOK ISLANDS / NIUEAN
-
My name is Nick Williams and I own half of the Pacific Watch company - Matai Watches.
My business partner Andrew is from Samoa, while I'm born and bred in West Auckland. My mother is of Niuean descent and my father is from the Cook Islands.
My responsibility is the day to day operations of Matai Watches, our company that we launched in July 2022 after five years of development.
What were the pathways that led you to getting into designing/making watches?
It came from many years of failed ideas as entrepreneurs. I have personally tried my hand at loads of different side hustles and legitimate businesses, but looking back they were all learning phases. Nothing has come close to the responsibility and brand awareness quite like this one. This is the first business where I feel we are at peace - spiritually, mentally and financially.
The idea was to have a product we could call our own, and as the story goes ... myself and Andrew (Andrew Lui - Creator & Founder of Mata Watches) worked as Sydney Bouncers for years. Every year we would gift each other expensive watches - but none of them were ever made for or bought from our Pacific people. The rest is history.
Who or what inspired you to take the leap and get into this business?
Andrew and I don't connect with 9 to 5 work, and we are not ok at wanting to be average or to just find our way through life. We grew up wanting to work for companies like Nike, Adidas, Sony etc. We never grew up wanting to work for some pacific brand - because there was none. Maybe it wasnt cool to run a business or maybe there just weren't many Pacific succeding in business on a mainstream level at the time.
We learn what we are shown but if anything the journey of teaching ourselves how to do things has been the driving factor in our success. Having kids multiplies what we wanna leave behind, and is also a big part of what inspires us. I want kids (not just my own) to grow up and say "I want to work for Matai Watches when I grow up" the same way they would want to work at Google. For me it's a personal responsibility to want to scale this brand globally.
What was an important lesson you learned along the way?
Don't make excuses for why you can't do something. I pride myself on knowing a little bit about everything - I'm a graphic designer, video editor, manger, public speaker, artist, developer, designer, mentor and more.
I realised early on as a broke Poly kid that things cost a lot of money, but even if you're broke rather, spend less time stressing about not having funds to do this or that, use your time wisely to invest in a new skill. Invest time into developing these skills so you don't have to rely on anybody to do the job for you.
For starters there is a world of knowledge on YouTube and it's all free.
What has been a highlight of your journey with Matai Watches so far?
The way we have been able to connect with our people, and seeing how our people react when they recieve a Matai Watch for the first time.
-
How important is it to bring a Pasifika perspective to what you do?
I'm excited to be honest. I feel like we have a great opportunity to establish our mark as a household name, and everything we do from top to bottom is with 100 percent Pasifika flavour.
-
What do you love most about being an islander today?
Not being afraid or ashamed to be one wherever I go.
-
To celebrate the new season of FreshTV, Matai Watches have given us 2x Matai Watches to give away - One Male watch and One Female watch.
Head over to the Fresh Instagram page (below) and check out how you can go into the draw to win.
To buy your own Matai Watch go to their website here and follow them on Facebook, Instagram & Twitter
-
Public Interest Journalism funded by NZ on Air
Share