Humans of the Islands
Humans of the Islands - Vea Mafile'o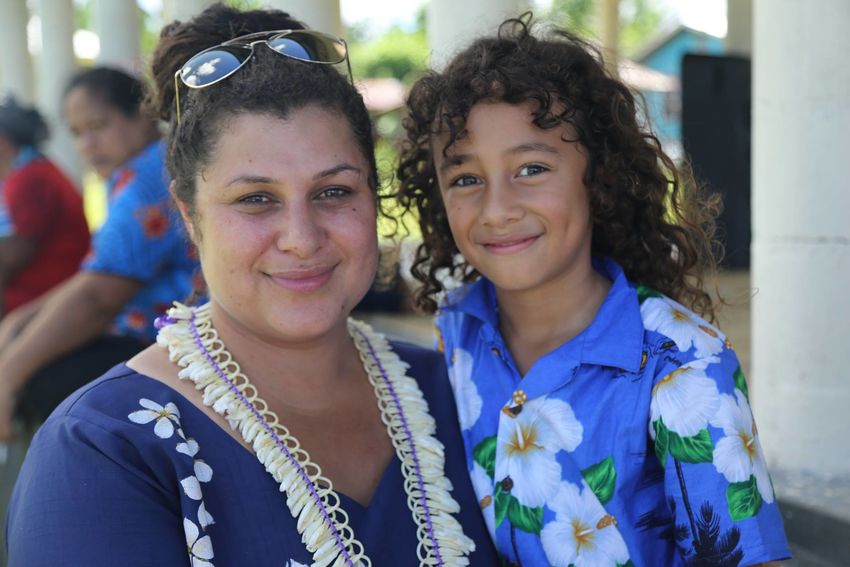 "Vea Mafile'o is an artist of Tongan, Māori and Scottish descent who
works primarily in moving image and installation...Mafile'o continues to work as
a filmmaker and is co-founder of the company Malosi Pictures. She is
currently developing her first feature film, which is due to be released later this
year." - Ane Tonga
What is "Digital Launima"?
The name of this work is "When will I see you again" , it is a digital Launima. A Launima is a term that indicates the length of a tapa cloth/ngatu which is made up of 50 Langanga. This piece is part of my digital Koloa series of works. These works are based on the traditional fine mats, tapa cloths and other forms of Koloa faka-tonga these are made and collected as gifts for birthdays, weddings, funerals and other ceremonial and celebratory occasions.
A Tongan woman builds her collection of koloa faka-Tonga over a lifetime. Often women work in groups making one item for one woman at a time. This collection is a digital form of Koloa, Koloa that I, a New Zealand born Tongan knows how to make.
What are the images you used and why did you use them?
The Images I have used span over 15 years they are images and moments in time shot in New Zealand, Tonga tapu and Ha'apai. "When will I see you again" features works from 6 different artworks which have become my kupesi/Patterns that I use to identify my work where I am from. Footage shot on anual 6-week long research trips back to Tonga with Emily while we were at art school and some on work trips with Jerry Tauamiti.
I have hours and hours of tapes this is really just the tip of the coconut tree. I have also included some footage of the tapa making process from start to finish, I felt it was important to show all aspects of the making and also to show how comunual the process is. Many hands make light work but it still a huge process. I need to give camera credits to Jerry Tauamiti and sister Emily Mafile'o.
What is cool about being a digital artist?
I like working in this medium because I like to use real images, I like to create doorways and windows into worlds, I love documentary especially cinema verite where you can sit and be emersed in another world. I also like the emotion you can make from picture and sound, for me I use a lot of sounds to evoke feelings.
I guess when I'm here in New Zealand I always want to be back in Tonga so I try to recreate that environment. Because I work in the TV and film industry my artwork is very organic and random because in the industry everything is limited by time or commissioners or broadcast restraints, so my artwork is the opposite; it has no rules, it's organized chaos.
What do you love about being Tongan?
What I love about being Tongan is going back home stepping off the airplane feeling the warm air hit me like an oven and feeling at peace like I'm home....Being with my Tongan family, Tongan nuances that make Tongans unique.. I also love that when something emotional moves me, singing in church, a gift, saying a thank you speech, I get this feeling of Mafana, Ī get a warmth that sits in my chest and pours out tears through my eyes. I love the emotions Tongans so freely express.
How is your Tonganness reflected in your artwork?
I think that being a hafikasi I am always in a way looking at my identity. So I feel that a lot of the time I am capturing processes and talking to my elders trying to gather as much information as I can. So maybe it more of my quest about finding what is my 'Tonganness' more than anything....
What is so interesting to you about Tongan society, that u like to capture on film?
Really I'm just nosey, I just like to know why, when, how and what. Because I don't speak the language very well I always feel like this is potentially a barrier so I like to bust down the barriers and find out as much as possible what's going on in Tonga at the moment how are people feeling, what's the general buzz at this point in time. This also transcends to family and friends living in New Zealand as well. But mainly its because I get Fomo.
I have documented some major changes in Tonga from the passing of King Taufa'ahau the 4th, the 16/09 riots that destroyed 80% of the central business district, to the new king's Coronations with interviews from locals during these times, including some who were arrested and beaten during the riots.
Tell us about your next big project?
My next big project is a feature documentary which I have been working on for the last few years funded by the New Zealand Film Commision about my Father Saia Mafile'o called For My Father's Kingdom. It's pretty exciting because it's the first feature documentary made by a Tongan woman.
Driven by a deep faith in God, Tongan pensioner Saia Mafile'o navigates not only the cold dark streets of South Auckland but also his sometimes fraught relationship with his New Zealand born half-caste kids, while desperately trying to hold on to his religious and cultural beliefs.
Watch another video piece by Vea and Emily Mafile'o here - Tongan to the Bone, Otara Cube 2014
Photo credit: Raymond Sagagpolutele
Share