Humans of the Islands
WOMEN OF THE ISLANDS - ANA LAVEKAU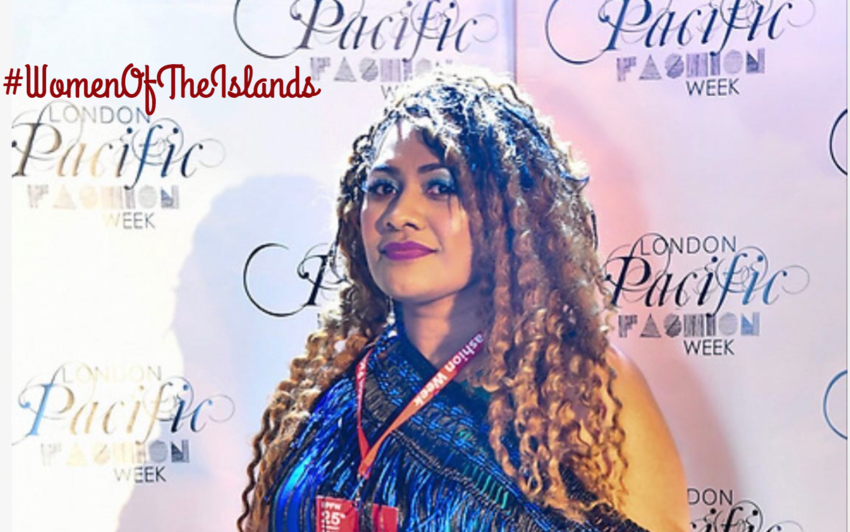 ANA LAVEKAU
CEO/CREATIVE DIRECTOR OF LONDON PACIFIC FASHION WEEK
FIJIAN
.
I was born and raised in Fiji by my Maternal sister grandmothers 'Wati & Makereta' who raised me under their Artistic and Cultural guidance from a pottery village in the Delta of the Central Part of Fiji called Nasilai Village in the Rewa Province.
I come from a long line of Dance Choreographers, Tapa Designers, Pottery Artists, Composers, Cultural Ambassadors and Poets. I am the CEO/Creative Director of London Pacific Fashion Week and I recently re-enlisted as a Reservist with the Royal Air Force as a BAME Brand Ambassador. In my spare time I promote Fijian Dance/Language/Pottery in the community and I am working towards building a Fijian Leafhouse in the UK as a cultural hub of learning for the community.
How did you come to be living in London and can you tell us about the pathways that led you to what you're doing now?
I enlisted to join the British Army in 2006 and served for 12 years; over the years I started my own Fijian Dance Group 'Mekeart Tribe London' performing for Diplomatic and International Sports Events & on Live Television Broadcasts from ITV Breakfast to Rugby League World Cup to name afew. In 2012; I produced my first London Pacific Fashion - Charity Fashion Show for the Band of Brothers and I invited 11 South Pacific Designers to travel to London to promote their BRAND including a Polynesian Dance Group based in Australia.
Last year in July I re-enlisted as a Reservist with the Royal Air Force.
After 2012, I was inspired by all the creatives that lead me to launch my own designer label ReloadTribal. Reload Tribal was a collaboration between my Brother and I focussing on Fijian inspired Tribal Swim Wear & Lingerie.
In 2014 I took a break and started focussing on producing a collective show ready for the Rugby World Cup 2015.
I produced my first collective in 2015 featuring the works of 2 New Zealand Maori Fashion Designers Shona Tawhiao & Jeanine Clarkin and also my first Hawaiian collection Missing Polynesia and SteamPunk Starboy with Reload Tribal. 2016 I focussed on the Moana Collection focusing on Designers from Tonga, Fiji, Hawaii, New Zealand & BodyArt (UK).
2017 was a successful show as for the first time ever I finally produced my Brother's Art Exhibition centred on Climate Change in the Pacific hosted at the Royal Military Academy Sandhurst and also at the Lloyd George, NLC, Whitehall.
We also had our first Aboriginal Fashion including Papua New Guinea with PNGianKala Fork Leaf, Robert Kennedy & Pania Greenway. After 2017 I rebranded the show from a Collective to a Week with collaborations with University of East Anglia Norwich & Cambridge University including Fashion College in London & Museums.
2018 was showcased at the Exhibition Hall celebrating the 100 years Anniversary of Australia House London; designers from Nauru, American Samoa, Tonga, Papua New Guinea, New Zealand, Cooks Islands and Solomon Islands came in full fashion force - Varu , Proton Creations, Amatalines Cecelia's Fashion, Bou's Fashion , Jeanine Clarkin, Fork leaf, Shannon Brett, AA Tribal, Exclusive By off Da Rock PNGianKala + Diplomatic support from our Heads of Missions in London have been rewarding. Support towards our Media Launch events & main shows from the New Zealand, Australia, Fiji, Papua New Guinea, Tonga High Commissioners have been continuous.
Where did you get the inspiration to start up London Pacific Fashion Week?
I was asked by my Older Brother 'Rusiate Lali' is an Multi-Media Artist based at Gallery Gondwana Fiji to organise an Art Exhibition in London in 2012. I approached three ART Galleries in London and the one question they all asked me was 'What is Fijian Art?' Immediately; I realised that there is platform in London to promote not just Fijian Art but Pacific Art/Fashion/Dance/Music/Poetry.
I felt empowered by their questions and decided not to focus on ART but broaden my newly found platform to FASHION. Two months later I produced my first LPFS.
How important is it to bring a Pasifika perspective to what you do?
I value and respect all of our Pacific Cultures, Languages & Mana. Bringing our Pacific perspective to what I do is what this show is all about. I always provide first hand opportunities for Pacific Creatives to be part of the show either as Models or Makeup Artists/Stylists/Hair Stylists/Photographers.
Promoting our Pacific Motifs and Designs during London Fashion Week is key as you may know that the Fashion Market in London is very competitive so the only solution around it is to create your own Pacific platform and invite Fashion Agencies; Fashion Schools; Fashion Media; Buyers, Stockists to come view the show and allow us to take them on a Pacific Voyage around our Runway Show.
Over the years' I have managed to successfully execute this as we finally reached a huge Media Milestone but securing a 10min LIVE interview with BBC World in 2017.
What has been the most challenging moment and also the most rewarding moment with London Pacific Fashion Week?
The most challenging moment for me is when our Fashion Designers do not get added sponsorship from their home islands either from their Government or AID Donors. A lot of my designers have to fundraise themselves to fulfil their goal of showing in London. I always offer a FREE show to an Emerging & Established Designer every year but sometimes that is not enough to get everyone across to London.
Rewarding Moment is when I was invited to meet HER MAJESTY THE QUEEN & when I have achieved representing over 50 South Pacific Designers from 13 South Pacific Islands: Australia, New Zealand, Fiji, Papua New Guinea, Tonga, Cook Islands, Nauru, Solomon Islands, Kiribati, Guam, Hawaii, Samoa & American Samoa.
Designers represented since 2012: Shona Tawhiao - NZ Jeanine Clarkin - NZ Lindah Lepou - Samoa Hupfeld Hoerder -Fiji Sister S'Pacific - NZ Robert Kennedy -Fiji House of Koila -Fiji Jackie Naylor - NZ Mele Kohncke -Tonga Natasha Lewis - Cook Islands Kabure Blake - Kiribati Designers 2015 Shona Tawhiao - NZ Jeanine Clarkin - NZ Missing Polynesia - Hawaii STARBOY - NZ/Tonga Reload Tribal - Fiji
Designers 2016 FEBRUARY SHOW Missing Polynesian - Hawaii E'vana Couture - Samoa Sina Ceceliaa - Samoa Lilemirah -Fiji Reload Tribal - Fiji SEPTEMBER SHOW Jeanine Clarkin - NZ ULM Collection -Tonga Missing Polynesia -Hawaii Lalini Collection - Fiji Body Art - UK
Designers 2017 Pania Greenway - NZ Robert Kennedy -Fiji Forkleaf - AUS PNGianKala -PNG Luse Exclusive Styles - Samoa
Designers 2018 SEPTEMBER SHOW Forkleaf - AUS PNGianKala - PNG Proton Creatiions - Solomon Is Jeanine Clarkin - NZ AA Tribal -PNG Exclusive by of Da Rock - American Samoa Bou's Fashion -Tonga Cecilia's Fashion - Samoa Amataline -Nauru VARU - Cook Islands Shannon Brett - AUS Designers 2019 FEBRUARY SHOW JW Fiji - Fiji Vina Couture - Tonga AKANA - NZ Fierce Fashion By RL - American Samoa SEPTEMBER SHOW Baiwa Designs - PNG Guma Gela - Guam Itatie - PNG U'anga - Cook Islands Fierce Fashion by RL - Samoa Vina Couture - Tonga House of Mausio - Fiji Hupfeld Hoerder - Fiji Kenny Collection - PNG PoMahina - Hawaii Weaver Dream - NZ
Awaiting to represent; Tuvalu, Niue, Vanuatu, New Caledonia, Tahiti, Marshall & Pitcairn Is.
What do you love about being a Pacific Islander today?
I love my Pacific culture and heritage; though I have been aboard for over 10 years I still continue to inspire and share my cultural values and traditional to my daughter and to our younger generation. I love how I can unite all our Pacific cultures and showcase Pacific FASHION in LONDON.
For people living outside London, will they be able to watch the show?
Absolutely; we will be livestreaming the show on our Facebook page - London Pacific Fashion Week.
Share