Humans of the Islands
WOMEN OF THE ISLANDS: COCO SOLID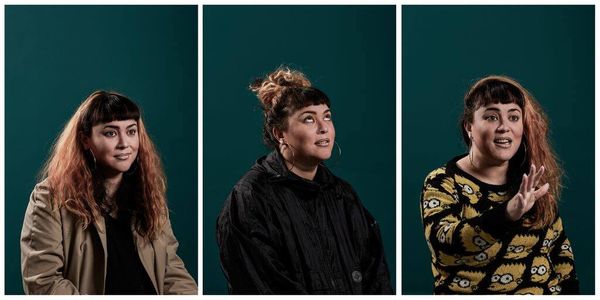 Coco Solid
Writer/Musician/Artist
Samoan/German/Māori
I'm Coco Solid, I'm a writer, musician, visual artist and general media-maker. My real name's Jessica Hansell and I'm Māori (Ngāpuhi) on my mothers side, and Samoan German on my fathers side. My German Samoan grandfather came to Auckland from Apia in the 1940's, the same time as my grandmother migrated from Rarotonga - although she was Samoan she was raised there. So I'm blessed to be a mixed Polynesian bag.
You're a prolific multi-disciplinary artist - what has the journey been like navigating these various creative fields?
All the mediums I work in, engage with a genuine part of my personality - I also feel all forms of artistry are coming from the same place too. I definitely enjoy change and rotating hats. And I dig amateurism over expertise, identifying as a learner and a beginner especially as I grow and master certain things. It's really just about exploring new dimensions to yourself, I never tire of that.
Both of my parents came from pretty humble backgrounds where working in the arts was more of an indulgence or a privilege. So to be able to have an artistic life is something I never take for granted and when I chose my path, I knew I wanted to try everything.
How does your Māori/Pasifika heritage inform your storytelling?
I think I wouldn't be a storyteller if it weren't for my Māori and Samoan backgrounds. I'm definitely from oratory stock, let's just say the speeches, birthday cards and pre-dinner incantations run long in my family. Having a connection to your cultures, I feel I have more lenses and depth in which to perceive things than the monocultural norm. We can tap into a whole other style, a whole other planet of reality every time we tell a story. For it to be second-nature to me, I feel so spoilt to have the worldy ancestors I do.
You were awarded the 2018 Fulbright-Creative NZ Pacific Writer's Residency - What will this entail?
I'm at the University of Hawai'i in Manoa, hosted by the Center of Pacific Island Studies. The CIPS is a faculty dedicated to academic research and scholarship from all around the Pacific. I have access to the Pacific Collections at the University library and I have my own studio space at the East West Center across the road. I have been here for a month and it is nerd paradise.
You created 'Aroha Bridge' and the new season is coming out on Maori TV. How would you describe it to people who aren't familiar with it?
Aroha Bridge is an adult cartoon comedy about twins Kowhai and Monty Hook living in the town Aroha Bridge.
They have to juggle their messy extended whānau, the racial conflicts (and contradictions) of their hometown all while struggling for musical stardom.
It's funny, visual and I guess a loving commentary. For a lot of us politics and dysfunction are a part of daily life and comedy is often how I cope with that.
What was your motivation and inspiration for the series 'Aroha Bridge'
I think the humour is definitely about multiculturalism, we have this romantic notion of what that looks like in New Zealand - but in my experience it's usually quite shambolic and tense. Plus cartoons just naturally make everything feel brighter so we can take the themes to some pretty dark places. Having been a musician for all of my adult life, I can put all my tragicomic underground experiences in there too - just the struggle and aspiration artists experience here. Aroha Bridge itself is a frankenstein of locations in Aotearoa that I love, but it is loosely based on 80's/90's Mangere Bridge, the now-gentrified suburb where I grew up.
Why do you feel it's so important to tell the stories touched on in 'Aroha Bridge'
I feel privileged to not only be creating an adult animation at this level here, but to creating comedy and using it to amplify some of the issues I think Māori and Pasifika are observing all the time. I also find a lot of satisfaction creating characters that are actually relateable and familiar to us, fresh archetypes, not played-out ideas of what people think we are like. I work with a team of people who want to push the cultural envelope but also build something authentic - all under the fun and cunning disguise of a playful cartoon.
A piece of advice for rising Pasifika/Māori creatives?
You have one life so live in your truth. Take your meal-size ambitions one snack bite at a time. Most importantly trust your gut - we have an ancestral hotline with better reception than most!
.
Photo Credits:
Header photo & Photo 3 - Milana Radojcic
Photo 1 - Pati Solomona Tyrell
Photo 2 - supplied by Coco Solid
Share