Humans of the Islands
WOMEN OF THE ISLANDS - EMILY MULI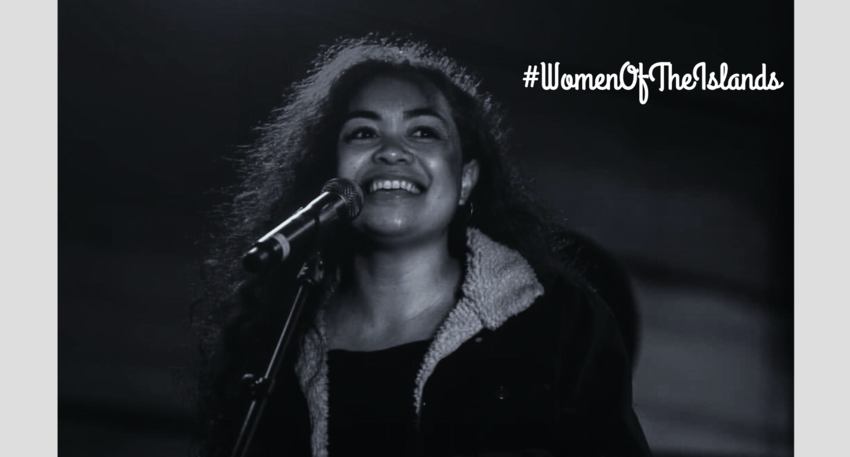 EMILY MULI
SONGWRITER / MUSICIAN, PUBLIC SERVANT & SOCIAL JUSTICE ADVOCATE
TONGAN
Mālō e lelei! I'm a proud ta'ahine of Moana Oceania hailing from the beautiful Kingdom of Tonga. My dad is from the village of Fua'amotu and my mum from the village of Kanokupolu. I was born and raised in Tāmaki Makaurau, Aotearoa, and am a songwriter/musician, public servant and social justice advocate.

You've been opening for Aaradhna on her NZ tour this year - can you tell us how that came about and how you've found it?
Connections! One of my closest muso brothers has been Aaradhna's keys player since last year, and he called me in February asking if I was keen to be one of her backing vocalists! I definitely did a double take and asked if he was sure (lol), but it was a huge honour. I've grown up listening to her and she's been a pioneer for women of colour in the industry especially, so it's been an a surreal experience.
Before the NZ tour announcement, I got an email asking if I wanted to open for all her NZ tour shows (as well as keep bving for her set) and I was pretty shocked haha, but super thankful and blessed! The tour was awesome. I think what made it for me was having my two brothers jam the last few shows with me, Ivan Fuimaono and Junior Soqeta (talented beyond compare), and also being able to share my craft with my friends and family across the motu. The band (Aaradhna's) have become a family, so I felt super supported the whole way because they were always there, so that calmed the nerves too! Nothing but love and gratitude for the opportunity.

You have been part of the Parachute Music artist development programme - how has that experience been?
It's been really cool to get insight into the music industry from an artist development perspective. I've really enjoyed learning, growing and experimenting with my sound, and really glad I did the programme. My favourite part would have to be the studio time - it felt so good being able to intentionally take out time every week, head into the studio and create (without having to record quietly like I do at home lol). I'm really excited for everyone to hear what I've been working on this year!

What were the pathways that led you to where you are now?
The original pathways paved by those before me have honestly allowed me to walk freely today. My grandmother left everything to come to NZ, enduring the Dawn Raids, racial discrimination and hardship so that I would never know struggle. My parents sacrificed everything so that my siblings and I could have an education. Not to mention our Pasifika pioneers who aren't acknowledged in the classroom, but are upon the shoulders we stand on today - there would be no pathways if they had not carved them.
Also, God just has a way of working things out! I travelled to Tanzania, Africa when I was 16 on a mission trip and it was there that I found my love for social justice, serving selflessly and the beauty of music as a universal language. When I was 19 I became a World Vision Youth Ambassador and travelled to Malawi, Africa. On return, I ended up touring NZ with World Vision NZ, National Young Leaders Day and Revolution Tour, sharing my experiences and music, and what impacted me the most about those tours was seeing young people, especially young Pasifika, see that those kind of opportunities were there for them. Last year I travelled to the Solomon Islands to get stories about how climate change is affecting the Pacific, and that opened my eyes immediately to what was going on in the Pacific region. Upon return and with the help of my sisters and Manawa Ahi family, we put on events for our Pacific communities to educate them on climate change through creative arts and talanoa, and out of that came Mission To Zero, a kaupapa where youth and creative arts meet indigenous issues to activate change. My day job as a young public servant also gives me the opportunity to do more for my Pasifika community so I'm honoured to serve in that capacity. These are a few of the things, by the grace of God, that have shaped me as a person with purpose and have led me to be where I am today.

What are some of the biggest challenges and lessons you've learned as a Pasifika woman in the music industry?
Being a Pasifika woman in a male-dominated industry will always come with challenges, but I've learnt that resilience is part of my Pasifika DNA. I've been in rooms as the only woman and only brown person, I've done gigs where I've been mistaken for a crowd supporter, and I've even been told how to wear my hair, dress and pose. There was a time where I listened to a lot of it, but now, I'm unapologetic and uncompromising in who I am - not as an act of rebellion, but to normalise diversity in an industry, in a society, that sometimes can easily overlook a brown girl with curls and curves, but immediately call on our cultural capital when it suits them best.
I'm lucky to have grown up being surrounded by strong, independent Tongan women who have always shown me how to navigate systems that disregard my heritage, gender and capability. I made it a goal of mine in my music to be able to play everything I can hear in my head when I'm creating. It's still a process, but it's been so liberating just learning to play my own instruments and produce my own stuff. If there's any advice I can give to Pasifika women in the creative industry, try things for yourself. If you don't think you can do it, you can. I used to envy all the guys who played multiple instruments at uni, so one day I just thought, stuff it I'll try do it myself haha. We all have to put in the same amount of work and practise, and that's the same with anything we want to achieve in life.

How does being a Pacific Islander impact your life and work?
It impacts me immensely - I know that anything I do is a reflection of my family, my culture and my values, but I also know that I can't choose to be Pasifika - I AM Pasifika. I love being able to share my culture with other people and I'm really proud to be Tongan. There will always be something special about using my language to introduce myself and wearing my traditional gears - living my best life for real!
I do know that there have been moments where I've been in positions and places to merely tick boxes, but things are starting to shift with this new wave of young Pasifika coming through and I'm so here for it. Just recently I was able to attend the Royal Reception for the Duke and Duchess of Sussex, and I was so inspired by the number of young people who were there in their Pasifika get-ups, all doing amazing things for their community. I am excited for the future of Pacific Aotearoa, and the impact that they, as Pacific Islanders, will have on the nation, region and the world.
Who or what is your biggest inspiration and why?
I've seen God work miracles in my life way too many times for me not to give glory to Him!
My family have been pivotal in raising me to be the woman I am today, so in my 24 years of living, not one of those years has gone by without their hard work and 'ofa.
My circle of inspiring sisters, talented brothers and incredible friends - it's a privilege to have them be part of my village.
And the people I've met, young and old, who have so willingly shared their stories with me so that I don't forget or become complacent - they keep me going.
Share
---
Comments