Humans of the Islands
WOMEN OF THE ISLANDS - FAAMOANA LEILUA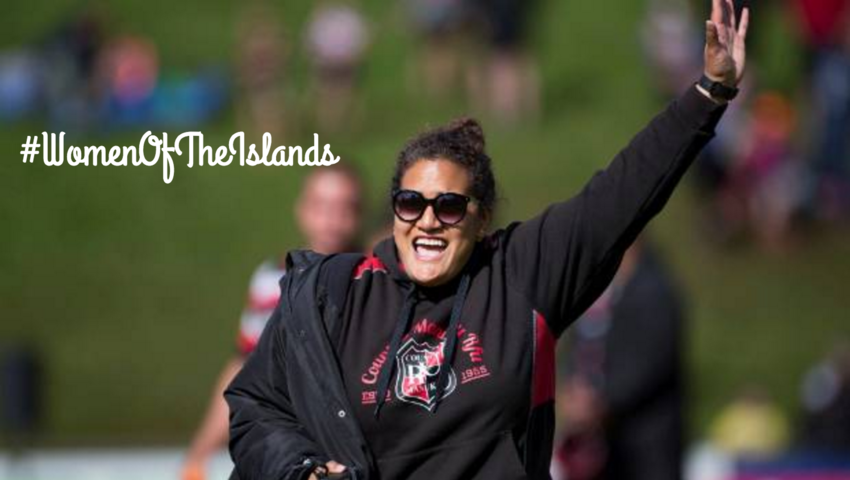 FAAMOANA LEILUA
Counties Manukau Steelers' Manager
Samoan
My name is Faamoana (Moana) Leilua. My late Father Lealali Taeatu Ieli hailed from the beautiful Fusi Safotulafai/Salelologa and my Mum Siufaga from Falevao/Falefa. My parents met in Avondale in the late 70s and made the move to Hamilton in the early 80s, where my family has laid their roots since. I am one of four (two sisters and one brother so fairly small for a Samoan family), a proud tamaita'i Sāmoa, and I'm currently contracted with the Counties Manukau Rugby Union as the Steelers Manager
You're currently the Team Manager for the Counties Manukau Steelers - can you tell us what this job entails?
The role primarily deals with most off field matters for the players and the wider Management team. Core competencies are wide ranging from Logistics & /Operations, coordinate travel, budgets, maintaining relationships with internal and external stakeholders, ensuring that eligibility checks are conducted, protocols are adhered to and behaviour is above reproach, coordinating outfitting of the team, procurement of any additional services required by the team, team reporting, all in all people management and everything that encompasses what's required to succeed in a high-performance sporting environment. It sounds like a lot, but when you're passionate about what you do, it doesn't feel like work at all so to speak. Since being in this role, I watch rugby through a totally different lens now.
You're the only woman manager this year in the Mitre 10 Cup Competition & 1 of only 2 Pasifika managers - why is it relevant that a Pacific Woman is the Manager for the Steelers?
I am fully cognisant of the fact that there are two factors at play in my case, being of Pacific descent and a female in a space that has traditionally been male oriented and pale (and I say that in the nicest way possible). The fact that I may have more melanin than another, or that I am a woman should be secondary to my ability to perform the role, but I know that has not always been the case (in rugby or in other sectors).
I believe that the relevance lies in that those that I serve are predominantly of Pacific or Māori heritage, so there is an instant connection. Coming from similar backgrounds, having grown up with a lot of male cousins (church friends who became family, shout out to EFKS Hamilton), and the humour that we inject in our day to day, I believe has helped to bridge the gap, and there is also a mutual respect that exists as a result.
I am in my third season with the Steelers and have worked alongside some great young men who take their craft seriously, some have gone onto higher honours whether in Super or International Rugby or have secured contracts offshore post Mitre 10 Cup. Being on this side of the fence, I have a newfound respect for the work that is put in week in and week out by these young rugby athletes, not forgetting the long hours from Coaching, Strength and Conditioning, Medical, Analysts staff to ensure that everything runs smoothly, that in itself drives me to be at my best professionally, I don't believe that my story is no different from the next, but I know that I do have an important part to play in the bigger scheme of things.
At the end of my first season with the Steelers (2016), the stars aligned (or a divine appointment), I was blessed with the markings of my ancestors alongside my brother Lealali Sale, thirty years after our Dad had gone through the same journey with Su'a Suluape Paulo II. I mention that, as it signifies being the protector for my family; although I do not have a family of my own yet (yet being the operative word – please Lord ha), everything that I have done since the ceremony (samaga), I take from that position as a protector of those that I am privileged to serve and serve alongside with.
I was once told that I have something special to offer being a Pacific Woman in business, I took that on board as an encouragement that I was on the right track, and to keep adding value, challenge the status quo, and all along moving forward and eventually upward.
What were the pathways that led you to where you are now?
I have been an avid rugby fan since I can remember. Our family supports Manu Samoa, All Blacks, Waikato (Mooloos), Gallagher Chiefs (however my nephew has decided that the Highlanders are more to his liking, gasshh) and now the Steelers of course. Rugby was not an option as a sport for girls back in my day, so netball was my vice throughout all my schooling years, When I moved to Auckland for University in the late 90s, I tagged along with my cousins who were going to a muster at Suburbs RFC when it was located at Racecourse Parade in Avondale, I caught the bug instantly. I played representative rugby for Auckland Storm and Thunder, Counties Manukau Heat, and a few seasons with Manu Sina.
I had a break from rugby during my Dads battle with cancer in 2011 and volunteered to manage the Auckland Marist Womens team in 2012 (helped with the healing process after losing my Dad), and when I officially hung up my boots in 2014, I went on to manage Ardmore Marist Women's team and co-managed the Counties Manukau Heat in 2015. That summer, I was asked to manage the Counties Manukau Mens 7's team, and having never worked with a mens sports team before, it was a challenge that I accepted. I managed the Counties Manukau Mens 7s team for two seasons (voluntary), and post winning the National 7s Championship in 2016, I was offered the role as the Steelers Manager (first female and pacific person to have secured the role with Counties Manukau Steelers since it was established in 1955, when I heard that I was like, ok no pressure😊).
I have previous work experience in middle management roles in contact centre operations, shipping and freight industry, recruitment experience within the tertiary education sector, and a few short-term contracts in events management; I believe all the roles that I have had to date has not only helped build my business acumen, but also led to where I am today. It's not until I stopped and reflected upon what I had achieved, that it dawned on me that everything that I have learnt and adopted along the way professionally, the people that I have met in my various roles, have been critical to my journey to the Steelers. I am absolutely floored at how everything has fallen into place, and I believe that the fruits of my labour are slowly (but surely) being realised.
You played international rugby for the Manu Sina. What are some of the biggest challenges and lessons you've learned as a Pasifika woman playing Rugby?
Challenges as a Pasifika Woman playing rugby:
In Pacific circles especially, rugby is probably not a sport that parents would see or want their daughters to participate in, however its evolved since I first started, and with more exposure eg: TV Coverage on Sky Sport, the introduction of girls 7s in schools, Womens 7s in the Commonwealth Games and Olympics, increased number of females working in rugby eg: Rugby Development Officers, Managers, Commentary team to name a few, they've become more accepting of girls and womens rugby as a whole. The recent statistics released from NZ Rugby further confirms the rising interest in rugby notably the female participation rates superceding that of their male counterparts.
Lessons learnt:
The profile of womens rugby wasn't always as it was today (although I still believe there is a fair bit of a way to go despite all the good stuff). On the back of the success of the Black Ferns 7s with the World Series and Commonwealth Games, their amazing effort at the Olympics, and recent contracting of 28 members of the Black Ferns 15s squad, I never thought that I would see that happen in my lifetime. Lessons learnt while playing rugby:
Turn down the volume of the naysayers, and ramp up the voices of the cheerleaders and champions who are in your corner
Empowering each other (sisterhood) and having a united front when times are tough
Good work ethic will be rewarded in due time, patience is key, so keep on keeping on
Your voice matters don't be afraid to speak. What you have to say is important! Ask questions.
Be authentic in all your dealings with players and Management alike, that will follow you beyond the rugby field, and you never know when the favour will be returned years down the track.
How does being Samoan impact your life?
It is the essence of who I am, at the core of all I do, and plays an integral part in how I approach life and work in all its fullness.
Being Samoan and a NZ born Samoan at that, navigating two worlds has meant striking a balance, knowing my role at home and my role at work may in some cases be markedly different, but at the core my values, integrity, and my family name will always go before me in all I do.
Who or what is your biggest inspiration and why?
My Parents. They both migrated to Aotearoa to seek a better future for themselves, with limited education and next to no English, they did they best they could with the little they had, raised four children in the Waikato away from the comforts of family in Auckland, worked two to three jobs at any given time to ensure that we could succeed in life, I am because of them (love you Foga and Ieli). All I've done pales in comparison to what my Parents achieved.
Share