Humans of the Islands
WOMEN OF THE ISLANDS - JORDYN MORGAN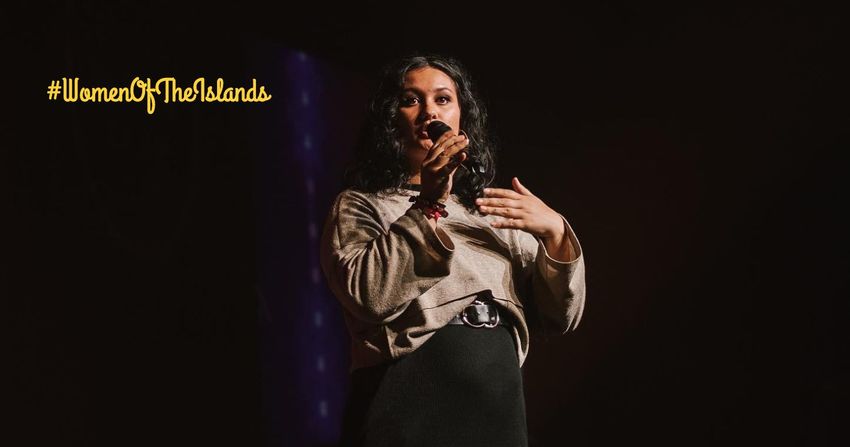 JORDYN MORGAN
Teacher / Maori Student Learning Advisor / Singer
Samoan / Maori
.
I'm Jordyn, my Dad is from Whāingaroa (Raglan) and my Mum is from Mulifanua Lalovi (Samoa). I'm married to Thomas Rapana who is from Ngā Puhi and we have a beautiful 4 year old, Toa-Awanuiārangi, who is the absolute best of both of us.
My family homestead is in Otara, South Auckland, where my Mum and her siblings spent a lot of their childhood after moving from Samoa and my Nana still lives there today. I mostly grew up in South Auckland suburbs, spent a few years of my childhood in Wellington, but Otara will always be home.
At the moment I teach Te Reo Māori night classes and I am a Māori Student Learning Advisor at a theological tertiary institution. I'm passionate about identity, language reclamation and our people thriving in Aotearoa.
What were the pathways that led you to doing music/singing?
My Dad is a Pastor and we grew up singing in Church, in Worship teams and just with the family. Music has always been a thing we do together, it has always been a space and outlet that my family have used in our highs and our lows.
.
Your first single 'Te Ao Marama' emerged as a part of your healing process after you suffered a recent miscarriage. It's not often discussed openly, are you able to share your experience and how song, music and this single was able to be a part of your healing process?
I have had two miscarriages and in both instances, I found comfort in the fact that so many women quietly let me know that they understood the journey because they had experienced it too. Miscarriage is an experience that is seldom talked about, yet, universally known. So, I thought it was important to just tell the story - share my own experience so that other women didn't feel so isolated in their experience. Miscarriage is such a difficult grief to navigate - because we don't have funerals or the same types of grieving processes.
Writing Te Ao Mārama and seeing the process of the song come together was a grieving process for me. It became a method of putting words and sounds and emotion to my grief - it let others in to that moment so I wasn't alone - it allowed me to really find the treasures of friendship, whānau and love, in the depths of darkness - it invited purpose to meet my pain. I feel like, it's easy to grow bitter in that grief space - but the creating process kept my heart tender and helped me to really feel everything.
Listen to Te Ao Marama below ...
New Zealand has just passed an amendment to the Holidays Bill for bereavement leave for miscarriage and still birth - how important is this for women and Pasifika women here?
The amendment of bereavement leave to include miscarriage and still birth is so important. Māori and Pasifika women are my blueprint. They are the hardest workers and fiercest protectors - always giving of themselves. This bill acknowledges that pain takes time to process.
I know our women are so quick to get back into gear - to get the work done - to front up to responsibilities and I think this bill offers a small opportunity to allow our women to breathe.
Who are your favourite musical artists/inspirations and why?
I am totally shaped by Brown music - Adeaze, Aarahdna, Nesian Mystik, Jamoa Jam, Ardijah, the Dawn Raid whānau, Troy Kingi, Maisey Rika, Holly Smith, Teeks - honestly the list goes on! When I hear their music I am immediately reminded of home - these are our sounds, they emerge from our land and seas - what else is more inspiring?
.
What is the best piece of advice you've been given?
My Dad always told us, let love be your boundary. I try to live by that everyday and it has totally influenced the way my marriage and motherhood plays out, as well as everyday interactions with people. It makes me more gracious and have more capacity.
What do you love about being a Samoan woman today?
I love that I am aiga-made, village-made, community-made. Independence is overrated to me and I think that being Samoan and being Māori have made me interdependent - I know how to hold my own and I know that I am never alone. I stand on the choices and sacrifices of my family. My identity sinks deep into the land, is as vast as our moana and stretches all the way to the heavens, I love who I am. I love being Samoan and I love being Māori. I love the journey of reclamation and I will walk that path all my earthly days.
.
Keep up with Jordyn via her social media here and check out more of her music ...
Share