Humans of the Islands
WOMEN OF THE ISLANDS - KANOELANI DAVIS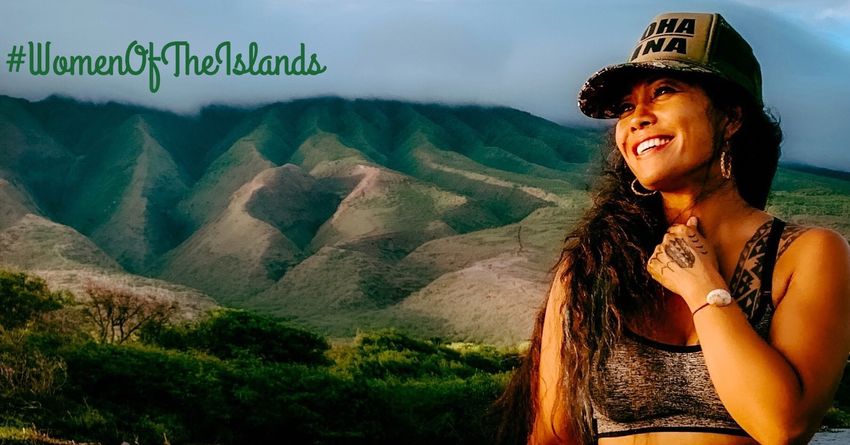 KANOELANI DAVIS
FOUNDER & CREATOR OF POMAHINA DESIGNS
NATIVE HAWAIIAN / KANAKA MAOLI
.
Aloha, 'O Kanoelani Davis ko'u inoa, mai MolokainuiaHina mai au.
Aloha, I'm Kanoelani Davis from the Island of Molokai, great child of Hina. I am a Native Hawaiian, Kanaka Maoli. I was raised by my grandparents here on Molokai. I am a single mother of four beautiful daughters and I am the founder and creative director of PoMahina Designs.
Also, I am actively dedicated to my community and to protecting our natural resources. I live and breathe traditional practices of hula, martial arts, ceremony, protocol, chanting, lei making, and so much more.
You're one of a few Pacific designers who have been invited to showcase your designs at the London Pacific Fashion Show. Can you tell us about your designs and where you draw inspiration from?
First off, I'm humbled and feel so blessed to be a part of London Pacific Fashion Week.
PoMahina Designs is inspired and driven by the vast history and culture of Native Hawaiians. From the depths of who we once were pre-colonisation until now, we honor the elemental forms of our natural environment and their value and meaning forms how we think, and navigate through life.
How important is it to bring a Pasifika perspective to what you do?
It's extremely important. Being a fashion designer allows us to be creative ambassadors for our culture. We show the world fashion through our eyes, and our unique narrative of who we are. It's an opportunity to reveal our profound essence and connection to a foundation which was once removed from our perspective. It is an opportunity to be "us" in a space where one may feel obligated to "blend in" with what many think fashion is. Being Pasifika people allows us to share who we are from the inside out.
Can you tell us about the pathways that led you to what you're doing now?
Being a mother and kumu hula (a source of hula practice) I feel a responsibility to perpetuate & cultivate the indigenous knowledge of our people. I was fortunate to have been raised by my grandparents, Sifu / Kahupono / 'Olohe Francis and Nani Wong, who instilled in me cultural knowledge passed down from generations.
Growing up they taught me the value of self-identity and importance of creating a solid foundation.
After studying graphic arts at College, I used these skills to capture artistic visuals for design when I first started PoMahina Designs.
What has been the most challenging and also the most rewarding moment in your field?
Being from a small island in the center of Hawaii, Molokai, many don't realize the challenges we have and how resourceful we need to be. Molokai's economy is largely agricultural, whereas the rest of Hawai'i is tourism. Here we are taught to live off the land and sea from childhood. There are no stop lights, franchises, or even a building over three stories. Many still live off the land and base their survival on making sure that we maintain balance with our natural environment.
Overcoming the lack of resources and being able to not only sustain, but grow PoMahina Designs took a lot of work and innovation.
We built the company using some very grass roots methods. In the earlier days, I remember gathering bamboo from the forest, and hand carving different designs and patterns into it. I gathered plants from the bush and made natural dyes to hand print designs onto natural fiber cloth (Kapa).
What's inspiring to you about the future?
It inspires me that our voices are being heard and that our story is being told. I hope to remove the ideologies of grass huts and coconut bras and share a piece of the true and beautiful essence of Hawaiian culture. PoMahina Designs embody ancient Hawaiian culture with a rich history, beauty, and depth.
Me ke aloha nui,
Kanoelani Davis
Creative Director / Owner
PoMahinaDesigns.com
•
Hawaiian Arts Director
MolokaiArtsCenter.com
FB : IG : Twitter @PoMahinaDesigns
Share
---
Comments