Humans of the Islands
WOMEN OF THE ISLANDS - MAUI DANIEL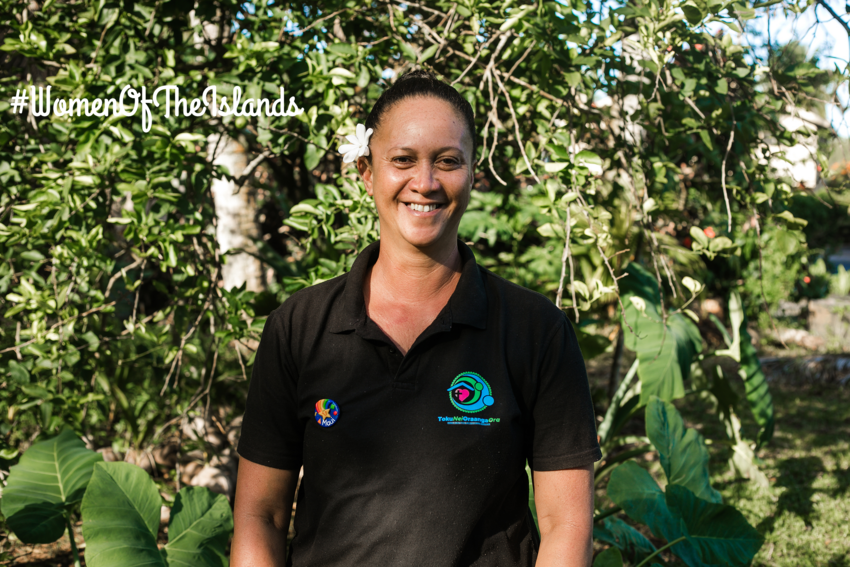 MAUI DANIEL
REGISTERED NURSE
COOK ISLANDS
-
Ko Maui Daniel toku ingoa
Ko Takitumu toku vaka taunga
Ko Pa ma Kainuku toku nga ariki
Ko ngati kainuku toku matakeinanga
Ko turangi manga mataiapo toku tapere
Ko te kou toku maunga
Ko te avarau toku ava
Kia Orana from the Cook Islands.
My name is Maui and I am named after my late grandmother Mama Maui Short (nee Cowan). I was born on the island of Penryn, and raised in Rarotonga in the village of Ngatangiia, Muri. I am the eldest of three, however I have two older siblings before me.
I am the mother of one handsome young man of 20 years old, who is my life and my strength.
My father Dr Roro Daniel was born on the island of Aitutaki that is well known for its beautiful Lagoon. I have family connections to Palmeston and Penryn.
My mother, the late Akaiti Daniel (nee Short) is from Rarotonga with strong ties to Atiu. Rarotonga is mainly the island I was raised on but due to my father's profession as a doctor, we moved around from one island to the next. Family is my comfort.
I have been a Registered Nurse for over 20 years and am very proud of what I have accomplished. My passion for nursing paved the way and helped me grow immensely into the strong confident woman I am today.
You recently started your own business dedicated to treating patients and elderly in the comfort of your own home. Can you tell us a bit about where the inspiration came from?
Naming a business in Cook Island Maori is important to us. The name in Maori is TOKU NEI ORAANGA ORA which means "my health, my life". It translates to Rarotonga Home Health Care services. It's simple but tells potential clients and the community, home health care is what we do.
Rarotonga Home Health Services is a mobile service, providing clients with a health care service in the comfort of their own home, a service for all ages including our international guests that require it from overseas.
During my travels and since returning home, I would hear stories of our people who had challenges caring for their loved ones especially when it came to having the knowledge or expertise to care for their elderly as well as inconsistencies of the quality of care that is being provided. Other challenges include confidentiality and privacy when caring for others, as well as the need to have someone advocate for their families. Often family members would be left to deal with these types of issues on their own without assistance. Most patients get lost in the queue until their condition worsens.
I was employed at the Rarotonga Hospital and it gave me an opportunity to learn about our health care, its function and along the way, I identified key areas of concerns and how we could better assist. I believe it is about being there for our community. In my experience, people like to have confidence and be comfortable when it comes to their health, hence we wanted to assure them with a support service they needed. Rarotonga Health Care Services was born.
My business partner (Tarina Moorfield) is a registered nurse who I have considered a blessing in this business. She is responsible for all administration and financial services in the business. Tarina's diverse business background is a valuable asset to this business. I am grateful for her support and would not have been able to start this business without her. Tarina and I work well together, sharing ideas, complimenting each other and are able to contribute 100% to this business.
E Orama Kia Matutu. (A vision to improve)
What were the pathways that led you to what you're doing now?
My inspiration comes from my parents who were both working in the Health industry. My father is a Medical doctor and my late mother, a Dental Hygienist.
Everyday I surround myself with strong and influential people especially my family who always challenge me to do my best. I owe my achievements to my parents.
My nursing career started in 1996 through the Cook Islands Nursing school, a newly established school. I am grateful I pursued my passion as it took me to New Zealand to seek other opportunities in the nursing industry. However, it was not the case. The move to New Zealand was nothing but full of many challenges and disappointments. I was not able to practice in New Zealand and realized I needed to enrol myself into MIT in Auckland.
I did hope to succeed in my nursing career but the universe had other plans. During my studies, I worked as a nurse aide, in private hospitals and agencies. It was difficult and challenging but with determination, I was adamant to become a NZ Registered Nurse. It takes a lot patience and belief in yourself to make things happen. It also helps when there is a great support system from your family and friends. I would not have done it without them.
After I completed my studies, it was difficult applying for work as a registered nurse as most applicants require 2 years experience. This was disappointing and discouraging. However, I pushed myself and kept applying. I successfully worked as a nurse in a rest home and through a nursing agent, I was able to work in different hospitals. This experience gave me an opportunity to meet new people and work in different areas like Starship Hospital. It was an enormous accomplishment and a highlight in my career to be working for Starship.
Life can be frustrating and seems like nothing is working out, there is a light at the end of the tunnel. I was able to experience many new opportunities and was offered a number of exciting jobs in New Zealand including joining the AirForce. I also wanted to explore the outbacks of Western Australia. Finally, hard work and perseverance does pay off. I am so pleased I did not give up.
What has been one of your most challenging and then one of your most rewarding moments in getting your business going?
Starting a business is a huge commitment and no one starts a business to fail. There is the "what if'' scenario and failure. Rarotonga Health Care is unique and one of its kind, it has never been done before. There is doubt and uncertainty but it's only natural for this to occur. It's important to believe in yourself and your purpose. I had to pursue my passion and believe in the business, it's purpose and my determination to do my best for my people.
There are many rewarding moments but the most successful reward is being able to work closely with the Ministry of Health in Rarotonga. It's important we work together to focus on our people of all ages to get the best quality care. It requires a positive attitude and a passion to achieve great outcomes. Both Tania and I are very pleased with our business deliverables and how well it has grown in the last year. The feedback from the community is very positive.
What advice would you give to young people who are wanting to run their own business?
Frustrations, your determination, your passion, your failures and working hard to get what you want are part of what life throws you. Always believe in yourself, your abilities, and your will to achieve great things. Don't undermine yourself in thinking you cannot do things. You can! If you believe in doing something that you are passionate about, do it. You can only give it a try. Failure is the part of the road to success. You have an option to try again and again. Stay determined and focused even when there are setbacks. Don't give up. Success is possible if you try, try and try again
E tu e rave! (stand up and take charge).
This week is Cook Islands Language Week in New Zealand and you are a fluent speaker – why do you think it's important for young Cook Islanders to know their language?
It already belongs to you, it's yours, embrace it and be proud.
Your language is what defines you from the rest of the world, it gives you a sense of belonging and a sense of pride.
What do you love about being a Cook Islands woman today?
Despite the elegant and colourful dresses they wear, the vibrant flowers in the katu ei (head piece) that adds to the accessories, Rarotonga women are truly known for their strength and moral values but most for all, our beauty.
Public Interest Journalism funded by NZ on Air
Share