Humans of the Islands
WOMEN OF THE ISLANDS - NOELEEN TUALA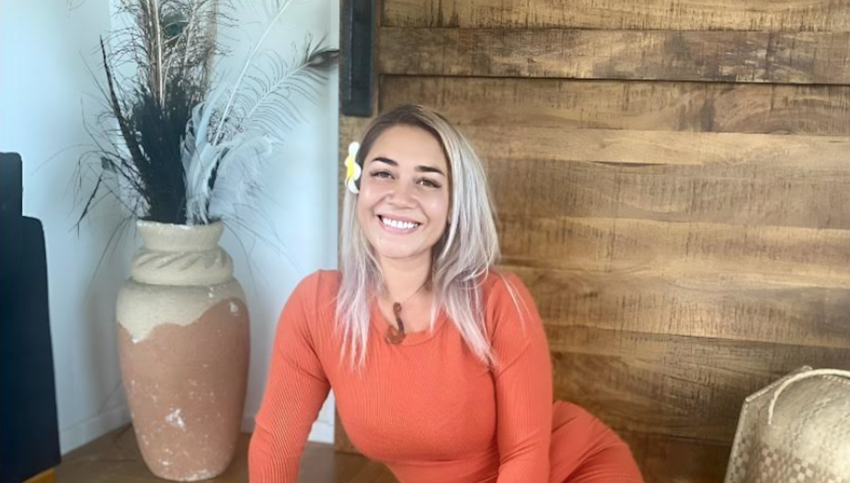 NOELEEN TUALA
POLYTRANEUR - CREATOR & FACE BEHIND PELE
SAMOAN / TONGAN
-
Talofa, Mālō e lelei My name is Noeleen Tuala mum of 5, nana to 4 and a polytraneur! The creator and face behind PELE.
I am of Samoan (Leulumoega Tuai) and Tongan (Nukualofa) decent with a sprinkle of Irish thrown in for a good mix (thanks to my beautiful nana) and I have been married to my amazing husband Joe for the past 13 years. I have lived in South Auckland all my life, currently calling Manurewa home and calling my spare room my office.
By day I am an executive assistant for a community housing provider and by night and lunch breaks I am all about PELE. I have always believed there was more out there than a standard 9-5 and I feel incredibly blessed to be where I am today.
You run Pele - can you tell us a bit about your business?
PELE is a dream come to fruition!
PELE is made up of baby essentials with a poly theme. From dream to conception everything has been designed with our babies in mind. From the super soft quilted playmats to our alofa made minky blankets, PELE is all about quality and striking poly designs. I make a point to ensure that if I wouldn't buy it for my grandbabies then I won't sell it which is why quality is high on my list when looking at my products. This thought process has paid off in dividends when I get reviews and feedback because people are wowed with the design and quality. Quality is key!
What was the inspiration behind starting this particular business and what were the pathways you took to get to where you are now?
I found it increasingly hard to find quality poly-designed baby essentials for my grandkids and so the dream of PELE began. With no formal qualifications in business, I decided that my passion and my belief in my products, and most importantly a lot of help from above, would be the driving force to get me where I wanted to be.
It took me a good 11 months to get things ready for launch. Sleepless nights, tears, frustration (who knew there would be over 100 shades of brown), and numerous occasions of wanting to give up but my passion for my product kept me pushing and that belief has paid off.
I recall sitting at my dining table at 2am, 4 days out from launch trying to finish creating my website and feeling defeated when I received a DM from a complete stranger with words of encouragement about how she already loved our product and that she could not wait till launch date to purchase and that she was so proud that a poly from South Auckland was putting herself out there - That message gave me the last push I needed and I will always be grateful for that person.
Since PELE has launched the response has been overwhelming and I quickly realized that with the platform PELE is building I am in a position to help other fellow polys who have a dream whether it be with some advice on how to get started, sharing their small business on my page or sharing connections I may have made, there is always a greater purpose and an unwritten law that we need to share our good fortunes to help others succeed if we can. It is all about lifting each other up.
What has been your biggest challenge and also your most rewarding moment of your journey as a business woman?
My biggest challenge to date has been finding enough time in a day. Working full time, looking after my aiga, and ensuring PELE has the time it deserves to help it grow has been a huge undertaking but fortunately for me I am a serial multi-tasker thanks to all the birthdays I've had to plan over the years so I have been able to manage it all, it hasn't been easy but all worth it.
My most rewarding moment has to be seeing beautiful babies on something I created. It is an unexplainable feeling and I love it! This is the reason I love to share our PELE babies on my socials because without them we are nothing! Who needs professional pics when we have our gorgeous PELE babies. Not to mention all the positive feedback I have received. Customers are loving our products and their quality and this is what drives me to do better. I have so many more products in the pipeline and cannot wait to share them all.
What advice would you give to other Pasifika women wanting to start their own businesses?
DONT GIVE UP!
We polys have so much untapped potential and great ideas and we just need to take that next step. The thought of starting your own business is daunting but you can do it! If a mama of 5 can do it then you can too! There is nothing special about me aside from having faith and believing in my product. It isn't easy by any feat but I can guarantee it will be worth it. Keep reaching for the top of the tallest coconut tree - You got this!
Who or what inspires you?
My aiga inspires me! I have a great support network in my aiga and they inspire me. To be able to show them that dreams can be a reality is as rewarding as it gets!
I have purposely personalized PELE by naming my playmats and minky blankets after my grandkids and my youngest son, to show them that they are a huge part of this dream. I have also named my collections after the street my husband grew up on (Harmony) and the street we live on (Damian) two very special places for me because our history is what makes us.
All these little details in our lives make us who we are today and I wanted to share that through PELE. You will also find my favorite psalm on my website, on my thank you cards and on our product labels,
Psalm 127:3 Children are a gift from the lord; they are his reward.
What is the best advice you've been given?
The best piece of advice I have been given was to "never give up". As cliche as it sounds it is the sentiment behind the words that mean the most. Coming from my support network and seeing their belief in me and PELE is something magical. Support is key when it comes to starting your own business, something as small as a page share on Instagram goes a long way (get sharing guys hehe).
What do you love about being a Pasifika woman today?
I love being a pacific woman today because we are one of a kind! plain and simple there is no other like us, we are strong, humble, and talented and we know what we want. On social media alone I see so many Pasifika woman using their talents to show the world through their small business what they can do and I love it! it makes me proud to see them out there shining! The Poly movement is what I call it and I can't wait to see more of us shining our light soon.
Check out the PELE website here
and Follow PELE on Instagram and Facebook
-
Public Interest Journalism funded by NZ on Air
Share