Humans of the Islands
WOMEN OF THE ISLANDS - NYRENE CROWLEY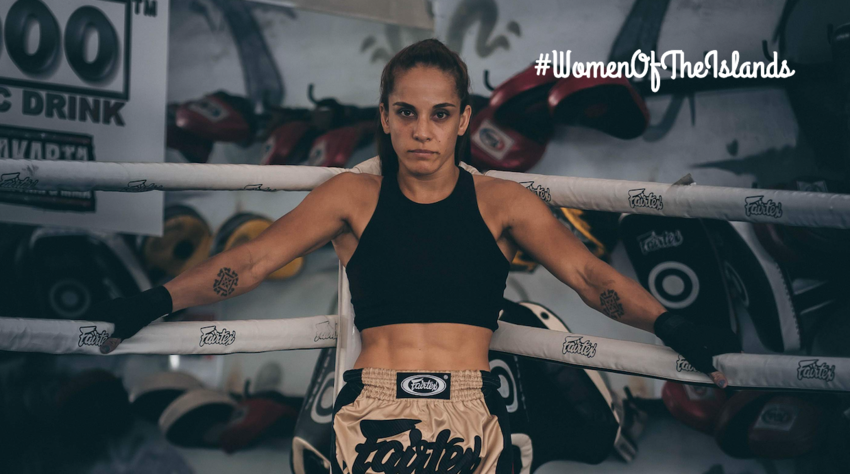 NYRENE CROWLEY
PROFESSIONAL MIXED MARTIAL ARTIST
SAMOAN / KIWI
-
Well Talofa Lava Coconet! Thank you for including me in this beautiful collection of Pacific women! So, I grew up in East Auckland in Pakuranga - where I was raised alongside my little brother and older sister by both of my parents.
My Dad is a Kiwi, and my Mum was born and raised in the village of Lepea, Apia, Samoa and immigrated to New Zealand in her early 20s. We had a very active and sporting upbringing and were all regional and national reps across different sports growing up. I am now a Professional Mixed Martial Artist and have been training and competing for almost 10 years now, representing my heritage around the world.
You're a pro fighter - when did you know you wanted to go pro and how did you get into MMA/fighting?
I had been training and fighting originally with Muay Thai Kickboxing here in Auckland. Once I started training, I just LOVED it. Not just for the physical challenge, but the mental and emotional as well. I had never done anything like it before, and after my first fight I was hooked.
After my first few fights it became harder and harder to secure fights and opponents, so I decided to begin learning Mixed Martial Arts at a gym called Auckland MMA.
After a year or so, I had an opportunity to have my first Professional MMA fight on a show here in Auckland, where I matched against a Chinese girl who had come to New Zealand with several other Chinese fighters for the NZ vs China card.
I managed to win that fight in round 1 by rear naked choke and knew that this was the beginning of my career going forward in MMA. Part of that process was deciding in 2018 that I needed to leave NZ to further my career and get fights.
That year, I left my corporate job for Auckland Council, packed up my things and left for Thailand to settle eventually in Bali, Indonesia for three years while I fought Pro MMA around Asia.
What has been one of your favourite highlights of your career so far? and what has been one of the biggest challenges you've had to overcome as a female fighter?
My favourite highlight is most definitely being selected to fight on the biggest MMA promotion in Asia, and one of the largest MMA organisations in the world, ONE Championship.
Although that opportunity didn't end the way I wanted it to – I felt like it meant so much to me being the first Kiwi\Samoan female to fight on that promotion, leading the way for other women in NZ to follow behind.
In terms of overcoming challenges in my journey through the sport, I would say the toughest battle for me was always my mental. For a long time, I struggled to control very invasive and destructive thought patterns, and I wasn't always surrounded by people to help me recognise it and navigate my way out of them.
There was a period where I really fell into darkness, and it was a very lonely time while I was still trying to fight at the highest level. Coming home to New Zealand really allowed me to rebuild my mind back to where I was, and although it is always something I must manage, I am the happiest I have been in a really long time.
Did you have a favourite female fighter that you looked up to as you were coming up in the fight game? and who would you say is your favourite now and why?
Yes absolutely, I always looked up to Tiffany van Soust as I was coming up. She was a fighter on a promotion called Glory. I was so inspired seeing someone smaller like me fighting on a massive promotion, and she had the most beautiful fighting style.
Tiffany has been the Glory champ for a number of years, and we ended up becoming really good friends when I moved to Bali MMA. She truly taught me so much about life and fighting and we still keep in regular contact.
You recently became the first female to commentate 'King in the Ring' - how did that opportunity come about? Was it your first time commentating, and can you tell us about the experience?
YES! I was so incredibly honoured to have that opportunity. Its funny I was talking to my teammate Kai Kara-France about an interview I had done earlier that week. He mentioned that he was thinking about opting out of commentating King in the Ring and asked if I might want to do it instead. He was the one that put my name forward for the commentating role, and I jumped at the opportunity with both hands.
The experience was surreal. I was very nervous but eased into it as the fights went on knowing I was in my element talking about something I am obviously very passionate about. I loved it! and being the first female to be in that role really meant so much to me.
Your sister Cheree aka Dakota Kai is in the WWE - were you ever interested in going down that path? The WWE recently shared a post where she says you inspire her because you continue to fight for your dreams and you're adamant to prove those who doubt you wrong. How did that make you feel and can you share with us what your dreams are?
Those who know my family know that we are very tight. When my sister shared that quote, I really got quite emotional. My sister has seen the ups and downs of my journey through the sport, and has always been there to lift me up and empower me to fight through everything.
She is one of my inspirations in life and although she has massively paved the way in her own right with WWE - it is not something I ever thought to pursue haha. That is her domain, and she is so incredible at what she does.
My dreams are to continue representing myself on the stage I love so much. I aspire to build and grow a real safe space for women in martial arts, and the more I achieve in the next two years will allow me to have a solid foundation to make this happen.
What's the best piece of advice you've been given? and what would be one piece of advice you'd give to other young women who are wanting to make fighting their career?
The best advice I was given was from a very good friend of mine Shayna Baszler. She told me one time before one of the biggest fights of my life "It's just another fight" she told me not to treat it any different than anything else I had been through before, and honestly in that moment it really changed things for me.
The advice itself had such a larger meaning and allowed me to control the way I approach fights and made it easier to remain calm and focused even on biggest stages.
One piece of advice I would give to young women wanting to make a career of this would definitely be to be very careful about who you have in your circle. In this game I have seen and personally experienced women who do not have the right team around them and it can make or break the way you succeed in the sport.
You need to always make sure people in your team have your best interests at heart and treat you with respect and equality. It is so important.
What's exciting to you about the future? Do you have anything coming up we can look out for you in?
Fingers crossed I get to fight a couple of times before the year is through. I am 4 months post-surgery for an ACL\MCL rupture and am already back to full training so I am incredibly happy with how my rehab has progressed. My goal is to make it back to the states at some point to possibly pick up some fights, but nothing locked in for sure at the moment.
What do you love about being a Samoan woman today?
There are so many things I love about being a Samoan woman. I love having such a beautiful, colourful and animated culture in my bloodline.
I love being able to represent the strength and determination of Samoan women in a sport I hold so close to my heart.
We may be small in number, but we are mighty, and I am so lucky to be surrounded by other incredible Samoan women who continue to uplift and empower each other through the sport.
Samoan women represent a balance of boldness and beauty and that is what I love about being a Samoan woman.
-
Public Interest Journalism funded by NZ on Air
Share