Humans of the Islands
WOMEN OF THE ISLANDS - PŌHAIKEALOHA P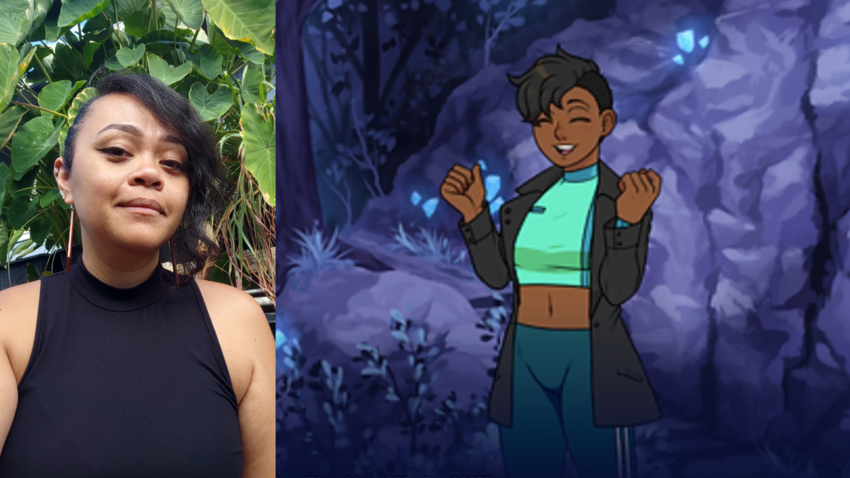 Pōhaikealoha P
Media Producer / Indigenous Story teller
Hawaiian
.
Tell us about yourself. What places do you call home and how do you like to be introduced to the world?
Aloha! My name is Pōhai and I am Kanaka Maoli. My ohana hails from Hawaiʻi on the island of Oʻahu. Kaʻala is our mountain range and Mākaha is our home, where I currently live and create out of.
First and foremost, I consider myself a storyteller or haʻi moʻolelo. Fittingly, the story of my name is linked to my sense of self so I love when it's the first one I get to tell. The mo'olelo, or story of my name, is derived from both definition and introspection as pō is the night sky and Pōhaikealoha is the circular nature of love, how it surrounds and gathers, how it comes back around to the start. The stories I find myself drawn to tell often have themes of space, the stars, and of course, love.
Though I work with various forms of media, my goal and primary creative interest is to tell the stories within my naʻau, my soul.
How would you describe the work you do?
As a storyteller, I strive to bring "native" stories to life with a passion for not only our cultures and history, but for their longevity and projection far into the future. ​I work with multiple forms of creative media to tell stories about the things I care about most. Sometimes a story does come in the form of a simple verbal exchange in a story circle with other haʻi moʻolelo. Most times it is a project with multimedia aspects, as I am drawn to the creativity and interactive potential of mediums like animation, games, and webcomics.
-
What got you interested in animation and games?
Animation has always been one of my favorite mediums to consume stories by if not my utmost favorite. From a young age, I'd been wowed at the creative range that a story could have due to the fact that animation could make almost anything and everything happen on screen.
Videogames have also been a favorite medium to consume stories by for its ability to put a player in the middle of the story itself, to make it one of their own design. I'm interested in telling stories through games because it lets me communicate a lesson or moral more directly to someone's heart. By making them the main character and giving them choices, a story can really become a personal journey of discovery and growth.
Can you tell us a little bit about AlterNative?
AlterNative is an indigenous futurism "visual novel." A visual novel in gaming terms is an interactive media that allows the audience to choose how the novel plays out. The game is presented as a mixture of visual story pages, animation,and text. It is advanced through a player's personal choices in dialogue or action.
Without spoiling too much of the story, AlterNative takes place far in the future after the end of a 10-year voyage through space to find a new planet to live, just as our ancestors voyaged across the Pacific to connect with our island homes. As all of the characters are indigenous voyagers, connecting with the land (as opposed to conquering it) takes center stage. The player, as the main character of the story, must discover what it takes and what values they need to embody to truly connect with this new planet.
AlterNative has been selected for Maoriland, how does that feel to see your work acknowledged in this way?
I truly cannot describe all the feelings I was overcome with when I was notified of my Maoriland participation! I am so humbled and yet ecstatic to have gotten my first "Official Selection" in a festival. It makes me ever so grateful for the indigenous communities that supported my creative journey in storytelling and it feels so validating of the notion that this is what I was meant to do.
-
Congratulations on being selected for the Netflix Animation Foundation Program. What has that experience been like for you?
This experience has been amazing thus far and I am so grateful to have been selected as the only participant from Polynesia this time around! One of the things I enjoy most about the program is how the indigenous community has been so uplifting and inspirational to be a part of. It fills me with joy and light to see other indigenous creatives like myself following their dreams of bringing stories to life on a screen.
What does the Netflix Animation Foundation Program look like?
As a participant in the program, we are assigned a mentor currently working at Netflix who specializes in our area of interest. For me, that interest is writing or story, but I have also gotten to speak with and learn from various artists, editors, producers and recruiters that work at Netflix as well. The goal of the program is to learn from our mentors' experiences and produce a portfolio piece on par with the quality of work that goes into a Netflix production.
Though we cannot share what our mentors are working on, I can share that we do get to see their current and past work in order to understand all the details that go into each part of the animation production pipeline. It's been awesome to see a screenplay or a beat sheet, for example, from Netflix shows that I've already watched and fallen in love with. Beyond those materials, our mentors provide valuable insight as to the thought process that went into their creation. This inside view into writing and storytelling for animation has been such a blessing and I can't wait to learn more as the program continues.
As an indigenous storyteller, how would you like to see the world of media change to honour indigenous stories and storytellers?
I am a firm believer of "Natives in charge of the narrative." I would love to see indigenous storytellers not only "consulted" and "brought in" to participate in media productions involving native stories, but would like to see opportunities that more often give them the helm of the story itself. I know we also must do the work of stepping into spaces that weren't made for us, but I would really just like to see more opportunities for indigenous to succeed in the world of screen and interactive media.
Share