Humans of the Islands
WOMEN OF THE ISLANDS - TESSA TEMATA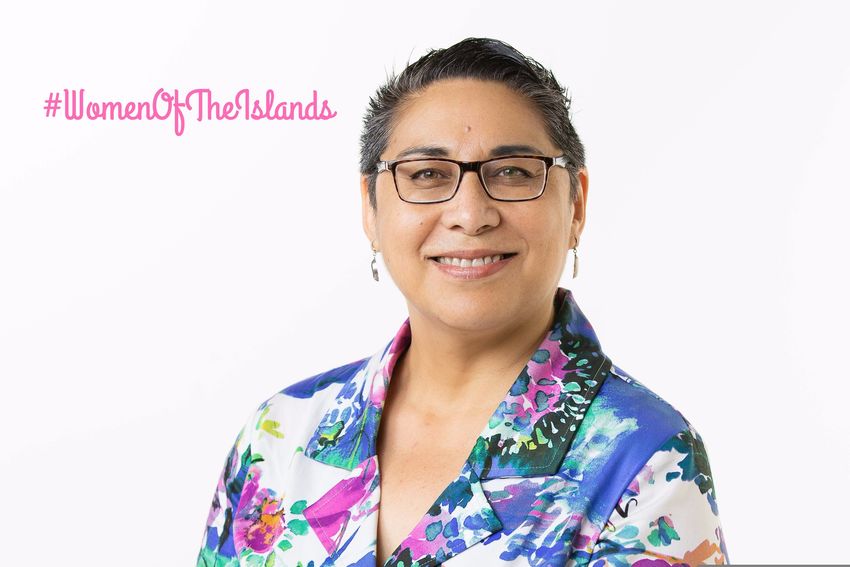 TESSA TEMATA
New Zealand's High Commissioner to the Cook Islands.
Cook Islands / Samoan
.
I can trace my Cook Island heritage back 26 generations to Kaitini Ariki, the eldest child of Uke who settled the island of Mauke. My father, Tiatoa Temata, married my mother, Jane Crichton, whose aiga are from Asau in Samoa. There is also a wee dram of Scottish voyager in there dating back to the 19th century when a sailor called William Crichton decided to settle in Samoa.
I was born and raised in Taranaki. The seventh of nine children.
You've recently been appointed to be the High Commissioner of the Cook Islands making history as the 1st High Commissioner of Cook Islands descent to serve and also the 1st female High Commissioner of Pacific ancestry posted to the Pacific - Why do you think it's relevant and important that a Pacific person is in this role?
Having a High Commissioner of Cook Islands heritage speaks very clearly to New Zealand's commitment to a genuine partnership and is a testimony to the authenticity and strength of our two countries' common whakapapa. Right now there are Cook Islanders born and raised in New Zealand showing greater interest than ever before in the home of their ancestors. There is more movement between our countries than ever before. I can help realise the opportunities that brings and help navigate the pressures that generates.
Can you tell us what this job will entail for you?
I'm there to protect and promote New Zealand's interests. For the most part, New Zealand and the Cook Islands share common goals and aspirations. But I'm also there to support the Cook Islands as it seeks to chart its own pathway forward in the region. That means fostering an even deeper and productive partnership between our peoples.
.
What were the pathways that led you to where you are now?
I got a taste for international affairs after doing an internship at the United Nations in New York. That was extraordinary: 44 people from 23 countries in one place. So after I finished my law degree, I joined the Ministry of Foreign Affairs and Trade.
I did a lot of incredibly rewarding development work and political reporting in my early years in MFAT but didn't know much about trade. I asked to join the trade negotiations division and was fortunate to be part of teams who helped negotiate agreements with China, ASEAN and even the "P4" which eventually became the CPTPP.
In 2015, I joined the PACER Plus negotiating team as a legal advisor and later jumped at the chance to become the Chief Negotiator. This was immensely important to me because PACER Plus was a chance to negotiate a trade agreement which would respond to the unique challenges of trading in the Pacific. New Zealand is a trading nation and we value relations with regions all over the world but we did things in PACER Plus we would do for no one else precisely because this was the Pacific. We agreed ways to improve Pacific workers access to lucrative seasonal work and expand to new sectors like construction and fisheries, which would generate money and skills to take home and boost New Zealand's own export earnings. We agreed the biggest ever development package including a commitment from New Zealand and Australia would commit to spend up to $2billion in aid over five years to support boost trade infrastructure and capacity in the Pacific.
The bulk of my career was spent working in Papua New Guinea – as the NZ deputy High Commissioner and as the Development Counsellor overseeing one of New Zealand's largest aid programmes. One of the highlights was working in Bougainville after the peace broke out to support the New Zealand police as they trained and deployed local community police. It was one of the most productive ways to rehabilitate ex-combatants and put women in positions of authority to help a traumatized community.
But I also worked in the private sector for a time. I helped start a security company from scratch. My husband, Eddie, and a number of his friends were former PNG Defence Force officers. They wanted to show that PNG soldiers could be successful as civilians. My experience with budget management, contracting, procurement and multi-year planning were a good supplement to their security, training and coordination skills. At its peak, the company employed 200 staff, was providing security and transport for the second largest airline in PNG and was the only accredited security training company in the country. The most fun we had was providing security escorts and logistics support in the Highlands for foreign film crews. I was one of only a handful of women at senior executive level in the PNG security industry at the time.
I also spent two years as the HOPEworldwidePNG Country Director. We had about 70 staff and 100 volunteers – all Papua New Guineans - working primarily in the Health and education sectors. HOPE staff were extraordinary. They would walk for days into the mountains to reach isolated communities; they distributed well over one million books to about 20% of PNG's schools; they conducted HIV aids awareness to some of the most marginalized groups and led the charge on helping combat diabetes even before the international aid agencies got seriously involved. They were trusted by the government to run one of its busiest health clinics in Port Moresby.
How has being a Pacific Islander impacted your life and work?
Pacific Islanders combine virtues and values that are needed more than ever in this complex and conflicted world: deep respect for people, the importance of family and the village (our global village is suffering), humility and sacrifice. Plus we are voyagers – that gives me huge pride in knowing I descend from people who navigated the greatest ocean in the world; people who were brave enough to chase the unknown; people whose arts and culture are so unique. Last year, I was part of the New Zealand delegation who participated in "Oceania" – the biggest exhibition of Pacific art ever held in London. My job was to help make sure that Pacific voices were heard and authentically reflected in the cultural protocols and in a range of events that highlighted contemporary challenges in the Pacific such as climate change. One of the most fantastic parts was the dawn procession of over 200 Maori and Pacific peoples to bless the exhibition before it opened. We stopped the traffic on Piccadilly. Guests at the Ritz woke to the sounds of beautiful Tongan and PNG singing. All led by kaumatua from New Zealand.
What have been the biggest challenges or lessons you've learned throughout your career?
You can't rush people to the finish line. In the Pacific, in Indonesia, people will sometimes agree with you because they think that is what you want to hear. Then there is the challenge of people listening only for what they want to hear and taking that as agreement. "Talanoa" is the right way to go. Its become a principle we are seeing increasingly followed in some of our regional and international meetings. You talk, talk a bit more, eat a bit, laugh a bit, complain a bit. You take the time to get people to speak up about what they really want – or don't want - and try to reach a consensus that everyone can live with.
.
What is the best piece of advice you've been given?
"Issues are always about people"; meaning that it doesn't matter how much you plan and research and anticipate – if you don't bring people with you – hearts and minds – then you can't truly be successful. And the one I like the most if I'm feeling indecisive is: "lead, follow – or get out of the way"
Share