Humans of the Islands
WOMEN OF THE ISLANDS - TEUILA BENIONI and TERESA ATUA FAU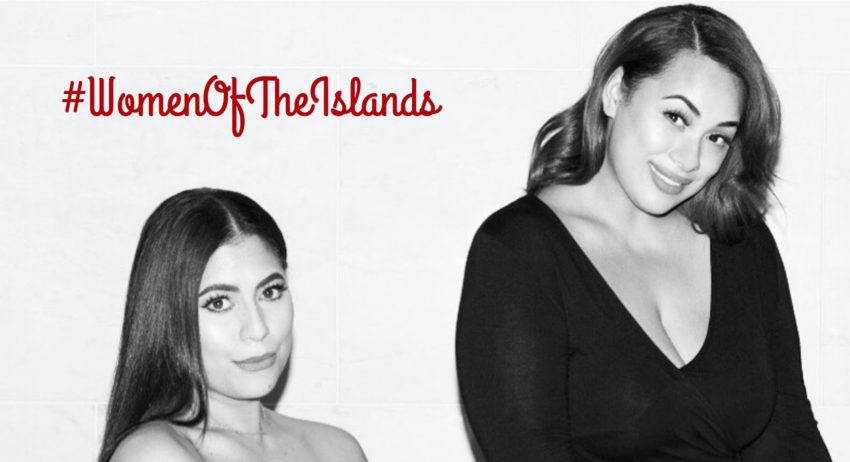 TEUILA BENIONI and TERESA ATUA FAU
Co-Founders of Weddings She Wrote Ltd
Samoan & Cook Islands (Teuila) Samoan (Teresa)
.
Teuila: My name is Teuila Benioni, I am the Founder & Creative Director for Wedding She Wrote Limited. I consider myself the "architect" of the business. I design, plan and deliver all of our unique, once-in-a-lifetime events across Aotearoa & the Pacific Islands; together with our lovely clients and my dedicated team. I am of Samoan (Satapuala, A'ana and Matatufu, Lotofaga) and Cook Islands (Reureu, Aitutaki) descent.
I grew up in Otara, South Auckland, attended Auckland Girls Grammar School, and I am the eldest and only daughter of my parents, with two younger brothers and one handsome son (14 years) who have all attended St. Pauls College, Ponsonby, Auckland. I think getting an education in a high school outside of South Auckland - broadening my horizons, and also growing up in 'the hood' — seeing the struggle, have been fundamental to my entrepreneurial spirit — when the going gets tough, the tough keep going.
After graduating with a Diploma in Creative Enterprise, at MAINZ (Music & Audio Institute of New Zealand) in 2011, I founded Wedding She Wrote, shortly after, and have never looked back. If I'm honest, working for myself, being a resilient business woman and building a brand has been the most exciting part of my life thus far, besides becoming a mother and starting a family with my dream guy, who also went to St Pauls College, I just can't get rid of these Paulo boys. Lol.
Teresa: My name is Teresa Atua Fau, I was born and raised in South Auckland, New Zealand. I am the co-founder and wedding stylist for Wedding She Wrote. Our goal was to make everything around us beautiful, and that would be our lives. It's been a beautiful journey so far!

I am of Samoan decent, my mother is from the villages of Fasito'o Uta/Afega and my father from the village of Samata I Uta, Sava'ii.
My grandfather, Leaupepe Taimaiono Eneliko Taliaoa & great grandfather goes by the name of Laufaleainamalelauvaelenoatia AKA Laufa of Safotu and Fatusama Samoa who was one of the founding members of the Mau movement in 1901.
You currently run a Wedding Planning business - can you tell us how you both connected & what inspired you to get into wedding planning?
Teuila: What inspired me to get into wedding planning was my events management background, and I had attended one too many sh*tty weddings to be honest, then thought, these poor brides; there has to be a better way for them to enjoy their special day to the fullest. At the time, I didn't know any full-time wedding planners, and couldn't find a go-to wedding planner that covered the New Zealand and South Pacific regions... So I decided, if nobody wants the title, I'll take it. And that's when Wedding She Wrote was born. I also knew this vision was too big to undertake myself and understood I would need a team, and that's how my girls got involved, because I wanted to work with people I loved to be around and could trust.
Teresa: Teuila and I have been friends for nearly 10 years. She built Wedding She Wrote from the ground up. We were sitting outside her room one day, I had weaved a basket out of leaves from her backyard, and she looked at me and said, "You should totally join Wedding She Wrote with me! As a stylist! You can help decorate! What do you think?" I agreed. 5 years down the track, many weddings, crazy stories, and a bridal line later, here we are! And I've never been happier.
What were the pathways that led you to where you are now?
Teuila: I come from a creative and entrepreneurial family. I've been involved with musical and community events from a very young age. I've grown up around risk takers and independent thinkers. They say you are a product of your environment, and I would be inclined to say it's true.
Also, just quietly, I was never passionate in a day job, I kept getting fired for being late, leaving early and being on social media. Lol. I feel I was made to live my life by design, on my own terms, and be own boss. There's a saying by the rapper Jay-Z that I always admire "the genius thing we did was, we didn't give up."
Luckily for me, I never gave up and it worked in my favour too. I'm not on that Jay-Z level yet though, lol, but if you're going to listen to anyone, listen to people who know what they're talking about and who have been there before. Don't listen to people who have no idea. Side note: getting fired isn't the end of the world either, all the best entrepreneurs have been fired once, twice, thrice in their lives. Lol.
Teresa: My grandfather was entrepreneurial. He had a small business in Samoa and from that he was able to move his whole family to New Zealand. Here, he invested in real estate, was able to take care of his family and live a comfortable life. I was compelled to continue his entrepreneurial legacy in my own way, so that I too could look after my family and set the standard for my children.
I feel like my creativity is from my Mother too, looks like the apple did not fall far from the tree. She's a green thumb and is always finessing our garden! She is the go-to person in her generation who all of our family and friends call when they're needing to adorn their event space, from hosting our family gatherings, her work parties and many other social gatherings. She loves being creative and always did a great job decorating!
Then in 2014, I gave birth to my son, he was my first true love and my most powerful teacher. I quickly learnt I had a little person looking up to me, I must give him the appropriate tools to be successful in life and also chase his dreams. I work hard so he can see my work ethic first hand.
I am passionate about teaching my children financial literacy and helping them plant seeds for creativity at a young age. I feel the earlier they are introduced to an entrepreneurial way of thinking, the better conditioned their minds will be in the future, and the bigger the impact they can make in theirs and other peoples lives.
You've recently come back from China - how was your trip and what were you able to achieve for your business there?
It was eye opening! We loved witnessing a whole new world, culture and business practices. Our experience in Guangzhou helped us grow as business women, as we had to think differently in settings that we unfamiliar to us. We understood the Chinese even more after our trip and learnt how to communicate in business with them more effectively. Pacific Islanders aren't too different to the Chinese, too. We found we have a lot in common. We are both all about honouring our families, family first, respect and upholding positive customs and traditions in our cultures.
We had a really good time and it wasn't as dirty, or as dangerous as people claimed it to be, and nobody was spitting at the dinner table. It was a very modern China. Everything was pretty much done through their phones via WeChat, including all payments. We didn't see anyone use cash besides the foreigners. Their systems such as the subway, buying a ticket to the Canton Tower etc, are very effective, and we wouldn't expect anything less for a country with a population of 1.435 billion, in 2019.
We accomplished what we set out to do, which was to secure quality suppliers for hard-to-find wedding and special event-related products for our online store (coming soon), present and future customers. We figured, we would like to help as many people as we can when it comes to planning their dream wedding experience, and if a customer cannot afford us as their wedding designer and planner, we don't want their hopes to end there, we would still love to be able to help them achieve happiness with one or a few elements of their wedding or special celebration! Such as wedding fashion, decorations, tableware, or maybe a custom keepsake via our e-shop so they still can experience Wedding She Wrote for themselves.
Are there many Pacific Islanders in this line of business and what do you offer that's unique?
We think Maori and Pacific Islanders are naturally gifted people. As indigenous people, we are used to using natural resources, creating something "out of nothing" and adorning spaces with little effort... But what we lack as a people is a strong business sense, and how to navigate certain spaces in a system that is not exactly created for us to excel in. That's why we would say there are many Pacific Islander decorators, but not many renowned Pacific Islander wedding and event planners.
Planning a wedding or any event of significance is a huge production. There is way more to putting together a dream wedding experience than just making it look pretty. What makes us different is we specialise in destination weddings in remote parts of Aotearoa & the Pacific Islands. We solve some of the biggest problems for our clients, alongside our on-site technician. At times we have to work with locations with no power, no running water, and no phone reception, we are seasoned to conquer challenges the average wedding stylist does not frequently encounter.
What have been some of the biggest challenges or lessons you've learned as a business woman?
* Every next level of your life demands a different version of you.
* We've learned that not everyone is going to believe in you. You have to have unwavering faith and belief in yourself. Become so confident in who you are that no one's opinion rejection or behaviour can rock you.
* The law of attraction works synonymously with the law of action ... You get what you work for not what you wish for.
* A person's success in life can usually be measured by the number of uncomfortable conversations he or she is willing to have. Greatness never ever came from comfort zones.
What is the best piece of advice you've been given?
Teuila: "Use your beauty for good and not evil" - Mum.

"It's not about all the BMW's you can get... It's not about BMW, BMW, BMW; it's about how many people you can make happy" - Chris from Foundation North.

Teresa: "E toa Le Loto, ae le pa Le no'o" you may break my back but not my will" - Dad.
What do you love about being a Pacific Island woman today?
Pacific women are unique, natural beauties. We are the diamonds in the rough; and this is really obvious when we attend certain industry events and we are sometimes the only brown faces, brown women and definitely the only Pacific people there. It verifies that there's a real need for our presence as Pacific women in certain spaces, so our voices are heard and our stories are shared, by us.
We love that our Pacific jewels and commodity are our people, our ideas, our mesmerising culture, our perspective and our strong connection back to our family values and traditions. We're different, and we love that about us. We love that our history shows we come from pioneering ancestors who are undoubtedly the worlds greatest navigators, using only the stars and natural resources, and we believe that a Pacific woman's potential and story, like Wedding She Wrote's story, is yet to be fully realised and appreciated.
When we saw Disney's Moana on the big screen, it was a proud moment for Polynesian women and girls everywhere. It showed us that Pacific women have the ability to thrive, educate and represent to the fullest. Through connection, exploration, sharing and comparing in ways that cannot be accomplished in isolation. We love that as Pacific women we naturally understand the concept of community and that nobody gets left behind. It excites us to be apart of the bigger picture as Pacific women in business, understanding that we all play a pivotal role in pushing our collective story towards being positioned on the global stage.
What is inspiring you about the future?
We are really excited to launch our online store! Wedding She Wrote actually started off as an online store, selling wedding and special event-related product, such as wedding dresses, mono'ï oil from Tahiti, personalised cake toppers etc, but we couldn't sustain the quality of our suppliers for it to work effectively and smoothly.
So we parked that idea, until we had the funds and purpose to go to China; it was always our goal to visit the Peoples Republic of China to source and secure quality suppliers that you can't find on the internet. We then focused all of our energy on developing our Wedding Planning Services instead. Now that we have almost perfected our Wedding Planning Services (successful people start before they feel ready) we thought it was finally time to revisit our goal of launching our online store that would sell beautiful, hard-to-find, quality products for soon-to-be brides & grooms of the twenty-first century, and their families.
Fast forward to 2020, we are just about present our Bridal Collection to the world, as a teaser before we launch our online store! We have created a fashionable, once-in-a-lifetime, wedding experience that will be exciting, interesting, and it will leave an everlasting impression on our guests! If you're a soon-to-be bride, a bridesmaid, or know somebody who is about to get married, this Exclusive Valentine's Sneak Peek of Wedding She Wrote's Bridal Collection will be perfect for you! Save the date: Saturday 22 February 2020, 4:30 - 7:30 pm.
We will be showcasing sixteen sweet pieces, beautifully designed by Wedding She Wrote, made-to-order, wedding dresses and gowns that are to die for! And this is just the beginning of our online store... Limited seats are available.
Held at a classy, brand new location: Elizabeth's, Victoria Park Market, Auckland, New Zealand. It will be the very first fashion show to go down in this space, and we can't wait for you to see our very first collection! We will have special offers on the night from other wedding suppliers, and you'll have the opportunity to help us celebrate in style with up to 50% off of our Wedding Dresses for one night only!
Who will be there you ask? The kinds of people that will be attending our exclusive showcase are soon-to-be brides & their bride tribes, fashion designers (Tasha Lee Couture), milliners, fashionistas, international sport stars (WMC World Muaythai Champion Genah Fabian), rising stars (Lesina Nakhid-Schuster, The Bachelorette, NZ), and stylists' to the celebrities such as Stan Walker & 'Dancing with the Stars' (Sammy Salsa) — all from various backgrounds, cultures and ethnicities, yet they all have one thing in common ... They all love fun and unique experiences, discovering hidden gems and beautiful brands with a purpose. Buy your tickets here!
Follow the girls on social media here -
Twitter - @weddingshewrote
Instagram - @weddingshewrote
Facebook - Wedding She Wrote
and if you're looking for more information for your own wedding you can check out their information booklet here and their Wedding Package Builder here
Cover image photo credit: Shaydy Lady Enterprise
Share
---
Comments