Humans of the Islands
WOMEN OF THE ISLANDS - THERESA DEVOE-MOSE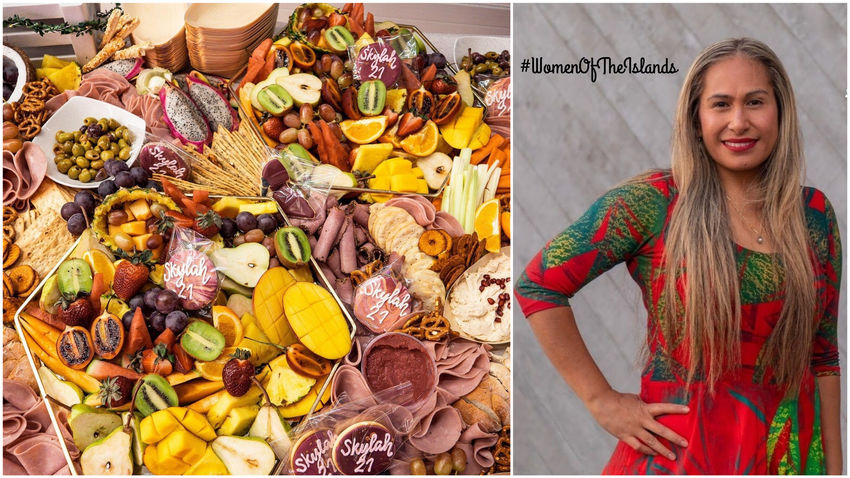 THERESA DEVOE-MOSE
DIRECTOR OF NESIAN BITES LTD - REGISTERED CATERER & FOOD ARTIST
SAMOAN
My name is Theresa Devoe-Mose. I am a registered caterer and food artist based in West Auckland. I grew up in Mount Roskill and made the move out to West Auckland seven years ago. My love for the creating process wasn't clear until my son was born and until I had to plan my own wedding. While choosing my menus, colours and centrepieces; that was when it dawned on me, my calling was doing what I loved and what I loved was this - creating small master pieces through my passion for the creating process to create grazing platters and tables to bless my family and customers.
I work full time while running the business in the weekends for all weekend events. I did some research on starting the food business in Auckland so I contacted Auckland Council to start the registration process and was immediately overwhelmed at the amount of paperwork and with the actual process itself – this really threw me off but during my research I stumbled across The Kitchen Project. I looked into it more and knew that it would benefit me as a new food business so I contacted them, applied, went in for my interview and I got accepted.
We are very fortunate. TKP was a great opportunity for us to get the help and support we needed to develop a successful, sustainable business (we still have a long way to go) but they've linked us up with a great support system, from bankers to accountants, to Marketers, to Nutritionists, to Executive Chefs so I am very grateful. Shout out to the awesome Panuku Development and Auckland Council – Sreshta, Connie & Ben (to mention a few behind TKP)
Our experience has been valuable & worthwhile – the best business move I've made this year.
My aim is to showcase some of our fine Polynesian range of food, organic skincare products and all the abundant blessings Polynesia has to offer in our gift packs and grazing platter range.
I aspire to personalise your gifts and platters to include whatever it is that you desire from the Pacific. Whether it is a small koko Samoa, a key ring or a small pareu crafted and imported directly from home. I believe in the importance of showcasing who I am through what I do to bless others.
Where did you get the inspiration for starting Nesian Bites?
The grazing idea aspect to Nesian Bites stemmed from our 4 year old boy Micah, who is a snack and graze extremist. Ever since he could eat solids, I noticed he wasn't a fan of "proper regular meal". He would not sit down and eat a proper breakfast, lunch or dinner meal. He may do one, but he won't do all. This is where I had to adapt and come up with ways for him to enjoy a variety of food that were still healthy and able to give him the nutrition he needed. This is how my creative art for platters came about. It grew into a passion and from that passion, Nesian Bites was born.
Grazing definition by the Collins English Dictionary is: "The eating of small portions of different foods as appetizers in place of a full-sized meals"
In other words, bite-sized foods which is what the second half of our name means (Bites). This is essentially what we do, we are Grazing Caterers. We gather and create gifts, grazing platters and tables with a touch of Polynesia.
Do you have a specialty Pasifika dish that makes your grazing tables unique from others?
Yes definitely, we make our own Poke dishes for some of our grazing tables and our signature sweet treat mini pai falas which have been popular since introducing them to our customers. We sell over 200x pai falas every weekend. We have done Simoi popcorn and simoi fruit platters in the past (We haven't seen anyone in the industry do this yet). Simoi is a Li Hing powder we get from Hawaii.
Do you do other kinds of catering besides the grazing tables and how can people book you for a function?
Yes, we can do buffet setting (hot island menu) but this is not our specialty.
People can book via direct mail through our social media platforms (Facebook and Instagram), or via our email address of Nesianbites@gmail.com AND they've just launched their new website in 2020 NesianBites.com which you can check out here
How important is it to bring a Pasifika perspective to what you do?
Who I am in the food industry is very important. I try and incorporate this into what I do. I am a migrant living in this beautiful country of Aotearoa. I migrated from The Independent State of Samoa in the Polynesian region of the Pacific's at a young age. Maintaining my culture when I moved to another country was difficult, but it was important that I knew and understood, just because I have adapted to a new culture, doesn't mean I needed to let go of the old. I quickly learnt to balance both worlds as this was important in maintaining my identity and connection to who I am, a strong Polynesian woman living in a overseas country. This part of my journey represents the first half of our name – Nesian, shortened from the word "Polynesian". Every platter, grazing table or gift will include one or two small gesture components to highlight who we are as Polynesians. Whether it's a fresh frangipani or hibiscus flower, a fresh coconut imported from home, or perhaps a traditional Polynesian treat that will showcase and remind us the beauty of living as Polynesians here in a diverse overseas country.
This journey I've been on hasn't just been mine, it has also been my families – my husbands, our kids as well as my Mums, who is my biggest inspiration. She is also the inspiration behind our hot Polynesian grazing menu.
This is who I am, who we are. And this is just the beginning of our story.
What do you love about being an islander today?
Everything – my skin colour, my heritage, my Fa'a-Samoa, my values, my upbringing as an island woman, my family, my legacy, my faith and my migration story. I love that we now have more platforms to share and showcase our stories and talents through as Pacific Islanders. Thank you to platforms such as this and many more for giving us the opportunity to share and encourage other Islanders to chase their dreams and make their migration story not only a good one, but a great one! Like many Pacific migrant families who moved to New Zealand, my family sacrificed the comfort of their livelihood and their country to migrate here for a better future. The legacy of sacrifice is something I hold close to my heart. It is the motivation behind all that I do. The language of my ancestors is very important to me. Fa'a Samoa and my creative expression through Nesian Bites helps me articulate my sense of identity while living in an overseas country.
Share