Humans of the Islands
WOMEN OF THE ISLANDS - TUI EMMA GILLIES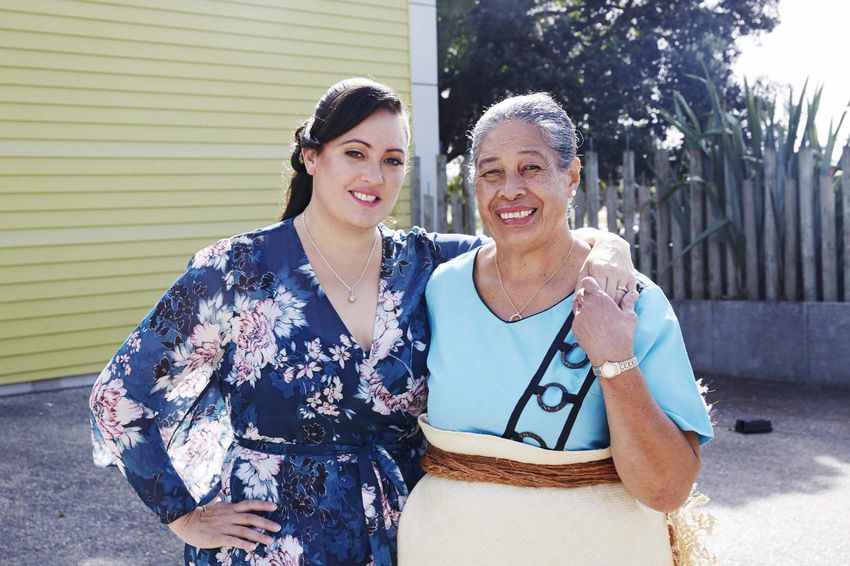 TUI EMMA GILLIES
ARTIST
TONGAN / KIWI
I am a full time artist who's favourite canvas to paint on is Tongan tapa cloth. I am a mother of three little humans aged 4, 9 and 10, and a mother to my two dogs and six cats. I grew up in the family home in Manurewa, South Auckland with my only brother. We were raised there by my loving tongan mother and complexed but loving palangi father who built the white picket fence and gate. The home still stands and I always call it home. Nine months ago my husband and I bought a beautiful big home in Kawakawa, Northland moving away from Manurewa and I became a Northlander. But my heart is still very much in South Auckland!
What is the earliest memory you have of tapa making & when did you start collaborating on projects with your Mum?
My bedroom in Manurewa was and still is covered in my maternal grandmother's Ngatu from top to bottom and my mother told me how her mother, Ema, had created the entire work including the process of beating the bark to create the large pieces. I always felt warm and protected in my bedroom growing up. Little did I know later on I would become quite obsessed with tapa cloth and using it to paint on.
I started collaborating on projects with my mum back in 2014. She is an amazing woman to work with and very much the perfectionist when preparing the tapa cloth to paint on. She would growl me if I bought back feta'aki (plain tapa cloth) from the market in Tonga to paint on that was not of a good quality so I have learnt what cloth is good and what is not pretty quickly through this process.
You've recently been running tapa workshops in schools - how did that come about and what kind of response did you get from the students?
Doing the art has bought many opportunities. Sulieti and I were taking a tapa cloth and kupesi workshop out at Northart Gallery on the Northshore and a wonderful teacher from Westlake Girls High School took our class and really enjoyed it. Since then we were given the opportunity to take workshops at Westlake Girls High school and it has now been three years. This year we were able to teach the girls how to create the feta'aki along with the painting and kupesi making. We found the students curious to learn more about the tongan culture and it's art and quite fascinated with the organic nature of the tapa cloth and process making and painting it. And they loved being able to create their own piece of tapa cloth art and take it home.
You've exhibited overseas as well as here in NZ. Did you ever think the art of tapa could take you around the world and what has your favourite experience exhibiting been?
Yes. I had a goal from a young age to show my art beyond New Zealand to an international audience. And doing it with tapa cloth is one of them. Working with tapa cloth feels so right for me and I feel I am on the right path with sharing what I can with the rest of the world. Travelling overseas to show tapa art, take workshops and speak about the cloth is such a privilege. Who doesn't like an organic cloth created purely from the bark of a tree? It's fascinating and when it is used as a canvas it becomes an interesting point of conversation. I found audiences at the Festival of Quilts in Birmingham to be very interested in learning not just about tapa art but also Tonga. You wouldn't believe how many people hadn't heard of Tonga in that audience, so it was a great opportunity to share with them a piece of our culture and our art practises.
My favourite experience while exhibiting was during my first ever opportunity to exhibit back in October 2012. It was at the Mangere Arts Centre, a group show with the tongan art group, No'o Fakataha. I made my first ever exhibition sale during that show. Mary and Jesus painted on tapa cloth sold for, two thousand eight hundred dollars. It was a very exciting time and a great introduction for me to my art career.
What are some of the biggest challenges and lessons you've learned as a Pasifika woman and artist here in New Zealand?
That is a really good question. The politics behind the arts can be challenging and really interesting at the same time. I have learnt in the art world that there are gate keepers and gate openers. I have had some amazing, genuine people open doors for me and also my mother that I am truly grateful for. You never forget those people and the ofa (love) they share to bring the best out of you, your messages and your art to the world.

How has your upbringing & culture shaped you into the woman you are today?
I was raised by my Tongan mother and my rather complex but loving Palangi father. Dad met mum after his yacht ran aground on a reef and sunk in Fiji while on his way to America and he changed plans and went to Tonga. He brought her back to Manurewa and when my older brother and I came along he brought us up in a Palangi way. He discouraged Mum from teaching us to speak Tongan. He said, "What's the point when we live in an English speaking country." He was very old school Palangi. I was naturally left-handed, but at the age of six he didn't want me to be a "cack-hander" so he made me learn to write and draw with my right hand, which I still use these days. But the Tongan culture was quietly seeping into me.
The walls and ceiling of my bedroom at home were covered in Tongan tapa cloth painted by my maternal grandmother Ema Topeni. The light shade was a bassinette that she had woven. Mum used to sell her own tapa art at the Otara markets and as a teenager I used to paint pieces of tapa myself and sell my works alongside hers. It wasn't until my Tongan aunty's funeral when I was 22 that I really felt at home with the Tongan side of my family and my own Tonganness. They spent a week preparing for the funeral and I got really involved in the process and I felt the outpouring of family love and I realised how I'd been missing out on a huge part of who I was all my life. I started to explore my Tongan side and listening to all the stories about my family in Vava'u. I started doing collaborations with my mum.
Who or what is your biggest inspiration and why?
I don't have a favourite painter but I do like the artist Rita Angus and her amazing, detailed portrait paintings. And I was going say my biggest inspiration is my family and the things I'm surrounded by, but it is pretty obvious it is my mother! I look at her like she is a super woman with an enormous kind heart. I have great admiration for her. She was raised on an Island in the middle of the ocean with no electricity, living and doing everything the natural way. Then she married my palangi father in Tonga, then came to New Zealand and adapted well to a completely different way and society.
What do you have coming up that we could check out?
https://ceac.org.nz/exhibitions/under-the-same-laa 14th Dec - 10th feb 2019
If you are in London, I have some work in Gallery X at the Royal Academy of Arts running alongside the Oceania show, that is up for sale and I'll be in London to check everything out with mum, between 27 Nov- 1st Dec. If you are there, then holla!
Share