Pacific Blog
BRIGHTEN UP YOUR FALE WITH ORIGINAL PACIFIC ART FOR XMAS!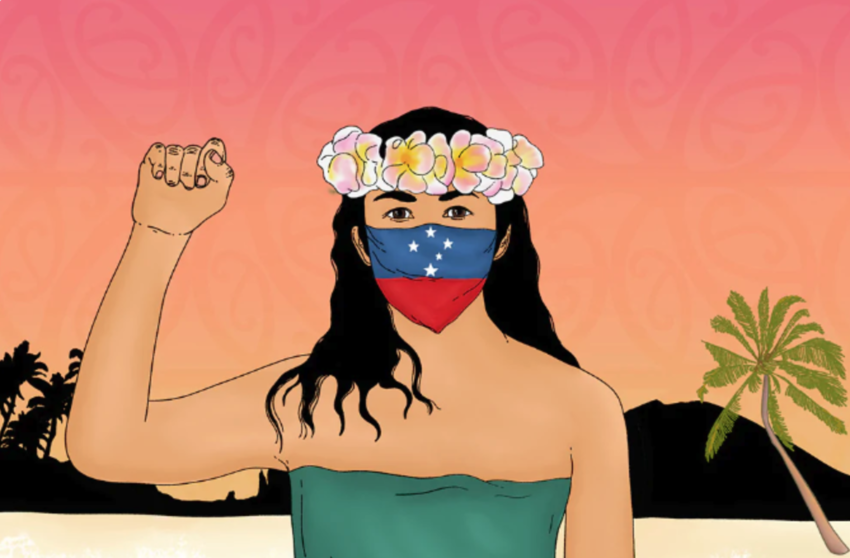 By Taualofa Totu'a
A new generation of Moana artists across the diaspora are redefining innovation, using social media platforms to build communities, market their work and support other budding creatives online. There's room for everyone and all are original - from 3D collages to energetic illustrations, to calendars and skillful art prints. Join the growing audiences of Pacific artists this Xmas and support their work!
If you're still stuck on what to gift for your loved ones, order a personalised commissioned piece by the talented local Niue illustrator LAHPISI, or opt for Micronesian artist Kaity Ngeremokt's bold celebrations of Indigenous excellence. Read on to see where to get the best art for your own fale or for your loved one's this Xmas season.
-
QUALITY COMMISSIONED PORTRAITS STILL OPEN TO ORDER!
Who: The Gallery Fiji Prints by Jonathan Tudreu
The talented Jonathan Tudreu is Graphic Designer based in Fiji, with commissioned portraits starting from $40! His colourful images highlight the important details and family joy, with a comic book illustration quality. His Christmas sale started on Thursday 24th November with details in the image below. Note that International orders receive a digital version (which you can print at your local printing store in time for Christmas!)
DM Jonathan on Instagram @thegalleryfj or email thegalleryfj@gmail.com for enquiries
-
LOCAL NIUE ARTIST OPEN FOR COOL COMMISSIONS THIS XMAS!
Who: Auckland based Creative LAHPISI
Eclectic, innovative and Niue hard, illustrator LAHPISI is open for commissions this Xmas. Drawing inspiration from urban and magic themes, this creative is one to follow and support this Xmas. The designs are completely original and are perfect if you're looking for something different to gift your loved ones.
Peep the unique pieces below and make your orders and inquiries for commissions through their Instagram - @lahpisi
-
GIVE 2023 A FRESH START WITH THESE BEAUTIFUL CALENDARS FEATURING LOCAL CREATIVES!
Who: Moana Fresh Store
When Moana Fresh opened shop, they provided all kinds of makers and buyers a new place to obsess over one-of-a-kind products. These products are unique, often one-off and celebrate Pacific and Aotearoa made. This year their 2021 Calendars were a huge hit, featuring a range of bright local art on the month pages. The 2023 Calendars are here - with stunning new artists' work from January to December!!
See below the description from Moana Fresh's website on the original art works:
Last year we looked at the importance of indigenous voices in the climate change movement. This year we are looking at our indigenous family structures, our communal ways of seeing the world, and how this works in the decolonial movement. This ʻōlelo noʻeau (Hawaiian proverb) is our starting point which can literally speak to the importance of child care and parenting, while also speaking to wider themes about community and the intergenerational connections and responsibilities we hold to one another, to our resilience and solidarity in the struggle.
Keep organised with this new Calendar in the new year or buy for a friend here.
If you don't already, follow and support this seki store on Instagram @moanafresh
-
SUPPORT INDIGENOUS MOANA ARTISTS THIS XMAS AND PURCHASE KATHY'S PRINTS!
Who: Creamislandart by Micronesian artist Kaity Ngeremokt
Kaity Ngeremokt is a beautiful Micronesian artist with a range of prints available for purchase - to view check out her Instagram here. Her bold images and inspiring words celebrate Motherhood, the Earth, Indigeneity, and so much more. Payments are made through her GoFundMe page which you can also find on her Instagram!
-
COMPLETE YOUR XMAS GIFT WITH A TATAU INSPIRED POSTCARD
Who: Masina Creative by Amanda Stowers
See more below about these unique Postcard Prints (which you can purchase) from Masina Creative here.
"These Pasifika postcards are perfect for sending to your favourite penpal or keeping as mini art prints! All designs are created by me and locally printed in Wellington, Aotearoa. Featuring Sāmoan tatau designs, these postcards are a unique and fun way to send a slice of the culture to a friend. All of my work is inspired by my culture, with the intention of bringing representation into all spaces. These postcards are inspired by the celestial beings of our fāgogo (stories), from the Māsina (moon) design to the Fetū (star) design. Our ancestors were way-finders, using the sky as guidance as they navigated their way across the moana.
These postcards are printed on high quality 300gsm paper, with a slightly glossy front and a matte back so you can use any pen or pencil you'd like! They're size A6, and this set includes 2 of each design. *Please note international orders (outside of New Zealand) will be sent as letters, will NOT have tracking available and may take up to 40 days to arrive. This is to keep shipping costs low for you!*"
-
PASIFIKA, HANDMADE, HAND CARVED AND HAND PRINTED!
Who: Ula and Her Brothers on Etsy
This incredible business is a popular seller on Etsy receiving glowing 5 star reviews from many customers. Buyers outside of Australia are still encouraged to purchase - but Ula And Her Brothers can't guarantee orders will arrive on time due to Covid restrictions. Based in Sydney Australia, we highly recommend coming back to this creator for all your special occasions, even after the Xmas high dies down. From Hand Carved stamps, Lino Prints, Notebooks to Cards, this creator is doing the most with their original patterns.
Add a personal touch to your gifts by purchasing the works from here.
-
FOR A MIX OF TRADITIONAL AND CONTEMPORARY, SHOP THIS TAPA ART!
Who: Kiwi Tongan Tapa artist by Tui Emma Gillies
Extraordinary artist Tui Emma Gillies is an expert in Tapa art, a practice mostly kept in the women's domain in Tonga. From Vava'u and Aotearoa, Gillies is known to mix the traditional practice with modern images and themes, challenging the norm. Her art has been shown to audiences all over the world!
Purchase her unique image called 'Voyagers Print' (on the back of the mulberry tree) which comes in A2 and A3 for friends or family this Xmas from the artists' website.
"This piece was inspired by The Great Wave by Japanese ukiyo-e artist Hokusai. It is symbolic of the pacific ancestors that travelled the volatile seas in search of new homelands to settle in with their families."
Follow and support the artist on Instagram @tuiemmagillies
-
PURCHASE A ONE OF KIND 3D COLLAGE FOR SOMEONE SPECIAL THIS XMAS
Who: Ari's Handcut Collages by Ari Apa Ilango
These stunning 3D paper collages come in many gorgeous colours and are inspired by the unique style of siapo patterns. Skillfully hand cut by artist Ari Apa Illango, these flower collages are just one of many collage styles the artist explores, often inspired by her Samoan culture and the beauty of nature.
For all commissions, contact Ari at her email: ari.ilango.collage@gmail.com or follow and support her work here on Instagram: @aris_handcut_collages
-
GIVE THESE UNIQUE ART PRINTS A LOVING HOME THIS XMAS
Who: Samoan and Tongan artist Penu Brewster
Pasifika artist Penu Brewster is based in Australia, creating magical prints that (what she says are her goals) have "meaning and substance". With over 3000 followers on Instagram, Brewster is currently closed for commissions, but her prints are still available to order here.
Some of her stunning collections to check out include her Niue series, Tonga series, Samoa series and Hibiscus series. Penu is another cool artist to keep in mind for specific commissions for your loved ones in the future - but for now, we recommend ordering one of the pieces from her Pasifika series for your Xmas shopping. We like the stunning 'We don't owe you' print that comes in various colours: see below!
Follow and support Penu on Instagram @penufbrewster_art
-
SOUTH AUCKLAND ART IS TOP TIER, SUPPORT AND BUY S.A THIS XMAS!
Who: Dead In The Streets - by Tanu Gago
Tanu Gago is an award-winning Sāmoan artist and filmmaker who was raised between Māngere, South Auckland, Tonga and Sāmoa. Gago is co-founder of FAFSWAG Art Collective (2020 Arts Foundation Laureates) and was awarded 2020 Contemporary Pacific Artist Award at the Creative New Zealand Arts Pasifika Awards.
Purchase a print of his moving artwork titled 'Dead In The Streets' online from Vunilagi Vou, Papatoetoe based gallery and consultancy run by Artist-Curator Ema Tavola. See the description from their website below:
"Produced for the Vunilagi Vou exhibition project, Finding Emory: A Poster Show (2019), this work is one of a series of seven original posters inspired by the iconic aesthetic of Emory Douglas, former Minister of Culture for the Black Panther Party. From the controversial trial of armed Police response units in South Auckland to the ongoing indoctrination of imposed body / faith politics, these seven artworks speak directly to shifts and changes that affected the lives of indigenous people in the South Pacific / Moana Oceania in 2019."
Buy Tanu Gago's work here!
Follow and support the artist's collective on Instagram @fafswag and on Twitter @fafswag.
-
SHOP AT URBAN NESIAN FOR COOL AFFORDABLE PRINTS
Who: Etsy Seller Urban Nesian
Urban Nesian's Art Prints are one of a kind and are the perfect last minute order for your Xmas shopping! They are reasonably priced and are available framed, printed on canvas, metal, or as floating acrylic prints. With up to 83 unique designs from celebrating Samoan malu on women to sign language to the cool kalo art, you are spoilt for choice.
Purchase for a friend from their site here.
-
YOUNG, GIFTED AND SOUTH AUCKLAND BORN. PURCHASE PRINTS FROM THIS UP AND COMING PHOTOGRAPHER FOR XMAS
Who: Christian Turner
With an expert eye for documenting moments and youthful joy, Christian Turner is a name on the rise. South Auckland made, Turner is known as a master networker amongst the young force of Pasifika creatives today. Having worked with the likes of @southsides (Geofferey Matautia) and @keciano6 Turner has sold home made Zines featuring candid images of his friends and family before. Be sure to purchase some of his energetic pieces this Xmas.
"I'm a sucker for still imagery and stories, but being able to document and tell the stories of the people around me and their lives has got to be a great gift in itself!"
Follow and support Christian on Instagram
@afakas1
To order prints email:
-
SAMOAN CREATIVE NOW MAKING WAVES IN PHOTOGRAPHY, BUY HER WORK THIS XMAS!
Who: Jasmine Tuiā
Based in West Auckland, Jasmine Tuiā is an expert multidisciplinary practitioner from the villages of Matautu Lefaga, Malifa Apia and Falefa. She has been turning heads both in the art world and amongst her generation of young makers for her stunning Siapo pieces, as featured in her TAUTAI Faleship Home Residency last year. Giving her energy now more to her photography, Jasmine looks to document, archive and capture processes, spaces and places of her tapa practices, family members, cultural as well as family Measina through her photographic series.
To order prints email:
Share