Pacific Blog
Fiame Naomi Mata'afa speaks to the Samoan community of Aotearoa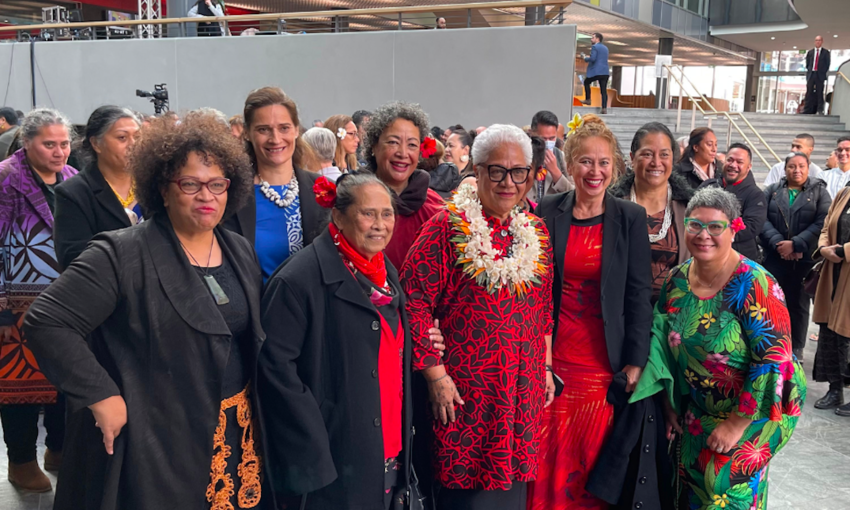 "People were finding it was a samoa they didn't want to live in, so what do u do? migrate to NZ or fix it.."
Fiame Naomi Mata'afa spoke to the Samoan community in Auckland this morning on politics, life, her family legacy and why young Pacific women need to be more vocal and engage in all sorts of platforms.

"If there's anything the constitutes being a matai, an effective matai and a successful one, is that you have to have a lot of patience- onosa'i- this is the word that underpins everything, the word 'ono' to swallow it, to have patience. It's having the capacity to listen and to have a very clear understanding of all the surrounding issues. It requires a bit of detachment so your emotions aren't too tied up.

The rebuild of Samoa involves every single person, everyone standing up and doing their bit. There's a difference in approach, a lot of policy revolves around inferstructure but it doesn't invite a broader engagement with the general population to lift our economy. We've been so lucky with the impact of the diaspora who have supported all our families.

Recently they've been new things for Samoa - we have introduced disabilities pensions and giving higher levels of support for victims of domestic violence. Samoa is one the few independent Island states that's introduced legislation to have a minimum of 10% of women in parliament. We have never had a social welfare system like NZ but we are slowly looking at a system that can help people on this level, with the economic, mental health trauma of the covid era because there is a rising need - economically but in mental health issues too.

Also our narrative on the Blue Pacific started 5 years, and our responsibility as stewards of the oceans - our shared recognition of this resource we share. this new Blue a Pacific narrative goes one step further in saying - we're family, this nourishes us, what do we have to do regionally together to deal with it. We now talk about it in terms of our common resource.


The Pacific is a region of small island states - we need critical mass in order for things to be efficient - we have to keep on maintaining ways of work that can help us all.

We don't talk about Va in Samoa - we practice it a lot but don't really talk about it, I'm fascinated by the way Samoans talk about it here. My use of Va is mostly Va fealoa'i - the ways you engage with people around you. For us respect is a given, the expectation is there with the idea of Va that you begin with respect in all your engagements. I think we are losing that a bit not only with people but with the environment - we have traditional conservation practices but very rarely are people still putting that in practice. Only now are those things coming back - why are we talking about adaptation in the palagi sense, when we have always had our own ways of taking care of nature - and of people.


For young Pasifika women in new scary spaces - you need to have a bit of courage, you need to look at what the blocks are in your area and break those done into small pieces - and fa'aaloalo and respect go along way in the ways that you engage.
Aotearoa is a multi cultural country and there are different lenses on the ways we relate to each other with all the cultures here. As a Samoan I always think - we need to find our aiga ties to Maori.
For Samoa I'm not sure about the idea of 'change' but i'm sure about going back to our really strong social values - which underpins everything we do. I would like to see a Samoa where everyone wants to live there, that they are happy there, that they are prosperous there"
Share