Pacific Blog
For Pasifika, by Pasifika: New books to look out for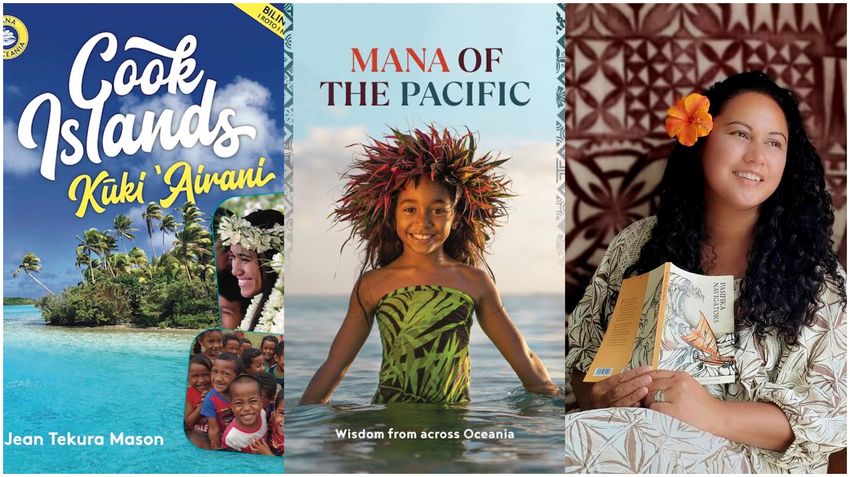 A number of new Pasifika books have hit the shelves. From poetry, to non-fiction cultural books - here are the new titles to look out for and where to find it.
-
Pasifika Navigators – Pasifika Students Poetry Collection
This book is the first of its kind - capturing the voices of 52 Pasifika students across Aotearoa through poetry.
The student authors ranging from years 7 to 13 have written around themes of language, culture and identity.
One of its authors Bekah Sa'u hopes Pasifika readers feel empowered, heard and encouraged to stand firm in their ancestral and cultural roots.
"To those who are not of Pasifika descent, I hope they learn from these stories, from a place of understanding and education," she said.
The book is produced by Mila's Books author and publisher Dahlia Malaeulu.
She said Pasifika Navigators is a result of an overwhelming demand for more Pasifika stories, written by Pasifika, for Pasifika.
"We hope that this book sheds a light on the lived experiences of Pasifika here in Aotearoa and ignites talanoa that leads to better connecting with, and supporting our tamaiti to succeed as Pasifika," said Malaeulu.
-
Where to find the books -
New Zealand and Australia: Lagi Routes from the Pacific Store
Libraries, Schools, Retailers: Publishers Distribution Ltd. email: orders@pubdist.co.nz
-
Cook Islands – Kūki 'Airani & Sāmoa
These books are the first two in a nonfiction bilingual series called Moana Oceania - with Pasifika authors and editors introducing the culture and landscapes of Polynesia.
-
Cook Islands – Kūki 'Airani is written by Rarotonga-based author Jean Tekura Mason.
Mason has written both the English and Cook Islands Maori text of the book, outlining key aspects of life, culture and history in the Cook Islands.
Mason, who is a longtime researcher and current curator and manager for the Cook Islands Library and Museum Society, said writing this book was different from her usual work.
"Bilingual literature generated in and about Cook Islands is actually quite rare," said Mason.
"It was enjoyable… I was learning a lot of new information about Cook Island history."
-
Sāmoa is written by New Zealand-based Samoan author Dahlia Malaeulu.
Dahlia Malaeulu is a passionate educator and strong advocate for Pasifika children's literature.
In her book she provides an overview of life for Samoans in the islands and in New Zealand, including an explanation of Fa'asāmoa and other fundamental values of Samoan life.
Maleulu's English text is translated into Gagana Samoa by Tapaau Auvaa.
The books are produced by Oratia Books, devised and delivered by Oratia editorial director Carolyn Lagahetau.
The publisher aims to address the lack of good reading materials about the South Pacific to children in New Zealand and the islands, in English and in local Pacific languages.
-
** Coming up by Dahlia Malaeulu, keep an eye out for 'vĀsifika: Our Autism Journeys', which is a world first and captures the stories, lessons and journeys of Pasifika families living with autism in Aotearoa. Due for release on World Autism Day (02 April 23) and Tama Pasifika Wellbeing Journal, published by Mila's Books to be released on May 22nd, which is International Be Yourself Day **

-
Where to find the book -
Stocked at good booksellers nationwide (NZ)
Available in online bookstores: The Nile, Fishpond and Mighty Ape or visit:
https://www.oratia.co.nz/product/moana-oceania-cook-islands-kuki-airani/
https://www.oratia.co.nz/product/moana-oceania-samoa/
-
Mana of the Pacific
This book is a collection of inspirational proverbs and photographs from across the Pacific region.
Published by Dr Regina Scheyvens and Dr Apisalome Movono in the Institute of Developmental Studies at Massey University - Mana of the Pacific is written in different Pacific languages as well as English.
The book is part of the publishers' resilience research, celebrating the strengths and wisdom of Pacific cultures.
All royalties from Mana of the Pacific are going into supporting community-based resilience programmes in the region.
-
Where to find the book -
New Zealand - Potton and Burton in Nelson
Available in certain online stores
-
Public Interest Journalism funded by NZ on Air
Share