Pacific Blog
Local Hero of the Year Dave Letele needs 3,500 people for a good cause!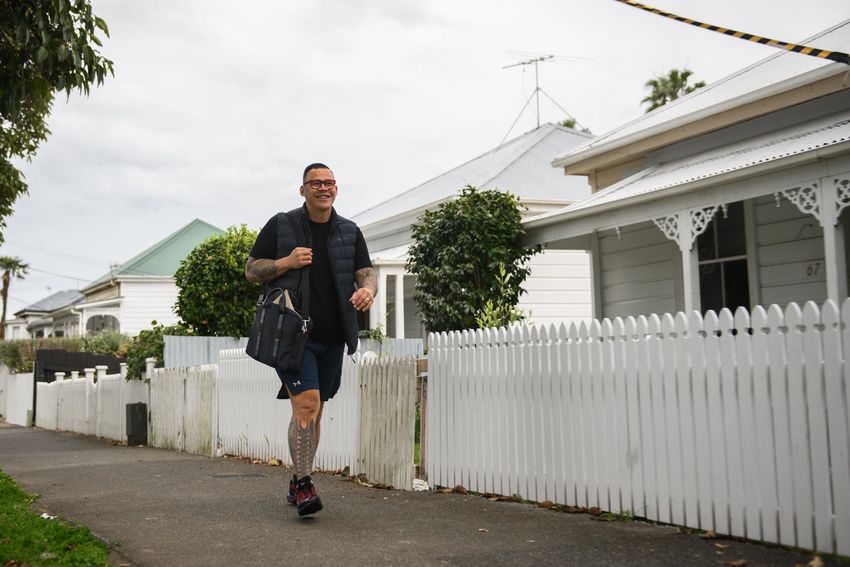 Dave Letele aka Brown Buttabean aka the 'New Zealand Local Hero of the Year' is teaming up with PERSOLKELLY recruitment to help drive the 3,500 'boots on the ground' needed for the 2023 Census.
Thousands of workers are needed to help deliver the 2023 census and Dave is putting the call out to people of all ages, stages, backgrounds and ethnicities to get involved and help ensure everyone taks part, is counted and represented in the data collected. It's particularly important our Maori and Pasifika communities are accounted for.
As someone who sees the power of community in action daily at his BBM Motivation programme, Dave Letele was compelled to get involved, encouraging New Zealanders to do their bit and apply to be a census collector.
"If we want change in our communities we first have to be seen and heard – and helping deliver the census is a great way to make sure your friends, whānau and neighbours are all counted," says Dave.
"For me it was all about getting local community minded people out on the ground to help with the census"
Dave hopes that people across the country will jump on board to ensure that everybody in their local community is counted in this important snapshot of life in Aotearoa.
"If we want change in our communities we first have to be seen and heard – and helping deliver the census is a great way to make sure your friends, whānau and neighbours are all counted," says Dave.
As well as a great way to do your bit for your community, Dave says it's also the perfect way to get fit, make money over the summer months and be involved in the neighbourhood you live in.
"Think of it as a 5 to 10 week challenge where you're getting paid to walk and meet new people, how awesome is that!" he added.
The work is from late January to April 2023 and you can do whatever time and days work for you (including just the weekends or evenings if that's all someone could do).
For Dave Letele it was important to become involved.
"I wanted to be involved because the communities and people I represent always have a low turnout. It's important that our voices are heard" he said.
The Census is the only survey in Aotearoa that covers the whole population. It provides the most complete picture of life in our cities, towns, suburbs, and rural areas. The data collected helps the government plan services including hospitals, kōhanga reo, schools, roads, and public transport.
Wendy Hewson, Executive General Manager NZ at PERSOLKELLY says for them it's a special project to be a part of.
"Think about a six-month-old baby, if that child isn't counted in the census it can't be factored into the planning of schools, healthcare, playgrounds and more in its community for the next five years – that's a long time to not be counted and represented in the data informing decisions about your community," Wendy said.
When asked why the census is important for our Pasifika community to be part of in both getting the census forms out there and also filling out the data when making decisions Dave explained "The census is how decisions that affect us are made, so it's important that the data collected represents us correctly. If my people don't fill this out, how can we expect government to have accurate data when making decisions."
The roles are paid, short term and flexible so will suit students, retirees, parents at home or anyone with some time on their hands wanting to make some money and do their bit for their community.
Here's Dave's Top 10 reasons to work as a Collector for the 2023 Census:
Get paid to walk and get fit!
Learn about the community you live in and meet your neighbours
Do your bit to help your community get counted
Short term commitment and flexibility
Be part of a team that improves lives today and for generations to come
Work with a diverse range of cultures, age groups and socio-economic backgrounds
Great experience you can promote for future work opportunities
Paid training + 10% completion payment
Help ensure your community receives adequate funding for services such as schools, hospitals, transport etc
Learn new skills and be part of a nationwide team working to shape New Zealand's future
Pay rates range between: $25.50 and $27.50 per hour, plus the below benefits:
Allowances: Mileage (Mileage Allowance 83c - Current IRD Rate), sunscreen, phone allowance
+ 10% completion payment based on paid hours worked (dependent on completion and return of property)
Paid training + KiwiSaver contributions paid to all those opting in, including 65+ years
For more information on the roles and to apply click here then check out the video below on people who were involved with helping in the last census.
Share