Pacific Blog
Pacific Books to fill your fale this Xmas Pt2 - For the Teenagers in your Life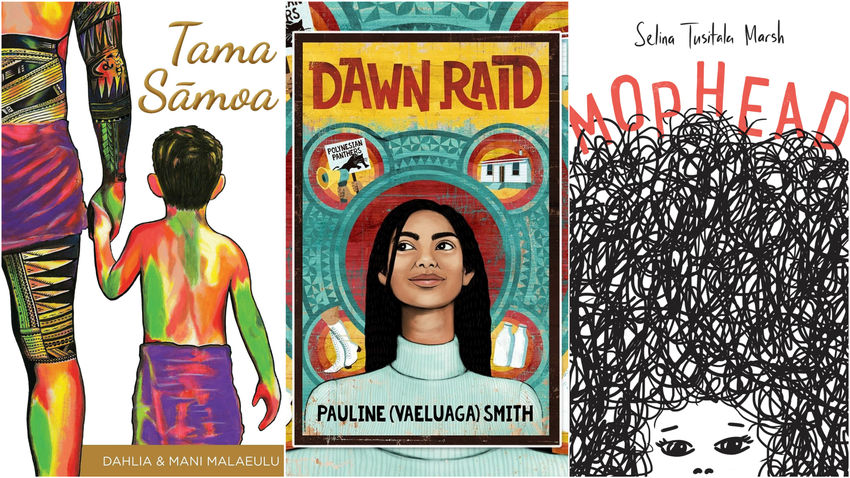 Tales for Teens from across the Moana
By Taualofa Totu'a
Good reading habits start from young. Encourage your loved ones to immerse themselves in the minds and worlds of Pacific authors this Christmas and purchase Pasifika!
Fiction stories are more important than ever, providing entertainment and learning through these changing times. They are key tools in inspiring communities and can capture details and emotions in ways no other kind of storytelling can. Through fiction, (be it short stories or longer) readers are able to get to know characters personally, learn life lessons, expand their vocabulary and their imagination.
Challenge the teenagers in your life to analyse concepts from Pacific authors just as they do from English Literature in the classroom. Read more about the significance of this in Brianna Fruean's opinion piece - 'Decolonising Our Bookshelves' here.
Witness the power of Pacific storytelling and voices with these recommendations.
-
Mata Oti - by Lani Wendt Young
If you are an avid Pasifika reader, Lani Wendt Young is definitely an author you know. Internationally recognised, Young is a writer and columnist with published work ranging from short stories, novels to screenwriting and 14 books to her name; from the global bestsellers of the Telesa series, to the insightful collection of stories 'Afakasi Woman'. Telesa lover's will know - Wendt has an ability to whisk you away to Samoa and keep you at the edge of the rock pools at midnight with Leila. Mata Oti only adds to her excellent catalogue. The first sci-thriller set in Samoa, this is an apocalyptic zombie novel with a Pacific twist.
I'd recommend this book to the sci-fi obsessed young adults in your aiga! See the book description from Lani's website below:
"From reclusive librarian to warrior guardian… Iva must safeguard her two nieces as Samoa battles a mutant variant of the deadly virus that's raging across the world. It transforms people into savage creatures beyond all hope. She's afraid, but determined to get the children through hordes of the infected to an emergency evacuation plane. It's a race against time though as the variant rampages through her own veins. Can she fight off the Change for long enough so they all survive?"
You can order Mata Oti (and other books) from Lani's website here.
-
Tama Samoa - by Dahlia and Mani Malaeulu
Popular children's book's author Dahlia Malaeulu and her husband Mani team up for this moving novel on genuine connection, brotherhood and honest talanoa on the challenges young Pasifika experience - and share together. The authors encourage teachers and educators to use the story of fiction for a development resource with helpful study questions to use for studying.
"This is not just a story of friendship, brotherhood and healing. Tama Samoa helps us all to reflect, connect and reunite in better supporting each other as who we are. It is also a story of self-discovery and hope for a new Tama Samoa code to be created based on real talanoa and understanding."
This important book will be the perfect gift for all young men who find value in building connections and sharing their truth.
Order online here
-
Mophead and Mophead Tu: The Queen's Poem - by Dr Selina Tusitala Marsh
'Mophead' is poet laureate Dr. Selina Tusitala Marsh's bestselling and award-winning graphic memoir. She illustrates and writes her story of growing up as Pasifika in Aotearoa and encourages audiences that - like her own experience - their differences can make a difference.
Readers learn of Selina's extraordinary life and some exciting events to note - including reading for Samoan royalty and becoming the first Pasifika woman to hold a PHD.
In 'Mophead Tu' Selina is crowned Commonwealth Poet and invited to perform for the Queen in Westminster Abbey. But when someone at work calls her a 'sellout', Selina starts doubting herself. Can she stand with her people who struggled against the Queen . . . and still serve the Queen?
These books are loving gifts for young women on a love/hate journey with what makes them stand out (and shine). I'd recommend it for all your younger sisters, cousins and daughters too!
You can buy from these books from Moana Fresh here
-
Frangipani - by Célestine Hitiura Vaite
Frangipani is the first book in the Tahitian Materena Mahi series, published in 2006. Célestine Hitiura Vaite grew up in Faa'a-Tahiti, where storytelling was etched into her life and where she saw women overcome obstacles with gusto and humour.
This novel is for older teens, it explores what womanhood means - traditionally and in modern times to Tahitian mother Matarena and her daughter Leilani. Matarena's journey in a changing Tahiti is brought to life with warm, tender and humorous storytelling by Vaite.
Order the first Materena Mahi fiction story from here.
-
Dawn Raid - by Pauline (Vaeluaga) Smith
Pauline Vaeluaga Smith enchants young readers through easy to read diary entries from the eyes of 13 year old Sofia. Readers learn about the time of the 1970's Dawn Raids, what it was like for Pacific migrants and the tireless work of the Polynesian Panthers.
"Like many 13-year-old girls, Sofia's main worries are how to get some groovy go-go boots, and how not to die of embarrassment giving a speech at school! But when her older brother starts talking about protests and overstayers, and how Pacific Islanders are being bullied by the police, a shadow is cast over Sofia's sunny teenage days."
'Dawn Raid' is the first published book by Pasifika author Pauline (Vaeluaga) Smith. The book was published as part of Scholastic's 'My New Zealand Story' series. During her work as a lecturer at the University of Otago, College of Education, Smith saw her students had a lack of knowledge surrounding the Dawn Raids and the Polynesian Panthers. This inspired her to write 'Dawn Raid', to inform young people of the Polynesian Panther stories in a way that was colourful and accessible for all.
'Dawn Raid' can be ordered online here.
-
Iep Jaltok: Poems from a Marshallese Daughter - by Kathy Jetñil-Kijiner
See below the description of Iep Jaltok by Poet and Activist Kathy Jetñil-Kijiner, a key recommendation from Pacific Climate Warrior Brianna Fruean who wrote in her opinion that she read it at 17 years old. This book comes recommended from the climate justice queen herself! Definitely buy this as a gift for teens and young adults looking to read personal stories of climate change in the islands.
(From the University of Arizona Press)
​​As the seas rise, the fight intensifies to save the Pacific Ocean's Marshall Islands from being devoured by the waters around them. At the same time, activists are raising their poetic voices against decades of colonialism, environmental destruction, and social injustice.
Marshallese poet and activist Kathy Jetnil-Kijiner's writing highlights the traumas of colonialism, racism, forced migration, the legacy of American nuclear testing, and the impending threats of climate change. Bearing witness at the front lines of various activist movements inspires her work and has propelled her poetry onto international stages, where she has performed in front of audiences ranging from elementary school students to more than a hundred world leaders at the United Nations Climate Summit.
The poet connects us to Marshallese daily life and tradition, likening her poetry to a basket and its essential materials. Her cultural roots and her family provides the thick fiber, the structure of the basket. Her diasporic upbringing is the material which wraps around the fiber, an essential layer to the structure of her experiences. And her passion for justice and change, the passion which brings her to the front lines of activist movements—is the stitching that binds these two experiences together.
Iep Jāltok will make history as the first published book of poetry written by a Marshallese author, and it ushers in an important new voice for justice.
Read the praise for Kathy's poems on her website and order the book here.
-
The Best of Albert Wendt's Short Stories - by Albert Wendt
Coconet cannot have a recommended list without the incredible Godfather of Pacific Literature, Albert Wendt! Poet, novelist, short-story writer and artist Albert Wendt was born in Apia, Samoa and is considered the most influential writer of the Moana.
Internationally respected and studied by many, Wendt's works are timeless - he was amongst the first to explore the complex existence and understanding of Pacific people's, both in Samoa and within the diaspora. This is a collection of his very best - published in 2013 it includes sections from important texts such as 'Flying Fox in a Freedom Tree'.
I'd recommend this book as a gift for the young people in your life who are curious thinkers, hopeful writers and literature lovers!
Purchase this collection of Albert Wendt's classics here.
Share