Pacific Blog
Pacific Music Awards 2022 - Meet the first time finalists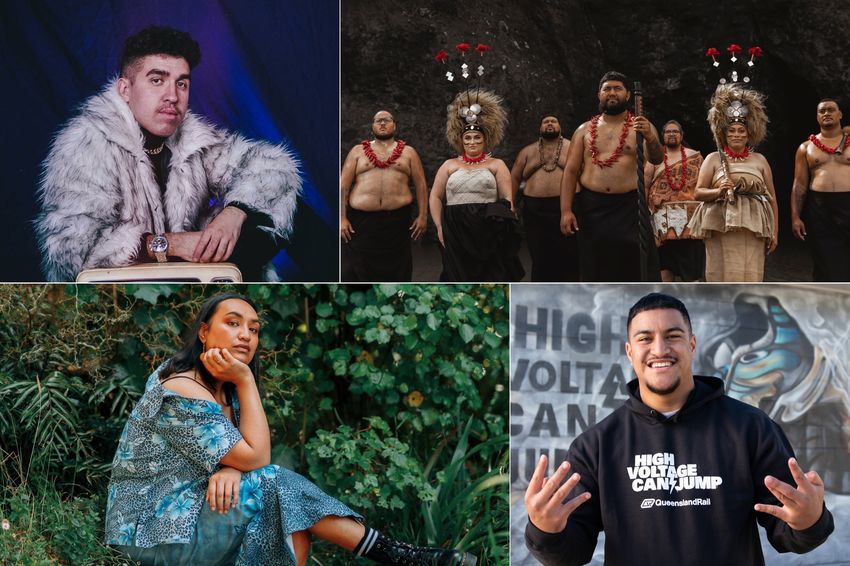 The biggest celebration of Pacific Music in New Zealand returns with crowds again for the live Pacific Music Awards event on Thursday 4th of August.
There are 26 finalists in total with a mix of new musicians debuting music, established music artists, Pacific industry icons and everything in between.
This year iconic Samoan singer-songwriter Fa'anana Jerome Grey will be honoured with the Pacific Music Awards Lifetime Achievement award and there will be a new Creative New Zealand award - the recipient will be announced on the night.
Furthermore, nine first time finalists will be celebrated - get familiar here:
House of Misfits
Nominated for Best Gospel Artist and NZ on Air Best Pacific Music Video for 'Ta Te Manawa'
What began as a small group of struggling university students, quickly turned into a creative community of songwriters, musicians and singers that banded together to release songs of hope in the midst of the Covid-19 outbreak in 2020. Representing diverse cultures, speaking different languages and carrying their own experiences, House of Misfits is a multi-cultural group of ordinary Kiwis who have continued to share messages of truth through song.
-
Anthem
Nominated for Best Gospel Artist for 'Anthem'
​The Anthem Project is a selected group of talented emerging singers, songwriters, as well as iconic gospel artists from NZ and Australia to be involved in the creation of this project. A project which is inspired by the positive and soulful sound of GOSPEL MUSIC from artists such as Tori Kelly, Kirk Franklin and more recently Kanye West. All these well-known artists have found a way of merging Gospel Music into the mainstream market, using relevant topics to bring hope, happiness and positivity. This is a collective project of friends, family and other similar visionaries.
-
Bina Butta & Kennyon Brown
Nominated for Best International Artist for 'Lady Love'
Their hit track 'Lady Love' was written by Robina Fainga'a and her brother Kennyon Brown who produced the track with help from DJ Noiz plus musicians Chunkyluv & Ben Sekali. Since its release, the song took off big time in New Zealand, Australia, the Pacific and USA and now has amassed over 15 million streams in 6 months and recently was certified GOLD by the New Zealand Charts.
Watch our interview with Bina and get to know her here -
-
Foundation
Nominated for Best Pacific Roots/Reggae artist for 'Closer'
Foundation is a roots reggae band, based in West Auckland, Foundation members have all different music journeys and when they come together you can hear many soulful influences. Headed by South Auckland's very own son and award-winning artist/songwriter/producer Chong-Nee. The band has played some of the biggest stages in Aotearoa and abroad, including Raggamuffin, Exodus, Reggaelution, One Love, East Coast Vibes...the list goes on. Recently, the band has added a new frontman, Nofo Lameko.
-
Lisi
Nominated for Best International Pacific Artist for 'Good Life', 'Dreams', 'Til the Death', & 'Baby we on'
With a focus on intricate storytelling and personal lyricism, Lisi's music delves into everyday life in the 4300 and the real issues faced by his people, evidenced by his widely-praised Average Man EP in 2020 and his latest album PERSPECTIVE. Offering a contemporary take on classic hip-hop sonics, Lisi's considered sound has earned him an intergenerational and international fanbase.
Lisi tells us about how he got into the Rap game, starting his independent label, and advice for young musos wanting to make big moves in the video below -
-
Mo Etc.
Nominated for Best Female Artist for 'Oceanbed'
Hailing from Wellington, multidisciplinary act Mo Etc. creates music for the soul. With formal acting training for stage and screen, local singer-songwriter Moana fell in love with the music scene spending hours upon hours writing tunes to feed our inner soul and emotions. Her most recent album 'Oceanbed' is a sonic journey through love, loss and self-discovery, including beats and tones all too familiar with indie, neo-soul and R&B.
She gave us a glimpse into her world in Welly here -
-
Sam V
Nominated for Best Pacific Soul/RnB Artist for 'Wired' & 'Biker Boy'
Auckland Central's very own R&B showman, Sam V, is a rising figure in the New Zealand music industry. A prolific songwriter, accomplished vocalist and charismatic performer, 24-year-old Sam V has been diligently honing his craft over the past years since emerging as a teen sensation on YouTube. Currently, he operates as a founder and member of R&B/Hip-Hop collective Y$O (Young & $lept On).
Check out the music video for his single 'Wired' below
-
Sammielz
Nominated for Best Pacific Roots/Reggae Artist for 'Okay'
Born and raised in Auckland NZ and now residing in Sydney, Australia. Sammielz was first recognised in the music game as the former lead singer of DSS (Da Soul Sound) where he branched out to begin the pursuit of his solo career in 2011, rapidly propelling himself to the forefront of reggae music's hottest acts.
Listen to his PMA nominated track 'Okay' below which was based on a sister of Sammielz who was a survivor of domestic violence after several years. He says the song was based off one of the few moments she could make it through such a dark time while in the islands.
-
Catch the awards and live performances at the Sir Woolf Fisher Arena Vodafone Events Centre in Manukau this Thursday, 4th August at 6.30pm and buy your tickets here
Share