Pacific Blog
PacifiCast answers Samoa's urgent need for wheelchairs & crutches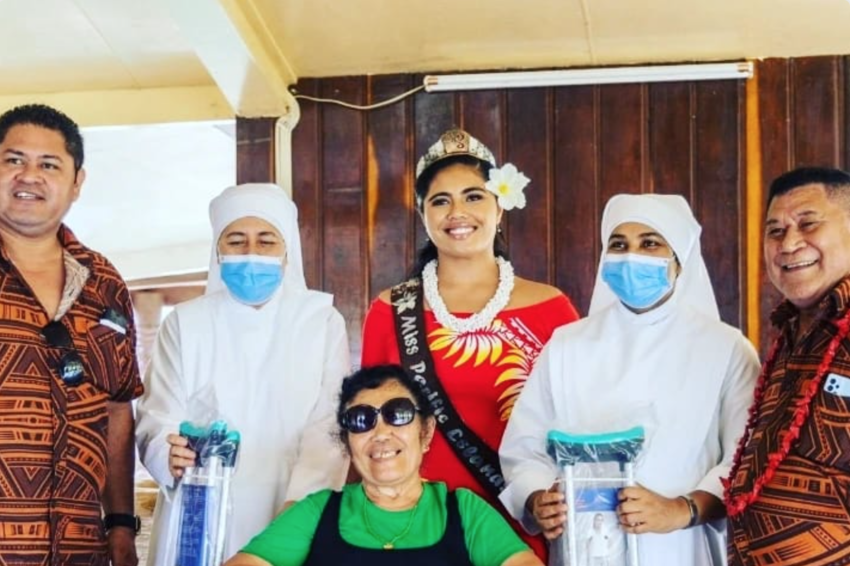 "Alone we can do so little: together we can do so much" - Helen Keller
Last week during the Miss Pacific Islands pre pageant events, former Miss Pacific Islands Seumanu Fonoifafo Seumanu visited the elderly community of Mapuifagalele - Polynesia's first aged care home - together with this years Miss Pacific Islands contestants, PacifiCast and Samoa Tourism representatives.
As brand ambassador for PacifiCast this was Seumanu's final act as the reigning Miss Pacific Islands and during the visit she was able to gift a number of wheelchairs and crutches on behalf of the agency in partnership with Samoa Tourism, the Ministry of Health and Samoa government.
PacifiCast is an agency that supports and connects the Pasifika community to global markets, opening a new lens to the Pacific through an intrinsic understanding of the region and serving the people in the region.
PacifiCast had gifted Samoa's hospitals (including Mapuifagalele) with a total of 200 wheelchairs & 250 pairs of crutches through the Minister of Health, Hon Valasi Luapitofanua To'omaga Tafito Selesele and the Director General of Health.
PacifiCast founder Julius Tuigamala said the donation of the wheelchairs and crutches represented the agency's ongoing commitment to serving their community.
"Everything I have done to date in PacifiCast has been with reason and purpose in things that are close to my heart. The inspiration behind the donation is from my late stepmother Malia Losa Tuigamala" said Julius
"Through our involvement with the Minister of Health Hon. Valasi Luapitofanua To'omaga Tafito Selesele the wheelchairs and crutches were identified as the highest need given the shortages across Samoa."
Currently the waiting list for a wheelchair in Samoa is a staggering 2 years and cost patients $150. Julius felt that necessities like this should be accessible to the elderly and those in need and is proud of Pacificast's partnership with both the Ministry of Health and Samoan government.
"Our involvement with the government started with Hon. La'auli ale Malietoa Leuatea Polataivao Schmidt. His support in connecting PacifiCast to Toa Samoa gave us a platform to showcase our expertise and what our agency is capable of."
"I was reluctant to commit prior to the F.A.S.T party appointment but feel we have great leaders in the different sectors that are open to building innovative ways to serve our community whilst preserving our rich culture and traditions." he said.
Along with the donations of the wheelchairs & crutches to the hospitals it was also important to him to do something for the elderly and the one aged care facility in Samoa.
"One of the most beautiful values taught in our culture is the respect and care of our tagata matutua (elders). All families in Samoa do their utmost to do this, however, the lack of accessibility to certain necessities can leave our elders restricted."
Wheelchairs are just one need that can not only give them back their mobility but their dignity and pride." Julius added
While Seumanu Fonoifafo's Miss Pacific Islands reign has now come to an end, she will continue on as a PacifiCast brand ambassador.
"Her heart to serve is aligned with our businesses values and we look forward to announcing our collaboration projects with the Ministry of Health in the near future."
Julius said they also look forward to working with the newly crowned Miss Pacific Islands, Josie Nicholas from Papua New Guinea on initiatives across the region.
-
Public Interest Journalism funded by NZ on Air
Share