Pacific Blog
Redefining and expanding Pasifika entertainment in Hollywood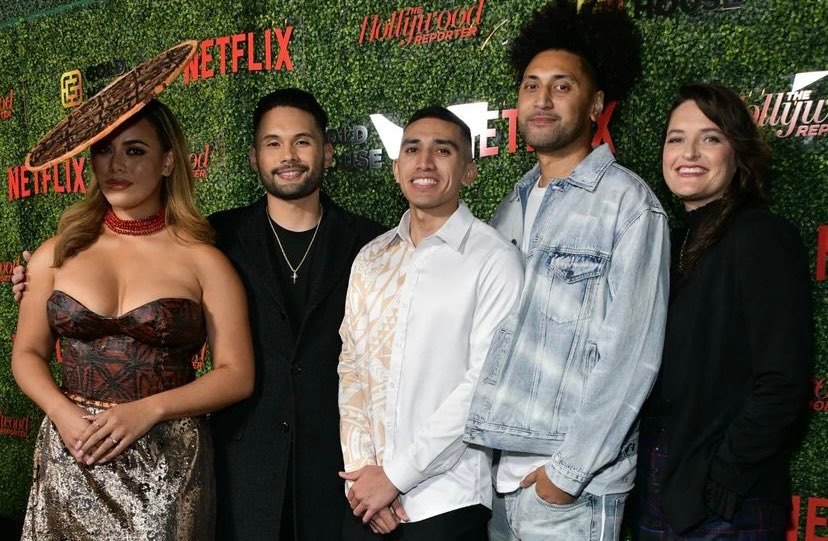 By Mabel Muller
Photo above L-R Dinah Jane Hansen, Joshua Leomiti, Peter Filimaua, Kristian Fanene Schmidt & Dana LeDoux Miller at the Netflix API Excellence Celebration
-
A group of Pacific film and entertainment professionals have banded together to redefine and expand Pasifika entertainment on the Hollywood front.
Pasifika Entertainment Advancement Komiti (P.E.A.K), set up in September 2022, is offering cultural consulting and referrals as well as development opportunities within film, television and gaming.
P.E.A.K executive director and co-founder Kristian Fanene Schmidt said the use of Pasifika stories, talent or culture in entertainment, needed to be more authentic.
"In Hollywood you have a lot of content being made that either features Pacific talent or it's in the Pacific islands or features the culture and they're just not doing a great job…
"There was a gap, there wasn't an official body or organisation that was led by Pacific Islanders to help inform that and really push for it."
Fanene Schmidt said there are other organisations that have represented and advocated for Pasifika in the past, but had no Pasifika representatives on their staff or board.
P.E.A.K is the first official Pasifika-led body solely dedicated to Pasifika people.
"...It was time for us to take ownership and really lead the charge for Pasifika representation and storytelling," said Fanene Schmidt.
The committee is made up of experienced industry professionals based across mainland USA, Hawai'i and Aotearoa. All regions of the Pacific are represented in the group and LGBTQIA+ voices included on its board.
In practical terms, P.E.A.K will not only be consulting but referring creatives, cultural experts and language coaches to major film studios and streaming services looking for Pacific talent.
"When studios are looking for a writer or an actor who comes from a specific background, or they have a specific skill, we're able to draw upon our networks," said Fanene Schmidt.
"We'll be able to make those referrals to put the right people in touch with the right opportunities."
Fanene Schmidt acknowledged the brilliant Pasifika content coming out of Aotearoa and Hawai'i but wants that reflected across the U.S.A.
"The dream is to see more Pasifika creatives thriving, more diverse and richer storytelling in the U.S."
The most recent Pacific news in film and entertainment include Tongan actress Luciane Buchanan starring in a Netflix series The Night Agent, released later this month.
As well as Hawaiian actor Jason Momoa a.k.a Aquaman starring in the latest Fast & Furious sequel Fast X coming to theatres in May.
For more information on P.E.A.K check out their website here
-
P.E.A.K members:
Board chair: Dana Ledoux Miller - Writer/Producer/Showrunner (Samoan)
Board member: Averie Joy Maikalima o Makua Huffine - Producer (Kānaka Maoli)
Board member: 'Aisea Laungaue - Marketing (Tongan, New Zealand-born, raised in Australia)
Board member: Grant Torre - Producer (Chamorro/Filipino)
Board member: Kerry Warkia - Producer (Papua New Guinean/Scottish)
Executive Director: Kristian Fanene Schmidt – Writer/Host/Consultant (Samoan, New Zealand-born)
Consultant: Maluhia Kaimikaua - Manager/ Media consultant (Kānaka Maoli)
Consultant: Ianeta Le'i - Manager/ Media consultant (Samoan, Portuguese, Japanese)
Share