Pacific Blog
The Unseen Part of a Malu Journey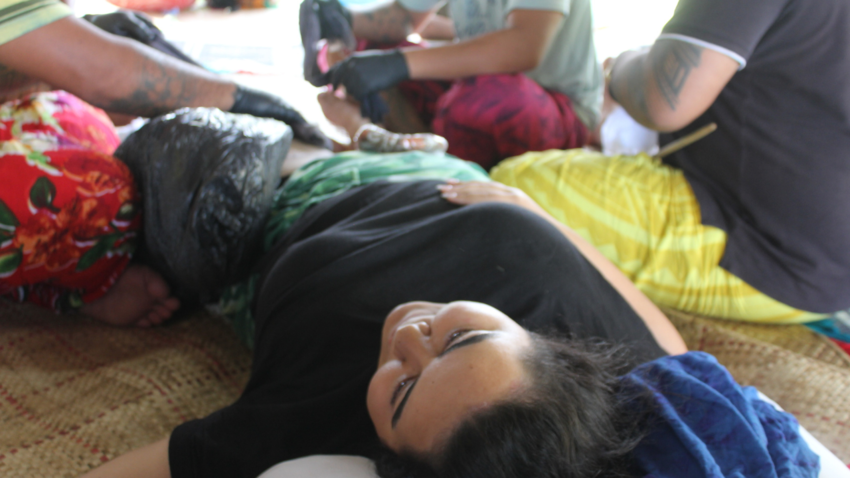 I was 14 when I first dreamed of one day receiving a Malu but I never imagined the difficult journey that I would embark on.
As a teenager I told my parents and they said one day I'd be ready. 10 years later that day finally came, and I was joined by my older sister who would be my soa.
When the day came, I felt ready. Mentally I felt prepared and logistically I ticked everything off of my list. I had the ies, lega, fagu'u, falas, antiseptic cream, protex, ilis and everything I could ever imagine needing.
My sister went first and I waited for her to finish. Her Malu was beautiful and I got a preview of what was instore for me. When it was my turn I was surrounded by all my friends and family, so I felt all their love strengthen me. When I finished being ka'd (tattoed) I got up looked at my legs and it was like a dream come true. I felt relief, comfort and joy rush over me all at once.
I went to sleep that night feeling over the moon. The day was everything I ever dreamed of and the best thing was that it didn't end there. I knew I'd get to watch it heal and sink in to my skin becoming part of me.
The very next morning my sister and I woke up so we could go show our grandpa our tatau. My Papa was so proud. I sat with him as he told us old stories of tatau during his day. In the middle of his story, I started getting the chills. I got really cold all of the sudden and my temperature was high. Straight away my Aunty and Mom took me to the hospital. The doctor saw me and observed that my blood pressure was low and fever high. He prescribed me antibiotics and said that my body was just reacting to the big thing it just went through.
Something just didn't feel right in my body so I asked my prayer warrior cousins to come over so we could pray together. They prayed over me and for that time I felt relief.
For two days I took my oral antibiotics with food, but I couldn't keep it down. Every drink of water or bite of food I'd take would come straight back out. My body was weak, my fever would come often and overall I just felt exhausted. My shower fofo's were HARD, my legs would be in pain and my body felt on the brink of fainting because I couldn't eat.
I wasn't getting any better. One early morning, I started getting the chills again and just started crying because something just didn't feel right again. I went back to the hospital. The doctors in the ER saw there was a part at the back of my knee that was getting red and infected. They put me on a full day of IV and antibiotic drip. The doctor suggested I stay overnight, I thought about it and begged not to. I didn't want to be admitted into hospital and for it to be part of my Malu journey. I wanted to be sleeping on the fala at home with my sister, talking with my best friend and having dinners with my mom.
The doctor gave the option of "tui savali" which basically means I could go home and come into the hospital every 6am and 6pm for my injection. I did two days of this and still no improvement.
At this point I felt cursed. I felt like my body wasn't cooperating with my spirit. I started questioning myself and whether I even deserved my malu. I prayed for strength but still felt so weak. My mind started playing tricks on me in my vulnerability. I felt so mā (embarrassed). I felt myself fall into a deep hole of self-doubt and fear. It was so bad that I asked my family to tell my closest friends I couldn't see them anymore and that I couldn't have any visitors. I didn't want anybody to see me like this.
I went back to the hospital for a reassessment and they insisted I be admitted. So, I listened I got admitted in to Moto'otua Hospital. When I was lying there on the hospital bed, I looked down at my Malu and started crying. This was not the journey I envisioned. My sister was sitting next to my hospital bed healed and healthy, and I felt broken.
My days in hospital were hard. My fevers would spike, I was still throwing up anything I tried to eat and there was not one position I could sleep in that was comfortable. My mom whispered to me on one of my bad nights "Onosa'i honey, God will only give you challenges he knows you can take. You deserve your Malu, your journey is just different and you're strong enough to take it". I held on to her words and had the best sleep since getting sick.
I'd stare up at the hospital wall and repeat in my head "onosa'i, onosa'i, patience, patience". I tried to be the best possible patient I could be, drank lots of water, took my injections with no complaints and thanked the nurses every chance I could.
At first when the nurses would come by, I'd quickly cover my legs in fear that they'd judge me. Never once did I feel judged by them. In fact, it was the nurses that gave me the most peace and reassurance. They told me of how many patients they see with tatau infection and how common it is but how nobody talks about it. I told them how I followed all the rules and took all precautionary measures to take care of my Malu, they said they believed. "It could be a mosquito bite or just about anything out of your control that caused it. Its normal" one of the nice nurses told me.
There was a patient next-door to me that just got his pe'a and was on the same treatment as me. I felt less alone seeing him. He smiled at me when walking pass and I thought "I hold no judgement against him". I didn't think he was cursed or less deserving so why was I so hard on myself? The more stories I heard of this unseen part of the tatau journey the more I was gentle with myself and let go of this idea that I was cursed.
After 4 days in hospital, I felt improvement physically and mentally. I looked at my Malu and felt joy again. I didn't feel as sick and my fevers were almost completely gone. The doctors reassessed me and discharged me.
I write this blog exactly 1 week after being discharged and feeling 100% recovered. My Malu has healed and I feel stronger than ever. My Malu journey wasn't easy but I got through it. I wanted to share my journey in hopes that if anyone might also go through this that they won't feel so alone or embarrassed. Its common and you'll get through it, trust me.
This wasn't the exact journey that 14 year old me dreamed of but one thing for sure is that it made me a stronger person. Maybe the purpose of me going through it all was so that I could bring a little bit of awareness to this unseen part of a Malu journey.
Share