Pacific Blog
THE UPSIDE DOWN OF POLYFEST 2023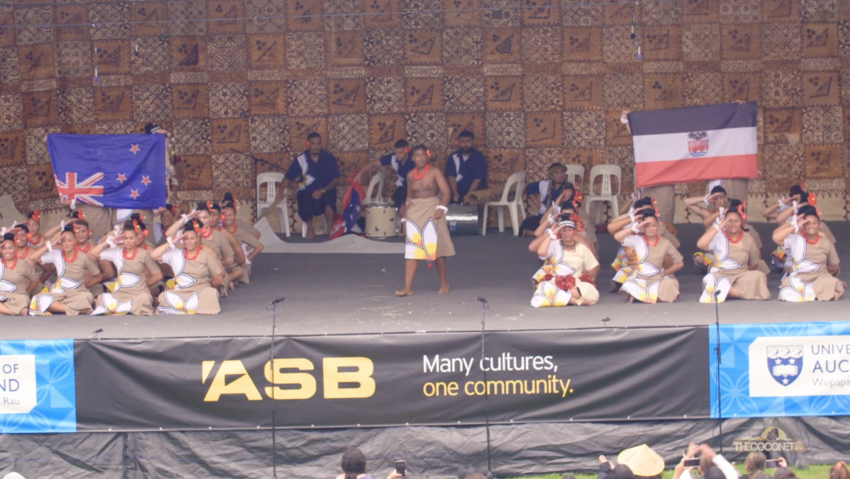 By Leki Jackson-Bourke, edited by Tupe Lualua
On Friday the 10th of March 2023, the ASB Polyfest Samoan section was in full swing. Schools came well prepared with intricate choreography, dynamic formations and soulful harmonies bringing the Manukau velodrome to life.
It was beautiful to see students working collaboratively with tutors, teachers and parents and to see entire communities rallying behind their schools. If you grew up in Tāmaki Makaurau, you would know that school pride is high and in term one, the Auckland school calendar is all about Polyfest!
THE RESULTS:
For the co-ed section, Manurewa High School came away with a clean sweep taking out first place overall. Not too far behind them in second place was Avondale College and third place saw the return of past champions Ōtāhuhu College. Other schools also made their way up onto the podium this year: Papatoetoe High School, Māngere College, Hillary College and Tamaki College.
But one school in particular has become the talk of TikTok leaving everyone confused and asking questions. "Why were those flags there and why was the NZ flag upside down?"
We interviewed one of the teachers from Marcellin College Samoan Group and this was their response:
LEKI JACKSON-BOURKE:
A lot of people don't really know about Marcellin College and we've never had a big presence on the Samoan stage. Our school was founded in 1958 by the Marist Brothers and was the first Co-Educational Catholic Secondary School in Auckland. With a roll of 660 students, the majority are Pasefika, with Tongan & Samoan students making up the bulk of the demographic.
Historically, we've always had low numbers of Pasefika staff. Fast Forward to 2023 - the chair of our school board is Samoan, three board members are Pasefika, we have our first female Tongan principal (the second in NZ), a Samoan Deputy Principal, a Rotuman Assistant Principal and 34 staff members who are all of Pasefika heritage.
This new leadership and energy in our school has inspired our engagement with Pasefika narratives and shifted our perspective on the purpose of Polyfest. To honour this vision, my fellow Ako Mātātupu colleague James Leavasa and I gathered our team of tutors for our 2023 Samoan Group: Bronson Tamafaigā Seiuli, Fonotī Natalie Toevai, Saale Ilaua and Cheryl Schuster.
THE 2023 THEME:
'Mitamita i lau gagana, maua'a lou fa'asinomaga' - Be proud of your language & rooted in your identity.
In response to the theme centered around fa'asinomaga/identity, it was crucial for us to foster the growth of each students' identity through practical activities and workshops. We didn't just want to sing about it, we wanted to challenge our identities as descendants of Te Moana Nui A Kiva, as Samoans in Aotearoa, as partners of Te Tiriti O Waitangi and as the future of Pasefika.
THE PROCESS:
We implemented a bespoke Pasefika leadership programme for our year 13 students and we decided Polyfest for us wouldn't be about competition and criteria. Instead, we would use the opportunity to deepen our knowledge on Pacific history, language, identity, culture and life skills - things that we wouldn't normally get to explore in traditional learning environments.
THE PERFORMANCE:
Our laulausiva was put together by Bronson who cheekily called out the winning schools of the previous years of Polyfest. This banter is common in Samoan culture (known as tausua) and it proved popular with our students who struggle with Gagana Samoa. We honoured the teachers of Gagana Samoa who have paved the way for many of us in the education sector. The likes of Melegalenu'u Ah Sam MNZM, Toesulu Brown MNZM, Fa'amao Seumanutafa, Jenny Tapu & Tauanu'u Perenise Tapu QSM.
According to TikTok cultural experts - our Sāsā was the most controversial item. It was our dedication to the story of Samoa's struggle for independence and freedom. We presented the German Samoan flag, acknowledging the German colonisation of Samoa in the early 1900's which led to the formation of Mau-A-Pule by Namulau'ulu Lauaki Mamoe.
The New Zealand flag was presented upside down in reference to two of the darkest events in Samoa's history - the Spanish Influenza of 1918 (WATCH - 1918 DOCUMENTARY) and Black Saturday 1929. Both events occurred under the New Zealand administration of Samoa. The sāsā segment ended with an excerpt of the famous last words "Samoa Filemu Pea'' by Tupua Tamasese Lealofi III who was the leader of the Mau Movement. Tamasese was assassinated in 1929 by the New Zealand police and his death became the catalyst towards gaining political Independence, which Samoa finally achieved in 1962. (WATCH - THE MAU DOCUMENTARY)
The Taualuga/Finale: Our Manaia - Azael Uini-Faiva, also the Headboy of our school - danced to a medley of the vi'i (anthems) of both Lauaki and Tamasese. The students were taught the purpose & meaning of these songs and sung "Fa'asala" - the old way of Samoan singing. We acknowledge and pay respect to all those who fought alongside and contributed to Samoa's fight for Independence.
These creative choices by Marcellin College have opened up conversations around Polyfest and what the purpose of our dances are. History, culture, life and politics are metaphorically woven into the songs, chants and dances of our ancestors. We are the forever evolving representation of our ancestors' stories. "E sui faiga ae tumau fa'avae" - Approaches and methods may change but foundations remain the same.
Some may argue that a Polyfest performance is not the place for a history lesson, our response to that is - why not? Polyfest is the largest Polynesian dance platform in the world and is an opportunity to effectively empower and educate our young people on history and culture through the Performing Arts.
Our ancestors used the arts to document history - Niuean Composer Ikinepule Etuata composed the song Niu Silani mo Niue to record the history of Niue's annexation to foreign powers, Queen Sālote Tupou III composed the song "Hala Kuo Papa" which pays homage to the three royal dynasties of Tonga and the famous "Pese O Le Tatau" teaches us about the origins of Tattooing in Sāmoa.
Polyfest should be more than just entertainment. If we focus too much on competition and criteria, then we are at risk of becoming dancing robots who sing, smile and harmonise on repeat. Traditions grow and evolve and there's room for both traditional and contemporary art to co-exist. The past, present and future are in alignment and like our ocean, everything is connected. Unlocking the true power and potential we hold as Pasefika Peoples takes courage and risk. The Pacific Ocean is complex and diverse, and as the late Dr Teresia Teaiwa said - "You can't paint the Pacific with just one brush stroke".
With all that being said, I leave you with one last closing statement and I echo the wise words of one of my greatest teachers/tutors.
"Tradition is a refuge of ignorance" - Papali'i Dr. Pita Taouma
-
Public Interest Journalism funded by NZ on Air
Share