Pacific Blog
We are more than athletes: Maori & Pasifika must be in non playing roles too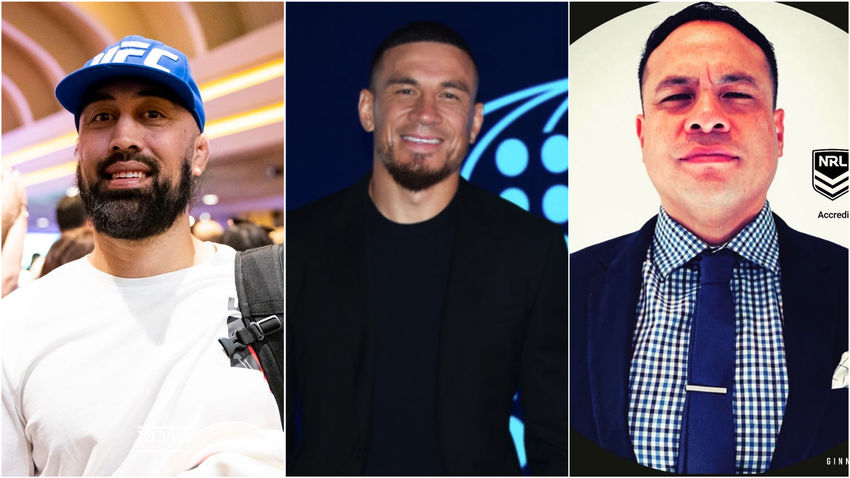 Cover image L-R: MMA & City Kickboxing head coach/co-owner Eugene Bareman, NRL on Nine & Stan Sports presenter Sonny Bill Williams & Ginnen Group Sports agent/manager Zen Ginnen
By Lefaoali'i Dion Enari
When we watch sport, we can now see our athletes chanting our war cries, holding our flags and showcasing our traditional tattoo's and hairdo's. However, the sporting environment they are in is still very Western and palagi in nature.
Although we have high representation of Maori and Pasifika athletes throughout the sports arena, we are grossly underrepresented in non playing sporting roles. Many coaches, sports media and club boardrooms are formed without Maori & Pasifika people or community consultation.
We are seen internationally in sporting codes such as UFC (Ultimate Fighting Championship), Rugby Union, Rugby league and Boxing. However, the sports systems we are in, don't always reflect us, as they were made without us. Sadder yet, several sporting organisations still continue to operate using our people as merely 'physical labour'.
Many of our Maori & Pasifika athletes are expected to perform during game time, inside a system that doesn't always understand (or want to understand) our cultures and values. Some of our athletes have even been advised by their non Maori & Pasifika managers and coaches to neglect their cultural capital and familial values, in the pursuit of professional stardom. Resulting in anger and frustration among our athletes and their families.
Luckily, there is an ongoing movement to counter cultural insensitivity in sport. Such initiatives include the addition of Moana Pasifika in Super Rugby and the ongoing push to change eligibility rules, by sporting stars such as Ardie Savea, Sonny Bill Williams and Daniel Leo. Initiatives like these, all add to the awakening of Maori & Pasifika taking ownership of our sporting narratives and futures.
We now also have Maori & Pasifika people who work within the sporting realm, in non playing roles, providing cultural awareness workshops, for both our athletes and Non Maori & Pasifika sport staff. Although this is a positive move forward, it is not enough. If our cultural knowledge is only ever used for the Haka, speaking Samoan during an interview and a 45 minute cultural seminar, then this western system that fails us, will continue to fail us.
To simply put it, we need a massive increase of Maori & Pasifika in non playing roles, to implement our wisdom in these spaces, if we are wanting to see meaningful change.
As a Samoan and Pasifika Lecturer in the School of Sport and Recreation, I have the honour and privilege of nurturing and growing the minds of our next sporting generation. I see many future Coaches, Managers, Sport Psychologists and Club Board Members in my class room.
Every Maori & Pasifika person working in the sporting space, is another opportunity for us to bring our beautiful cultural wisdom into a system that does not always welcome us. May we push this work forward, one Maori & Pasifika sport's employee at a time. Alofa atu.
-
Lefaoali'i Dion Enari is a lecturer at the School of Sport and Recreation, Faculty of Health and Environmental Sciences at Auckland University of Technology. He is also a PhD Candidate at Bond University, Gold Coast with a Master of International Relations and Lefaoali'i (high talking Chief) title from Lepa, Samoa. His research interests include Sport Management, Sport Leadership, Mental Health, Pacific language, Indigenous Studies, and Trans-nationalism.
Share