Sports
Australia VS Samoa: Rugby League World Cup Final Preview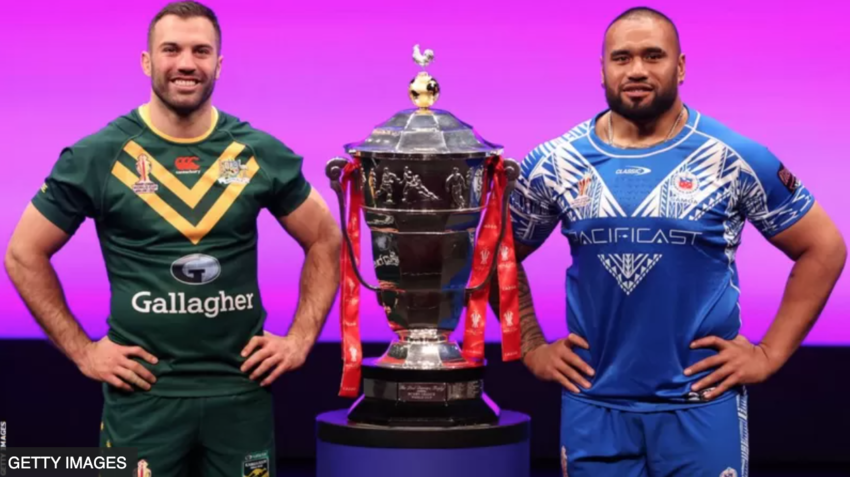 By Thomas Law
Every World Cup throws up unexpected plots and new heroes to lionise. After a 60-6 drubbing by hosts England in the opening match, very few people would have foreseen such accolades coming the way of Samoa, nor its centre partnership of Stephen Crichton and Tim Lafai. But having been humbled 60-6 by hosts England in the opening match of the tournament, Toa Samoa are on the precipice of glory.
The Samoan side that triumphed 27-26 last weekend bared no resemblance to that which lined up in Newcastle four weeks prior, and whilst pundits were left ruminating the adage of whether Samoa was particularly strong or England weaker than usual, Samoa can take inspiration from their upward trajectory. Their fans – from Apia to Auckland, Mangere to Manchester via California, Sydney and Queensland – will hope that this ever-improving side can make that final step to rugby league immortality.
In their way stand the formidable Australia, 11-times champions and overwhelming favourites. But it is testament to the evolution of rugby league in the Pacific that Samoa is now a player in the upper echelons of the game, the representative game having undergone a fundamental transformation, with still so much potential. If Samoa continue their upward trajectory from the start of the tournament, they will fancy themselves to lift the Paul Barrière Trophy – no matter what the outsiders say.
Whatever the result on Sunday morning, the journey to the pinnacle of the international game has been long, winding, multifaceted, uneasy at times, but ultimately a tale of cultural bonds and pride in homeland. It is Samoa's moment, but one felt by other Pacific Islanders.
History
There has been a Pacific presence at the World Cup since 1978 when Papua New Guinea made its debut, just three years after independence. The groundwork for Samoa's ascent to the upper echelons has its roots in decades of migration to the rugby league heartlands of Auckland and eastern Australia. But the catalyst for this Samoa run can be dated back to 2017, and Tonga.
Jason Taumalolo had appeared in the black of Aotearoa New Zealand for a promotional photo shot mid-2017. But after a damascene change of heart, he opted for Tonga. He declined a pay deal worth thousands of dollars and the chance to line up in what was, on paper, a better side. That inspired others to do likewise – most notably Andrew Fifita declined Australia to line up in red. Victory over Samoa, and then the Kiwis inspired an entire community, and the campaign took on a life of its own until a cruel 20-18 semi-final defeat to England.
The story of 2021 X 2022
For about ten days in the British summer of 2021, the World Cup was going ahead without Australia and Aotearoa New Zealand. Despite government guarantees and diplomatic wrangling, Australian authorities (responsible for the majority of World Cup players) put their foot down and insisted that the COVID quarantine requirements on the players' return to the southern hemisphere would have been intolerable. The tournament was delayed and as hindsight has borne for Samoa, that was a blessing.
They did not have the most auspicious of starts to this tournament. Preparations were waylaid by murmurs of player unrest with head coach Matt Parish (surely now put to bed) including an alleged letter by players sent to the Samoan Prime Minister to have him replaced: one potential replacement, mulled over with varying degrees of seriousness, included a coaching triumvirate of the Johns brothers and New Zealand-Samoa dual code legend, Sonny Bill Williams.
Whereas Tonga's mid-season test this year against Aotearoa New Zealand provided them with plenty to learn from, and the Papua New Guinea-Fiji test provided solid opposition for the Melanesian rivals, Samoa lined up against Cook Islands/Kūki 'Āirani. The side was lacking many of their best players (based in the UK) and ranked 22nd in the world behind the likes of Poland, Czechia and the Netherlands. Hardly the best preparation.
Unlike Tonga, Samoa did not play a warm-up game before the tournament began, and with a tight schedule, only had a handful of full training sessions before their opening game at St James' Park against England.
Tournament-ending injuries to Tyrone May, Hamiso Tabuai-Fidow and Braden Hamlin-Uele left Parish scrambling for replacements, eventually calling up Tim Lafai from the European Super League's Salford Red Devils to provide cover in the centres. And from then on in, Samoa improved inexorably.
Back-to-back demolition jobs against Greece and France, winning 72-4 and 62-4 respectively, secured passage to the quarterfinals, and an all-Polynesian clash against rivals Tonga. A tight but captivating game in Warrington eventually went in favour of Samoa, despite an attempted comeback and nervy finish for the men in blue.
For Tonga it was a disappointing exit, particularly with so much promise on the back of the 2017 World Cup. But as every Samoan reading this will by now surely be aware, where Tonga fell just short against England five years ago, Samoa eventually triumphed.
Jarome Luai won man of the match with his deft control of the game from the halves, and whilst the glory will be shared across all seventeen players, special mention must go to the centres of Stephen Crichton and Tim Lafai. Crichton played like the star NRL watchers know he is, with two tries and the winning drop goal.
As for Lafai, also picking up a try-scoring brace, he was without a club in 2021 and only called up to the squad through injuries. But English fans were well aware of his prodigious talent, making Super League's Team of the Year as part of an unfancied Salford side's run to the semi-finals. It is testament to his talent and acumen that he does not look out of place in a team stacked full of NRL champions.
That semi-final game may well be immortalised for generations; kids trying out that drop goal on repeat, the magnificent team try finished by Crichton watched on loop ad infinitum. The only way in which the match may fade from the near-term collective memory is if Samoa were to go one better at the weekend.
Those Samoa fans already in England will be heading north to Manchester United's Old Trafford, with some flying in from the southern hemisphere and United States especially for the occasion. And it won't just be Samoans.
Emma Ioane, a New Zealand Samoan, was cheering on alongside Samoans born on the island and a Tongan. As she explained "whether it's Tonga, Fiji, or whoever, we always support our island nations." The support was certainly loud and raucous as Crichton slotted over to seal victory, the handful of fans dotted certainly making themselves heard – as they will in Manchester.
Gameday
If Samoa are to triumph, they will have to further improve the combinations that have powered their attacking prowess. Defensive discipline will have to be tightened, and Australia's focal dangers stymied.
Josh-Addo Carr already jointly holds the honour for most tries in a Rugby League World Cup with 12, despite being rested against Italy. He will be looking to exceed Valentine Holmes's tally, but stopping the 'Foxx' is easier said than done. His rapid pace and deep runs from deep onto passes will be a menace, whilst his eye for a gap will test the communication and teamwork on Samoa's right defence.
It was on that side that England equalised and nearly won it late on. But it was also that side which provided so much attacking inspiration. That game against England will have been well replayed by fans and players, but the assured centre pairing preventing the wingers from receiving quality distribution in the first place will be key.
Whilst much of the press attention has been on the Nathan Cleary VS Jarome Luai narrative – the Penrith teammates and half-back partners lining up on opposite sides for the first time since their junior days – the match will in large part come down to which style of play triumphs.
Cleary is a structured, precise and efficient kicker of the ball that Australia can rely on to, 99 times out of 100, land the ball in a pre-planned area. Luai plays with more creativity, more 'heads up' rugby that will seek to push and probe the Australian defence for unexpected gaps and weaknesses. These two have formed an outstanding creative partnership at Penrith, and both will be relying on pre-existing partnerships with other Penrith teammates to unlock the opposition.
The back-to-back NRL champions have nine players across the two squads – six for Samoa, three for Penrith. Disrupting Cleary's synergy with the aforementioned Martin and lock Isaah Yeo will be key, whilst Australia will be monitoring a backline featuring Crichton, as well as wingers Taylan May and Brian To'o.
Strength in the pack shouldn't be an issue for either side, but expect no side to give an inch as the forwards seek to assert their dominance. Samoa will be relieved that Junior Paulo is cleared to line up, sin-binned against England for 'tipping' George Burgess, but subsequently cleared to play in the final.
The main deciding factor may be the composure and organisational skills of the full backs. Australia have James Tedesco, the only sure-fire name on the team sheet pre-tournament and a Mal Meninga stalwart. His quality for Sydney Roosters has been evident over the years, but pushing him will be Joseph Sua'ali'i, his Easts teammate lining up in the number one jersey for Samoa. A winger in his day job, he has made no secret of his desire to assume full-back duties full time, and has grown into this tournament after that disastrous start. He looked assured under the high ball for large periods against England, certainly knew how to return the ball and marshall a defence.
It is testament to the Anglo-Australian sporting rivalry and the British penchant for an underdog that, despite defeat at the hands of Samoa, nearly every 'neutral' fan amongst the roughly 60,000-strong crowd on Saturday afternoon UK time will be cheering on Samoa. At their semi-final against Aotearoa New Zealand in Leeds, the name of Australia and its man of the match Liam Martin were booed to the rafters by the English crowd, and a similarly partisan atmosphere can be expected for the final.
Future
Tonga's victories over Aotearoa New Zealand, Great Britain and Australia in recent years demonstrated their contemporary strength and future potential. Samoa's eclipsing of Tonga's 2017 run, becoming only the sixth nation to compete in the Rugby League World Cup final, shows that hits rugby league revolution can be a Pacific-wide phenomenon.
In contrast to rugby union, still the more popular code on most Pacific Islands, the players have shown remarkably determined clarity of mission in bucking the trend. Not only have they opted for their heritage, foregoing large paycheques and dealing with the outlandish, dog-whistle histrionics from certain parts of the media, but proving that it can spur success.
The size and quality of the playing pool opting for Samoa created a team capable of taking on and beating the world's established giants. It's not just a case of philanthropic cultural renewal, but a legitimate means of achieving sporting glory. Valentine Holmes prevaricated for the longest time between lining up for Australia or the Cook Islands/Kūki 'Āirani. The fact that, with or without him, they were very unlikely to make it out of the group stages, let alone mount a cup run, may well have been a deciding factor.
To the vast majority the distinction between 'born and raised' and 'diaspora' Islanders is meaningless – an insecure attempt to discredit Samoa's rise. But the hope is that international success can spark domestic growth and clearer, direct pathways from the islands to the elite level.
The debates around eligibility, future calendars, scheduling, State of Origin and talent development can, however, wait for another day. Until the captain's hands loft the trophy on Sunday morning, the only thoughts will be on whether the celebrations will be Samoan or Australian.
-
Public Interest Journalism funded by NZ on Air
Share