Sports
Big Impact: Papua New Guinea players leaving their mark on British rugby league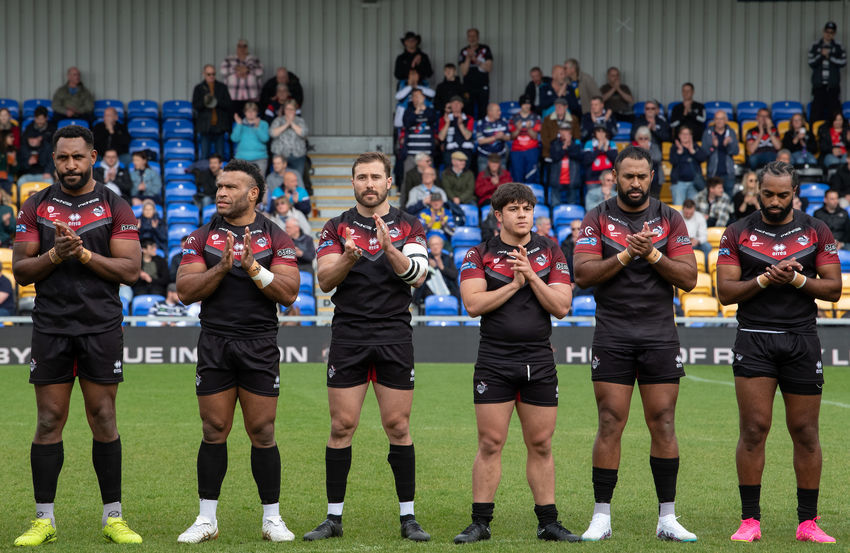 "There's only three common denominators in this country. One is God. Two is Tok Pisin, the language we all speak. Three is rugby league." So powers the opening voiceover to the Power Meri documentary.
The prominence of rugby league is not in doubt – famously it is the only sovereign nation in the world in which it is the national sport (the only other country to share this accolade is the Cook Islands).
As London Broncos and international prop Wellington Albert puts it, "Every little boy and girl will play around, with a Coca-Cola bottle as a rugby ball sometimes, playing on the backyard or on any field available. We grow up playing rugby league, and that's where we started falling in love with the greatest game of all."
His teammate for club and country, Emmanuel 'Manu' Waine, echoed that sentiment, particularly the pride fans have for the national team. "When PNG is playing against other nations, the backing in our country, everybody gets behind it and supports it. And you know, when you see the way we support our team, it's something you can't believe. You can't explain it."
All that passion and popularity, however, has often failed to translate into an impact on the world stage. Having competed in the past eight World Cups, the men's team has never reached a semi-final, and in recent years has been outcompeted by the likes of Tonga and Samoa.
But there are signs of a long-awaited breakthrough. Whilst there has always been a healthy contingent of Australia-born diaspora talent electing for the Kumuls, more homegrown players are now making their mark, not only in the NRL, but in Europe too.
Papua New Guinea is literally and metaphorically a world away from Northern England, and the industrialised socio-economic conditions that led to the sport's foundation. As the BBC noted during PNG's quarter-final in last year's World Cup in England, the two most obvious links between the countries are a constitutional monarchy and the game of rugby league.
One does not have to delve too far back in time to observe those sporting links. It was an Englishwoman, Joanna Lester, who chronicled the creation of a women's national team in Power Meri; it was a home victory over a touring Great Britain Lions side in 2019 that signified a revival of PNG's national team fortunes and the potential for the international game on a Pacific-wide basis; it was in England during last year's World Cup that the Kumuls showed how far they had progressed compared to their peers, and the improvement still required; and it is to England that increasing numbers of players are heading to further their careers, many off the back of impressive individual World Cup performances.
The number of PNG internationals plying their trade in the UK at the moment stretches into the double figures, the majority of whom are homegrown (compared to internationals from the likes of Samoa, Lebanon, and Greece – mostly Australian-born heritage players). Edwin Ipape signed for Leigh in March 2022; he won a treble of trophies, achieved promotion and won the second-division Championship's Player of the Season Award.
Both Albert and Emmanuel Waine have settled into life in the capital with London Broncos, the former after five years plying his trade in England, the latter signing from the Papua New Guinea Hunters after a strong World Cup performance last year. Others, such as McKenzie Yei (Featherstone) and Keven Appo (Bradford) made similar transfers off the back of the 2022 tournament. But such moves are not unprecedented.
And if you know your history . . .
The first PNG player to move to the UK was Philip Rada (Bradford) in the 1980s, but it wasn't until 1995 that a pattern began to emerge. The World Cup in the Northern Hemisphere gave a platform to otherwise looked over players, and an impactful series of showings earning Stanley Gene a move to Hull KR, in the city that the Kumuls were based in. As he told the Coconet:
"The 1995 World Cup was in England, I was over here with the Kumuls. I was selected after playing in the semi-pro, interstate league back home, for a team called the Goroka Lahanis. I came over with Jon Okul, another to come was Marcus Bai. He signed for Hull FC, went to play for Gold Coast and Melbourne, all off the back of his World Cup showing.
Countries like us, we don't normally play matches every year. There's a lot of young talent cut there so when you come out on the world stage to showcase that talent, it's only every four years. I was very fortuitous to have that chance."
Gene became a cult hero in the city of Hull, still living there and currently an assistant coach at KR's crosstown rivals Hull FC. "You got a sense of the city itself, it's a big rugby city. To this day, it's like Manchester United and Manchester City, with two proud rugby league teams."
"Young kids see people like me, Marcus Bai who play here, we get paid, look after family. It's not just about rugby but to experience a different part of the world, leading a new lifestyle, helping family. But it's difficult. Sometimes back home, when you live with family 24/7, you don't realise how important family is until you're away."
There's a culture shock to overcome too, in terms of language, the pace of life, and indeed the weather. "It was a bit hard" reflected Albert on his move. "Your family and loved ones are back home, a 25/26 hour flight away from home, it's been hard. But I've always wanted to play on the higher level and challenge myself. That's why I've made my decision to come over."
Waine added on the challenges of moving: "I'm getting used to it. Coming over to a different environment and place to play rugby and doing things that you love is a massive honour. I know it's something that young boys back in PNG love doing."
Hunting for Outcomes
In 2014, funding was secured to create a team comprised of the best domestic talent playing in the national Digicel Cup competition. It competes in the Queensland Cup, a second tier in Australian rugby league and a feeder to the NRL.
The creation of professional structures created a pathway for talent to aspire to, from local competition to one step below the world's best. The professional coaching, diet, physiotherapy, tactics and general ethos should turbocharge the development of signed up players, dramatically improving them to face the world's best. Or so the theory goes.
Albert signed from the Hunters for Widnes in the northwest of England in 2018 before eventually ending up in London, Waine moving directly to the capital for this year. Jason Tali moved to Newcastle in 2015 (now at Donaster), Watson Boas to Featherstone in 2019 (now at Doncaster), Edwin Ipape to Leigh last year, McKenzie Yei, and Keven Appo (Gene's cousin) to Featherstone and Bradford respectively this year, Dion Aiye to Whitehaven in 2015 – all having plied their trade with the PNG Hunters.
With nearly all the homegrown UK-based talent having played for the PNG Hunters, it would be easy and almost intuitive to attribute this uptick of players moving North to this team. But as Gene pointed out, it's debatable whether this is in fact the case.
Gene recounts the number of players brought to England in his time, far before the Hunters were created. "Another friend from the Goroka Lahanis [his local PNG side], Makali Aizue, I recommended to Hull KR. I brought over Charlie Wabo, recommended them to other clubs. I know it's an opportunity form them, as it was for me to put myself in the window."
Nicko Slain (Hunslet), Jessie Jo Parker (Whitehaven), Menzie Yere (Sheffield) Larsen Marape (Featherstone) – the latter of which is the brother of current Prime Minister James Marape, all were plucked from the country's national competition, before the establishment of the Hunters.
As Gene went on to explain, whether the Hunters have increased the quality and quantity of players making the grade is debatable. "I personally think it should be a pathway, like an academy. What we're doing at the moment is just recycling players, stopping new ones coming in. Is it a stepping stone, or not?"
"One thing to remember is that the Hunters are the only team in world with all the players paid and camped, living [onsite] 24/7. Coaches would die to have that, the chance to do a lot of work with them, video, gym, etc. But where are the results? It's sad that this is the only outlet for the national sport. We need to find where the money is going, and figure out if it can be spent better."
The side began life well, finishing 6th in their opening season and then making the play-offs for the next three years, culminating in 2017 by winning the Queensland Cup. But since then they have failed to make the play-offs, finishing 12th last year and currently languishing in 10th.
"It's a 24/7, full-time side, but they can't beat part-time sides in the Queensland Cup. We need to go back to the drawing board, it's not producing results, and figure out where we are going wrong."
The general sense of frustration is that the Hunters set-up is not improving players, but merely plucking the best from the national league. What's needed is a more comprehensive development programme, one that reaches players at a younger age.
"I want pathways for Under-15s, Under-16s, 100%. We could have done that years ago, pathways in junior or schoolboys. Is it wise to put all the investment from government and big company sponsorship all in one pot? I see Hunters players that have been there for three, four, five years. Is that a pathway? We need to start young, to build strong foundations. I believe in junior development."
It may be that the Hunters, rather than improving players, merely centralise national talent, but also showcase where the country's best are relative to the Australian game (currently middle running in the second division).
As for talks of whether the country could support an NRL team one day, that was dismissed by Justin Olam, the archetypal poster boy for the Hunters pathway (after a year in the team, he signed for Melbourne Storm, becoming a mainstay in the backline of one of the NRL's leading sides). During the World Cup, he told reporters:
"As a nation, we are so passionate about rugby league, but for me, personally, we aren't ready to do that yet. We need to create a pathway for our younger players. We need to have local players ready to play in the NRL. We need a proper system, we only have a small cup competition at the moment, so there's no way for school children to develop. It's something we need to focus on first. Everyone is keen to do it, but the way forward is getting the basics right first."
A Big Impact
Whatever the incongruencies of domestic development may be, rugby league often acts as an outlet for young players, one of the few gateways for progress in the country. Gene recounted his journey from the PNG Highlands to the north of England.
"I played for a local team called Royals, a team in the ghetto formed by the police to try and get to the kids. It's the best thing they've done, they helped a lot of young kids, build good bridges to them, stop them doing petty crime. I was the first product of that team to play for the Kumuls. I've grown up all my life in Papua New Guinea, and then I experience this life. Sometimes you just sit back and reflect. It's a massive achievement to coach, to play, in a foreign language too. You can be scared at first, but do you walk away, or bite the bullet, get more confident, and keep doing it?"
Albert recounts how growing up, the facilities were basic to non existent. "I grew up in an area with no proper gym. Me and my younger brother normally got the lid off of [car batteries] . . . melt it up and then make it as some weights. So, we didn't have proper gym facilities back five, 10 years ago. We lifted stones or rocks or anything that will make us big and strong. We just make use of any opportunity growing up."
Now on the other side of the world, the passion for rugby league is still being conveyed, especially online. "I've seen it on Facebook and Instagram, when [London Broncos] post one of the other guys, there would be five, six likes, and that when you see thousands [for PNG players] that's how they just love their boys who play for the country. People back home love their rugby league, they find others online, they make the effort to follow the boys everywhere they go."
In the year's following Papua New Guinea's independence, it was one of only five or six rugby league playing nations. With the expansion of diaspora players for other countries, it has often struggled to match the potential that its large, young, vibrant and passionate population has demonstrated.
But as we so often hear, the world is getting smaller, more interconnected and globalised. More PNG players are moving overseas to further their careers (and life prospects), many to the birthplace of the game. What was once a cultural curiosity for English fans has now become, if not quite commonplace, then familiar.
The raw strength and passion that players bring to English sides, often struggling with recruitment domestically, is a trait much appreciated by teammates and followers alike. The challenge is to formalise and build on existing foundations to ensure that the next generation has even more opportunities, and is even better prepared to take on the world.
Written by Thomas Law
Share