Sports
Commonwealth Games 2022 - Pacific History Makers & One's to Watch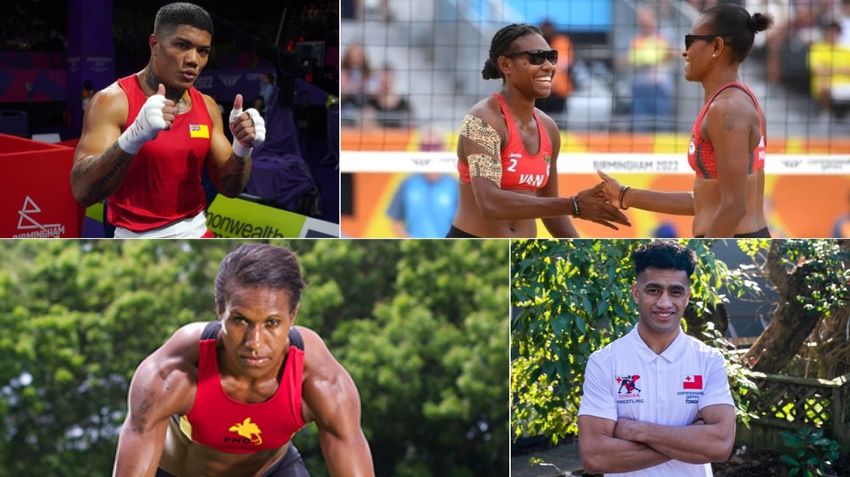 History was made this morning for one of our smallest island nations - Niue! Heavyweight boxer Duken Williams made history for Niue when he beat his opponent - Cook Islander Michael Schuster - in the Quarter finals to be guaranteed a Bronze medal.
It will be the first time Niue has ever won a Commonwealth Games medal.
He now faces Samoan Heavyweight contender Ato Plodzicki-Faoagali in the Semi-final. Ato is also chasing Gold this time round after taking Silver at the 2018 Commonwealth Games on the Gold Coast.
* Photo above: Duken Williams after making history this morning for Niue in his Quarterfinal. Photo Credit: Express & Star
Many of our Commonwealth Games teams wound up their campaign last night - so who is left to cheer on this weekend? We've got the deets for you below.
NB: All times given below are in NZT
-
COOK ISLANDS
The Cook Islands Triples Womens Lawn Bowls team have made the semi-final! They take on England from 7.30pm
-
Fiji, Kiribati & Tuvalu's athletes have all finished competing in their respective events.
-
NAURU
Wrestler Lowe Bingham and Shot putter Jonathan Detageouwa are Nauru's final competitors.
Wrestling begins this evening at 9.30pm but times are not given to each of the wrestlers so we can't give you exact times and the Shot Put final is tomorrow morning at 6.05am
-
NIUE
Boxer Duken Williams is the last man standing for Team Niue and fights in the Semi-finals against Samoan Heavyweight Ato Plodzicki-Faoagali. Regardless of whether he wins or loses, he is guaranteed a Bronze but Duken told us in his interview in the video below that he's not aiming for anything less than a Gold.
Watch his interview with us in the video below -
-
-
PAPUA NEW GUINEA
Many of PNG's athletics squad are still competing tonight in the Men's decathlon, 4x400m relay and the Womens 100m Hurdles, Long jump qualifier & Triple jump final.
Mens decathlon competitor Karo Iga, has so far achieved a PB in Mens Decathlon's 100m sprint event, coming home third and clocking 10.94 seconds. In the long jump, Iga jumped 6.95m. He is currently sitting in 6th place with a total of 1,676 points after 100m and Long Jump. Next up in the Men's Decathlon is Shot Put.
Squash mixed doubles pair Amity Alarcos and Feonor Siaguru have made the Quarter finals and will play Guyana at 11pm this evening.
Sprinter Toea Wisil has made the Semi-finals of the Womens 200m and races tomorrow morning (Saturday) at 7.32am
Photos above c/- Team PNG facebook page. Check them out for more detailed info on their athletes here
-
SAMOA
Alex Rose wrapped up Samoa's athletics bid this morning in the Discus throw finals and ALMOST did enough for a Bronze. This is how close it was - Traves Smikle of Jamaica threw 64.58 to win Bronze and Alex threw 64.56 - .02cm difference! Next time Alex!
Wrestling begins this evening with Taitaifono Tamati taking on South African Edward Lessing in the Mens freestyle 86kg. Times are not given on the schedule but the first pair starts at 9.30pm.
Maulalo Alofipo then takes on Tongan wrestler Sione Sika in the Mens freestyle 97kg Quarter final.
Heavyweight boxer Ato Plodzicki-Faoagali is guaranteed a Bronze after winning his Quarter final this morning but will be chasing Gold after picking up Silver at the last Commonwealth Games.
-
SOLOMON ISLANDS
Solomon Islands final competitor is Rosefelo Siosi who will compete in the 5000m mens final tomorrow morning at 7.10am NZT
-
TONGA
Tonga's wrestling team are the first wrestlers representing Tonga to ever compete in Wrestling at the Commonwealth Games and are the last of the Tongan teams athletes to compete.
Wrestling begins this evening at 9.30pm but times are not given to each of the wrestlers so we can't give you exact times.
Both Tiger Lily Cocker-Lemalie and Sione Sika have Quarter Final matches.
Here is their draw this evening:
-
-
VANUATU
The Womens Beach Volleyball duo are unbeaten so far and take on Cyprus in the Women's Quarter final early hours of Saturday morning (2.30am)
Here's hoping they can secure a medal over the weekend!
Paralympian Elie Enock competes in the F57 Shot Put final tomorrow evening from 9.20pm
-
Public Interest Journalism funded by NZ on Air
Share