Sports
Commonwealth Games Weekend Wrap - Pacific Islands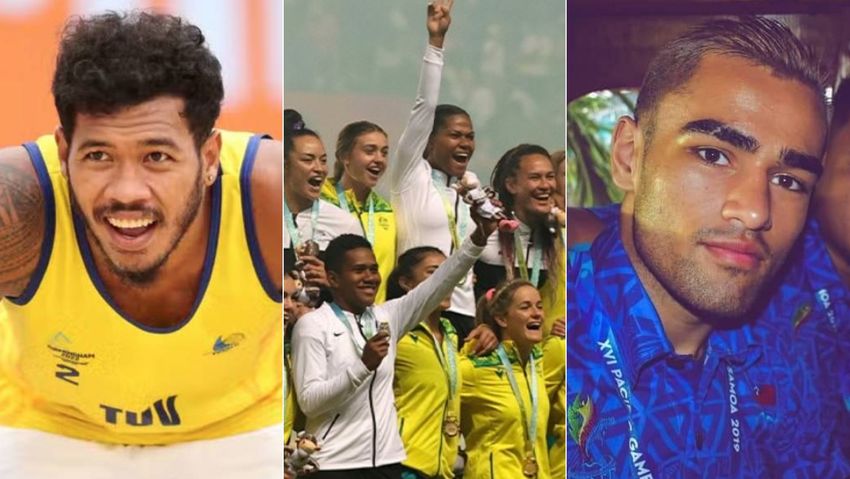 The 22nd Commonwelath Games kicked off in Birmingham, UK on the 28th of July with the opening ceremony held at the Alexander Stadium. 11 of our Pacific Islands nations are competing - Cook Islands, Fiji, Kiribati, Nauru, Niue, Papua New Guinea, Samoa, Solomon Islands, Tonga, Tuvalu & Vanuatu.
The theme of the games is 'Sport is the beginning of all' and the Pacific Islands nations walked out in alphabetical order together with Australia and New Zealand under the Oceania region.
Swipe through for some of our teams marching in.
We've put together a few of the highlights from the weekends competition as well as a couple of 'Ones to watch' in events that are still to come.
-
History makers
Solomon Islands and Tuvalu have teams that have qualified for Beach Volleyball for the very first time at the Commonwealth Games.
Hanna Marasalau & Calorose Sisia (below) are the womens pair who debuted at the games for the Solomons losing to England in their first game but will play fellow Pacific Islanders Vanuatu next and Scotland in their final pool game.
Meanwhile Tuvalu mens beach volleyball team - Saaga Malosa and Ampex Isaac - have not only debuted Beach Volleyball for Tuvalu at these games but they opened the Beach Volleyball competition for the Games against the host team England.
While they may have lost in their first game, they won the hearts of the crowds playing with smiles on their faces. They take on NZ next and Cyprus in their final pool game.
Tonga have entered a wrestling team for the first time - Aaron Leha'uli, John Vake, Sione Sika & Tiger-Lily Cocker-Lemalie.
They talk about the history of wrestling in Tonga and how they got into wrestling in the video below.
-
Medal Winners
Papua New Guinea put the Pacific Islands on the medals board first, with a Silver medal in weightlifting thanks to Morea Baru in the Mens 61kg category on Day 2 of competition.
Samoa were next with Vaipava Nevo Ioane taking Silver in the Mens 67kg weightlifting category. He also announced his retirement, leaving his shoes on the platform indicating it would be his last competition bringing to an end a stellar 15 year weightlifting career.
Ruben Katoatau from Kiribati & Ditto Ika from Nauru placed 6th & 7th respectively in the 67kg division. Great to see three Pacific Islanders in the Top 10.
Fiji Rugby 7s bagged double Silvers for both their Mens and Womens teams in the finals earlier today.
It was historic for the womens team as it was their first medal in womens 7s at the Commonwealth Games and a step closer to Gold after winning Bronze at the Olympic Games last year.
With NZ taking Bronze and Australia winning Gold, it was an Oceania clean sweep in the Womens 7s.
-
Ones to watch
Ato Plodzicki-Faoagali - heavyweight boxer for Samoa.
He won Silver at the last Commonwealth Games and he'll be looking to bag Gold this year. He's already got through his first opponent and fights in the Quarter Finals on Friday morning.
Duken Williams - heavyweight boxer for Niue.
He's the NZ Elite Cruiserweight champion and is being coached by legendary fight coach Lolo Heimuli. He's also through to the Quarter finals and will go up against fellow Pacific Islander Michael Schuster representing the Cook Islands on Friday morning (NZT).
We'll be waiting to see if these two Heavyweights meet at some point in the finals.
Check out Dukens interview with us in this video here
-
Pacific Islanders in action 02 Aug
All times listed below in NZT
Cook Islands - Swimming from 9.30pm
Fiji - Swimming from 9.30pm, Judo TBC, Lawn Bowls from 10.45pm and Weightlifting from 1am
Nauru - Womens Weighlifting at 1am and 5.30am
Niue - Boxing (Travis Tapatuetoa) at 7.30am
Papua New Guinea - Boxing (Allan Oaike) at midnight
Samoa - Swimming from 10pm, Judo & Weightlifting from 1am
Solomon Islands - Boxing from midnight
Tonga - Swimming from 9.50pm
Tuvalu - Beach Volleyball from 8am
-
Public Interest Journalism funded by NZ on Air
Share