Sports
FIRST EVER PASIFIKA NATIONAL CHESS CHAMPIONS in NZ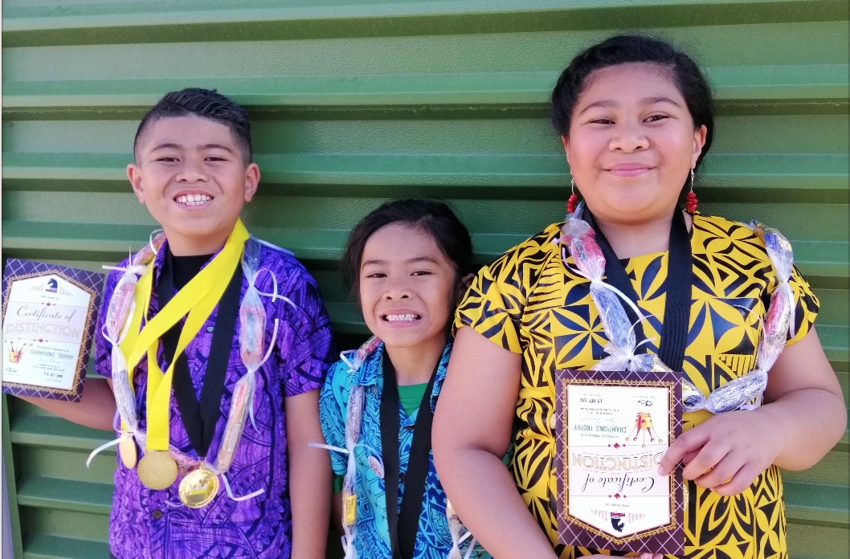 History was made on the 18th of October when 3 Pasifika children (who are also siblings) won the NZ Chess Power Team Nationals in Christchurch with their school team.
They are the first Pasifika kids in a first placed team and in a first placed team with more than one Pasifika student that placed individually. Hunter Po'e-Tofaeono (10yrs) is the first Pasifika child to place at the 'Teams and Champions trophy' and his older sister Tyleah (11 yrs) is the first Pasifika girl to receive the Top Female Trophy.
While both Hynter and Tyleah are now obsessed with chess, it was actually their younger sibling, Grayson (6yrs) who got them into it after announcing to his parents Zelda (Niuean/Cook Islands) and Masina (Samoan) that he'd like to join the chess club at their primary school - Hillsborough Primary School. The Chess Club there is run by a volunteer - Mr Wayne McDougall and there can often be up to 50 - 60 kids attend on a Tuesday afternoon.
Their father Masina had played a bit when he was a kid so he dusted off his knowledge on the game and playing chess became something they did together at home. The children then progressed into the schools Top 5 Team by October last year.
Last year their team didn't qualify for the Chess Power Team Tournament but Tyleah and Hunter played Day 2 of the individual tournament and although they didn't place, they then set goals to come back better in 2019.
"Grayson didn't qualify for this individual tournament but said he was coming back to play in 2019. He didn't like watching" said their Mum Zelda. "It's awesome to see how much improvement they have had in a year in the game."
Leading up to nationals the team won the Mt Roskill, Onehunga and Royal Oak cluster tournament and qualified for the Auckland regionals. They then went on to win the Auckland Regionals (North/West Zone), qualified for the Chess Power Teams Nationals and are now the current Auckland Chess Champions.

Nationals is a 2 day event and this year it was held at Avonhead Primary School in Christchurch. 30 school teams competed for the Team Nationals and 165 Primary School players were at the event where they played 9 games with 15 mins on the clock. For each game if they won, they were given a point for their team & a draw they got half a point. A total of 9 points being a perfect tournament and it was the best score out of 36. Their team had a combined score of 27.5 points.
On the 2nd day they played for the "Champions Trophy" - again, 9x 15 min games. Hunter finished 3rd overall, Grayson finished 5th overall and Tyleah placed 9th and finished as the top girl for the whole tournament overall. Their Mum Zelda said the 2nd day was hard as they knew they may have to play each other. "Grayson and Tyleah had to play each other and Tyleah won causing an upset in Round 6. All 3 placed in the top 10 which is a major achievement though" said Zelda.
Winning the NZ Chess Power Team Nationals, they've automatically qualified to compete in the Australasian tournament in Melbourne at Melbourne University which is held in a months time from the 1st - 3rd December. They're currently trying to fundraise to get the kids to the Australasian Tournament which is only a month away and so have set up a Give a Little page here in case anyone would like to help or donate to the cause.
And you can follow their journey on their Instagram page here
We're looking forward to seeing more of these young champions as they take on the Chess World!
Share
---
Comments