Sports
Manu Samoa 7s enter the NZ leg of the World Rugby Sevens Series as the top seed for the first time ever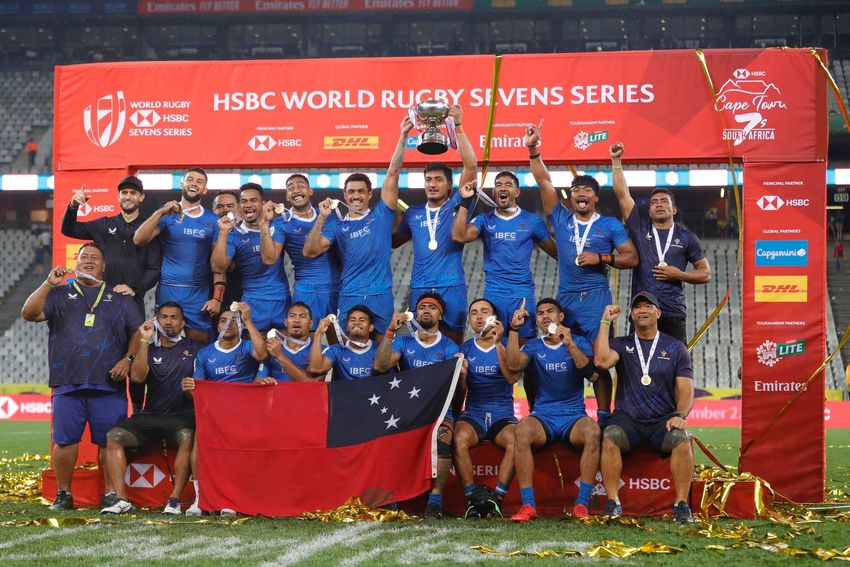 By Thomas Airey
Never have the Manu Samoa 7s entered a New Zealand leg of the World Rugby Sevens Series as the top seed until this weekend, the 21st and possibly last ever tournament in Hamilton.
Not even the all-conquering 2010 world champions earned that honour – Stephen Betham's side stumbled at the quarterfinal stage in South Africa before the Wellington event.
That is the unprecedented level at which current coach Muliagatele Brian Lima has his young team performing.
Not only did they win their first tournament title since May 2016 last month in Cape Town, Samoa haven't missed the quarterfinals of a World Series leg since he took over.
During the four year reign of legendary coach Sir Gordon Tietjens, the Manu made the top eight 11 times in 34 attempts.
Muliagatele was appointed after Tietjens' contract expired in August 2020.
He gave Samoa's local veteran players the chance to prove themselves and make his squad, but right from the start looked to rebuild for future success.
Steve Onosa'i, Taunu'u Niulevaea, Faafoi Falaniko, Owen Niue and Indiha Saotui-Huta all came into the picture having played for that year's Samoa U20 side.
Of the final 24 players that received contracts at the start of 2021, just seven had played in the previous World Series.
The youth and inexperience could have been a disadvantage for many nations but Samoa have made it their superpower.
At times under Tietjens the team looked hesitant and restricted in their play, sticking to gameplans that tempered their natural flair, leading to inconsistent results.
Now the Manu 7s are flying by backing themselves and their precocious talent and style.
With Covid keeping the Samoan borders closed, their first hitout was the final Olympic qualifying tournament in June 2021.
Muliagatele's side lost in the semifinals and missed the Olympics, but he had forged his new group with international debuts for co-captain Vaovasa Afa Sua and young playmakers Faafoi Falaniko and Neueli Leitufia.
A squad of 20 players travelled to Dubai at the beginning of 2022, where the team intended to base themselves between tournaments for the seven remaining legs of the World Series.
But disaster struck – Covid ripped through the camp and Samoa were forced to pull out of both tournaments in January.
Lakapi Samoa eventually pulled them out of Dubai after a letter of complaint signed by 19 of the players alleging mistreatment by management was sent to the Pacific Rugby Players Association, and five players based in New Zealand and Australia quit the squad.
An enquiry was launched and the team relocated to Australia, where any lingering tensions seemed to fade by April when Samoa finally returned to the World Series at the Singapore tournament, 762 days after their last appearance.
Co-captains Vaa Apelu Maliko and Melani Matavao, and players Paul Scanlan and Uaina Sione may have been the only players with previous Series experience, but the Manu exploded back onto the scene with a seventh place finish, then a fourth at Vancouver the following week.
They made the semifinals again at Toulouse then London in May, and finished fifth at the Commonwealth games in July with current regulars Levi Milford and Taunu'u Niulevaea earning their first caps.
A fourth straight fourth place finish at Los Angeles in August meant Samoa finished the 2021-22 World Series in ninth overall despite missing the first four legs.
It was an impressive return – they averaged as many standings points per tournament as Series winners Australia.
And they have stepped it up again in 2022-23, finishing fourth, seventh and first in three legs to share the overall lead with South Africa ahead of Hamilton this weekend.
Co-captain Apelu Maliko is the equal top try scorer in the competition with 17 five pointers, an average of one each game.
He leads by example, topping the tackle and carry lists for Samoa thus far.
He was named in the tournament Dream Team twice – at series opener Hong Kong then Cape Town, where he was joined by fellow skipper Vaovasa Afa Sua and Faafoi Falaniko, whose extra time goal kick put Samoa into the final in South Africa.
The Manu will be even stronger on paper this weekend with their third captain Melani Matavao back from injury after missing both Dubai and Cape Town.
They are in Pool A along with Fiji, France and Kenya.
The Manu Samoa Sevens squad for Hamilton, their villages and clubs
Vaafauese Apelu Maliko (co-captain) – Lotopue, Lufilufi, Laulii & Fusi Saoluafata/Tepatasi
Vaovasa Afa Su'a (co-captain) – Salelavalu, Salelologa & Faala Palauli/Tama Uli Salelologa
Melani Matavao (co-captain) – Fasitoo-uta, Laulii & Saaga Siumu/Marist St. Joseph's
Paul Eti Slater – Lalomalava & Laulii/Laulii
Neueli Leitufia – Laulii, Faleasiu & Sapapalii/Laulii
Motu Opetai – Siumu, Leauvaa & Vaimoso/Siumu
Owen Niue – Taga, Gataivai, Siufaga & Sapapalii/Tama Uli Salelologa
Paul Scanlan – Moataa & Satuimalufilufi/Moataa
Steve Onosai – Vaiala & Faleima/Vaiala
Uaina Sione – Faala Palauli, Sapapalii, Salelologa & Saleimoa/Tama Uli Salelologa
Levi Milford – Lotofaga & Falelatai/Waverley College, Sydney
Taunuu Niulevaea – Fasitoo-tai & Vailuu-tai/Safotu
Faafoi Falaniko – Lotopue, Salelesi & Samusu/Tepatasi
Tuna Tuitama – Mulifanua & Faleasiu/Apia
Public interest journalism funded by NZ on Air
Share