Sports
Moana Pasifika - Historic first signing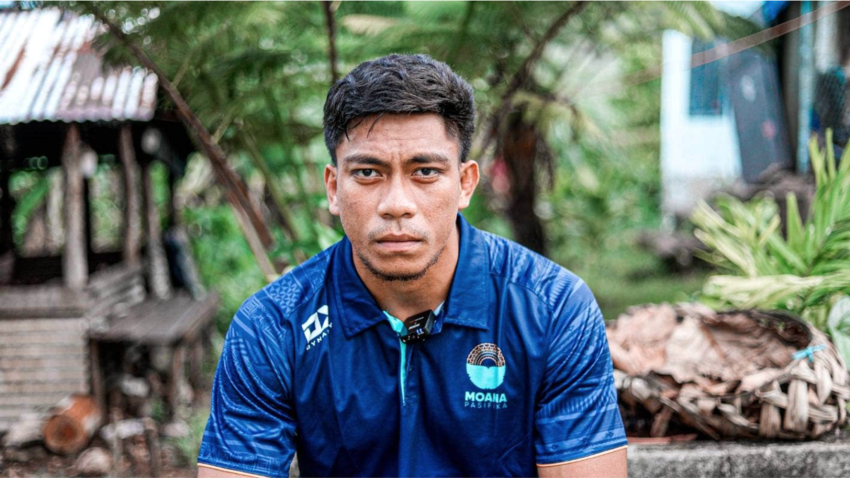 By Thomas Airey
Miracle Fai'ilagi will never forget the date September 19th, the night a phone call changed his life.
"It was so unreal," the 23-year-old Samoan loose forward from Vailele and Uafato said.
"The Moana Pasifika coach giving me a call, giving me the news that I made the team. I was just so out of words."
Coach Aaron Mauger had attended the World Rugby Pacific Combine earlier that month, where he said Fai'ilagi was a clear standout.
Speaking from home in Vailele with the family he was nervous to leave behind, Fai'ilagi said signing his two-year contract with Moana was huge:
"Us local players, we hardly get those opportunities.
"This is a blessing for me, and also my family."
He hopes to follow in the footsteps of uncle Joe Tekori, who retired in June after 37 caps for Manu Samoa and 15 years at the pinnacle of club rugby in France.
"He was one of the people that I looked up to, not only playing but I've seen him helping with our family financially," Fai'ilagi said.
"I just want to be like that. My uncle has retired, but I'll be there just to continue that, providing needs and wants for my family."
Another key mentor in Fai'ilagi's career was his father, Reverend Vaatausili Faiilagi, who passed away in April 2020.
"When I started playing rugby in college, I wasn't really sure about it," Fai'ilagi said.
"My dad pushed me to play, [said] it was something that I'm good at.
"I know that my dad's no longer here, but I know he's in a better place, watching over me, and I hope that he's proud of me."
Aaron Mauger said Fai'ilagi is the first example of the pathway Moana Pasifika wants to create for players from Samoa, Tonga, and even smaller nations like the Cook Islands.
The club drew some criticism in their first Super Rugby Pacific season for fielding a squad composed entirely of players that came through the New Zealand and Australian development systems.
Mauger said within five years they want at least 50% of their players to have come through their own system.
"That's the whole kaupapa for Moana Pasifika, it's really inspiring belief in our people, belief that they too can be in this position," he said.
Fai'ilagi is the only new face in the Moana Pasifika squad they named for the 2023 season on Tuesday.
However the club did name five further players that impressed at the Pacific Combine who will join the team from next week for their first pre-season training block until Christmas.
They are:
· former Manu Samoa 7s star Joe Perez, who made his 15s debut on the wing against Romania last weekend
· Samoan first five/second five Faletoi Peni, who kicked Manukau Rovers to an unlikely Gallaher Shield win in August
· Alosio Moa of Tonga
· Twice-capped Ikale Tahi lock/loosie Semisi Paea, who played six games for Bay of Plenty in the 2021 NPC
· 208cm tall Tongan lock Frank Mafi, a standout at the Houmakelikao Rugby Club in Tongatapu
Aaron Mauger said the opportunity for the island-based group will give them a taste of a full professional environment and could lead to development contracts for 2023 or further down the line.
He added that Moana Pasifika has a responsibility to help Miracle and the others transition into a Super Rugby setting and life in Auckland.
"Our director of rugby Kevin Senio has flown over personally to bring Miracle back and welcome him into our environment here. That's probably just an example of the level of care we want to put around Miracle, first time living away from Samoa. And we've got a great team here, ... a lot of support so I'm sure we'll get that part right."
Mauger was keen to assert that they weren't merely naming a team, but announcing their people:
"When we announce our people, we announce our names, our family names, our villages, and our nations, and that's what's most important."
As an organisation, they are committed to doing things differently across the board.
And when it comes to rugby in Aotearoa, different is all the fashion right now.
The Rugby World Cup in October and November attracted over 150,000 fans and a TV audience of around 1.3 million for the final precisely because it was a breath of fresh air.
Mauger said Moana Pasifika already showed that they do things differently during their inaugural voyage this year.
"Super Rugby was probably becoming a little bit stale, with the same teams and I think what we were able to bring was a little bit more real and authentic," he said.
"And it's not hard for our boys, they've just gotta be themselves so that's the beauty of it."
Covid meant the team could only play four of seven home games without any restrictions on fan attendance at Mt Smart Stadium, and a lot of the wider community engagement efforts had to be scrapped.
2023 will be a different story – they are even taking their round eight game against the Reds to Apia Park in Samoa.
Mauger said between all that and the huge buzz Toa Samoa and Mate Ma'a Tonga's Rugby League World Cup campaigns created, there is a real energy building at Moana Pasifika.
He said he hopes that all comes to a head for their season opener against Fijian Drua at home, which will be an awesome occasion to really celebrate Pasifika.
-
Full 2023 squad announcement below -
Public interest journalism funded by NZ on Air
Share