Sports
POLYNESIANS IN THE 2021 NFL DRAFT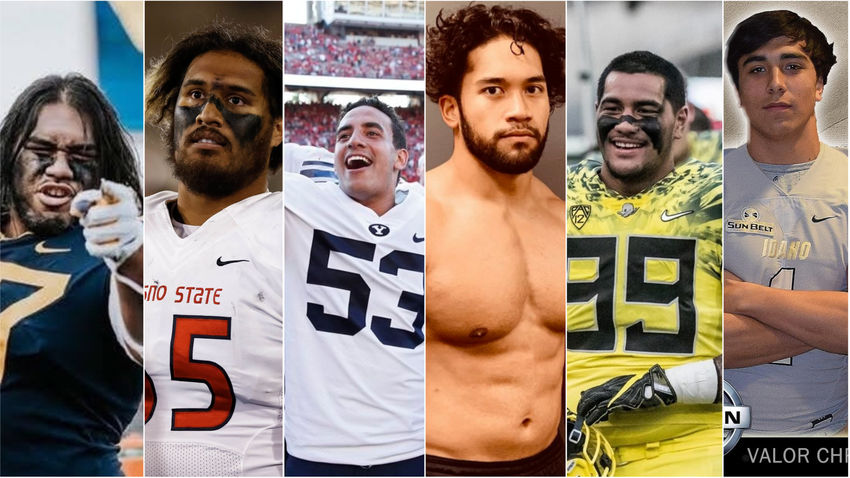 Cover photo credit: The Polynesian Football Hall of Fame
The 2021 NFL Draft was the 86th annual meeting of National Football League franchises to select newly eligible players for the 2021 NFL season. The draft was held in Cleveland from Thursday the 29th of April to Saturday 1st of May.
Five quarterbacks were selected in the first round including the first Polynesian player to be picked in this years draft - Zach Kapono Wilson - who is of Native Hawaiian heritage and was the #2 overall pick. The draft also marks the third time the first three picks (Lawrence, Wilson, and Lance) were Quarterbacks.
There are a total of nine players of Polynesian Heritage who were picked up in the 2021 NFL draft and 2 of them were in the Top 10 draft picks - get familiar with them below.
.
Polynesian 2021 Draft Picks in order below:
Zach Kapono Wilson: Native Hawaiian - Quarterback
#2 pick overall, drafted by the New York Jets.
Wilson played in 30 career games for BYU with 28 starts and is the youngest freshman quarterback to ever start for the Cougars. In 2020 he earned Pro Football Focus All-America Second Team, Phil Steele All-America honorable mention, Co-Polynesian College Football Player of the Year and finished No. 8 in the Heisman Trophy voting.
.
Penei Sewell: Samoan - Offensive Lineman
#7 pick overall, drafted by the Detroit Lions
He was the first person of Pasifika Heritage and the 1st in Oregon Football History to win the 2019 Outland Trophy awarded to the best college football interior lineman in the United States, as judged by the Football Writers Association of America.
He allowed only 1 sack in 21 career games and is only the 3rd Oregon Duck to be Unanimous 1st Team All-American.
.
More on both Zach and Penei here
.
Jay Tufele: Samoan - Defensive Tackle
#106 pick overall, drafted by the Jacksonville Jaguars
Tufele, a defensive tackle from the University of Southern California, opted out of playing during the 2020 season. He did so to prepare for the draft, but more than that, he did so because of the effects of COVID-19 on his family.
"It's just been a life-changing experience," he said. "Especially with everything that's happened it's just a blessing. It's a blessing and I'm so grateful. I'm so grateful."
Tufele said his entire family contracted the disease, with it hitting his sister – Noreen, seven years his elder -- "the hardest, in a way you wouldn't want on anybody."
More on Jay and Draft Day here
.
Jabril Cox: Samoan - Linebacker
#115 pick overall, drafted by the Dallas Cowboys
Cox is known for his coverage skills as a linebacker. At LSU, where he went as a graduate transfer following his career at North Dakota State, he picked up three interceptions, including one returned for a touchdown, along with five pass breakups in 10 games. Cox also collected 58 combined tackles, 6.5 tackles for loss, 1.0 sack, and a fumble recovery.
His mother Lotu was born and raised in American Samoa in a village called Auā.
Read about his family's back story here
.
Tommy Togiai: Samoan - Defensive Tackle
#132 pick overall, drafted by the Cleveland Browns
Tommy Togiai's family is full of top-tier athletes. His father (Tala) was a professional rugby player in Samoa. His older brother, T.J., played defensive tackle at Carroll College in 2015 and Idaho State from 2016-20. His maternal grandfather played football and basketball at Ricks College. Tommy also weighed an astounding 12 pounds at birth and has brute strength — he benched 40 reps on the bench press at Ohio State's Pro Day.
More on Tommy here
.
Simi Fehoko: Tongan - Wide Receiver
#179 pick overall, drafted by the Dallas Cowboys
Simi Fehoko was two-time All-Pac-12 selection, including Stanford's six-game 2020 season shortened by the pandemic. He had 37 catches for 584 yards and 3 touchdowns last year, including a school-record 16 catches for 230 yards and 3 TDs against UCLA. Fehoko is an older prospect at age 23. He completed a two-year LDS mission in South Korea before attending Stanford. He declared for the draft after his junior season.
More on Simi here
.
Talanoa Hufanga: Tongan - Safety
#180 pick overall, drafted by the San Francisco 49ers
Talanoa's reaction to being drafted was pure joy - "This is such a blessing. The family has been through a lot. My dad is from an island where he grew up with dirt floors. When you make that transition, and I got to see where he grew up and see what it was like, you're grateful for these opportunities, how we can live our life and how I can help better our lifestyle as well. That's what drives me. My mom has been there and been my backbone as well."
More on Talanoa here
.
Marlon Tuipulotu: Tongan - Defensive Tackle
#189 pick overall, drafted by the Philadelphia Eagles
Marlon is cousins with fellow Tongan draftee Talanoa Hufanga and roomed together at college (USC). His younger brother Tuli was also on the USC team.
In the 2020 season, all eyes were on Tuipulotu to be USC's main man in the middle. He ultimately recorded 23 tackles, including 3.5 for losses (with two sacks), and one forced fumble in the Trojans' shortened six-game season. More on Marlon here
.
Khyiris Tonga: Tongan - Defensive Tackle
#250 pick overall, drafted by the Chicago Bears
The Chicago Bears added depth on the defensive line with the selection of BYU defensive tackle Khyiris Tonga in the seventh round of the 2021 NFL draft.
Tonga has the size and athleticism to be a solid nose tackle in the NFL, and he'll learn plenty behind nose tackle Eddie Goldman and the rest of Chicago's defensive linemen.
.
While the goal is to be picked up in the NFL draft there are also a number of Polynesian players who will be picked up as free agents after the draft. As free agents they have the choice to sign with any team that makes them an offer, however the terms of the contract are uncertain and they'll need to work hard in preseason training to secure a spot on the season roster.
We will update this with Poly players who are picked up as free agents later in the week.
Syrus Tuitele: Samoan - Offensive Lineman
Although offensive tackle Syrus Tuitele was not selected in the seven-round draft, he was quickly signed afterward as an undrafted free agent to the Buffalo Bills
.
Michael Brown: Samoan - Offensive Guard
"I was born in Compton, but both of my parents are from Samoa. There is a Samoan dish called Koko Laisa that is excellent. Everyone should try it." More on Mike Brown here
.
Isaiah Kaufusi: Tongan - Linebacker
"I got to go back and see my roots. I learned a bit of the language. Our family history is there. I was able to hold a conversation with my grandparents. Before that, I never had any real conversations with them because of the language barrier" - More on Isaiah and his mission back to Nukualofa, Tonga here
.
Alani Pututau: Tongan - Defensive End
"I am proud to be TONGAN! My biggest achievement is becoming a father, something I didn't think about until my daughter tapped in. Greatest achievement!" - More on Alani here
.
Austin Faoliu: Samoan - Defensive Tackle
"My mindset is really relaxed and focused not being too high or too low and going out there and making sure I get the job done and not being too hyped." - More on Austin here
.
Christian Elliss: Samoan - Linebacker
His father Luther Ellis played for the Detroit Lions and his brother Kaden was drafted to the New Orleans Saints in 2019
Share